For the first time, I'm hosting my family for the holidays. In-person. With shopping for gifts, the house prep, making the place all sparkly, the holiday menu, there's far too much to do. I keep reminding myself that this isn't my parents' holiday celebration, this is my show. And I'm going to make sure to keep it flexible, keep the flow, and keep stress to a minimum.
I'm relying on stress-savers like ordering pre-baked dishes from a local gourmet restaurant and gathering recipes for "low-lift" sides. But on top of that our little Mia is turning The Big 1 right smack in the middle of everything. My sister - her Auntie "Big Mia" - hasn't met her yet which is super exciting!
Now that Mia's progressed to solid baby foods, I had to sort out what to feed her in general. I'd been mashing her fruit and vegetables and pureeing her proteins. I also suspected that her palate was growing more complex and had no clue what to do for her. And I don't want Grandma charming her with sugary delights or other dishes that are totally inappropriate at this stage in her development.
Yumi
Winner of the Clean Label Project Purity Award
Regularly Tests Ingredients & Finished Products for Heavy Metals
Get 50% OFF Now
I knew I needed to pre-arrange her meals or I'd fall back on quick, unhealthy solutions. So, I went searching for a nutritious alternative that I could trust. It would be a plus if it's organic, but my bottom line was it had to be fresh.
During my research, I was totally freaked out to discover that a number of commercial baby foods - Beech-Nut, Hain, and Gerber - have been found to be tainted with heavy metals like arsenic, lead, cadmium, and mercury. So I was even warier than ever.
But then I found Yumi- a mom-friendly baby food subscription that's all organic and freshly made. I was shocked - it was like Yumi was reading my mind. They're the first baby food company to sign the Baby Food Safety Act. Plus, they only work with trusted sources and even examine soil quality to find the best farms for their products.
Okay, okay - I was intrigued. Something had to be off, though. Maybe their food tastes blah. Even though, according to customer reviews, babies never grow tired of their beyond tasty recipes such as Butternut Squash, Broccoli & Pear, and Adzuki Bean.
Not to mention, Yumi releases yummy new recipes every quarter and even has a Unique Chef Series. OMG - Mia could eat food designed by a Michelin-star chef!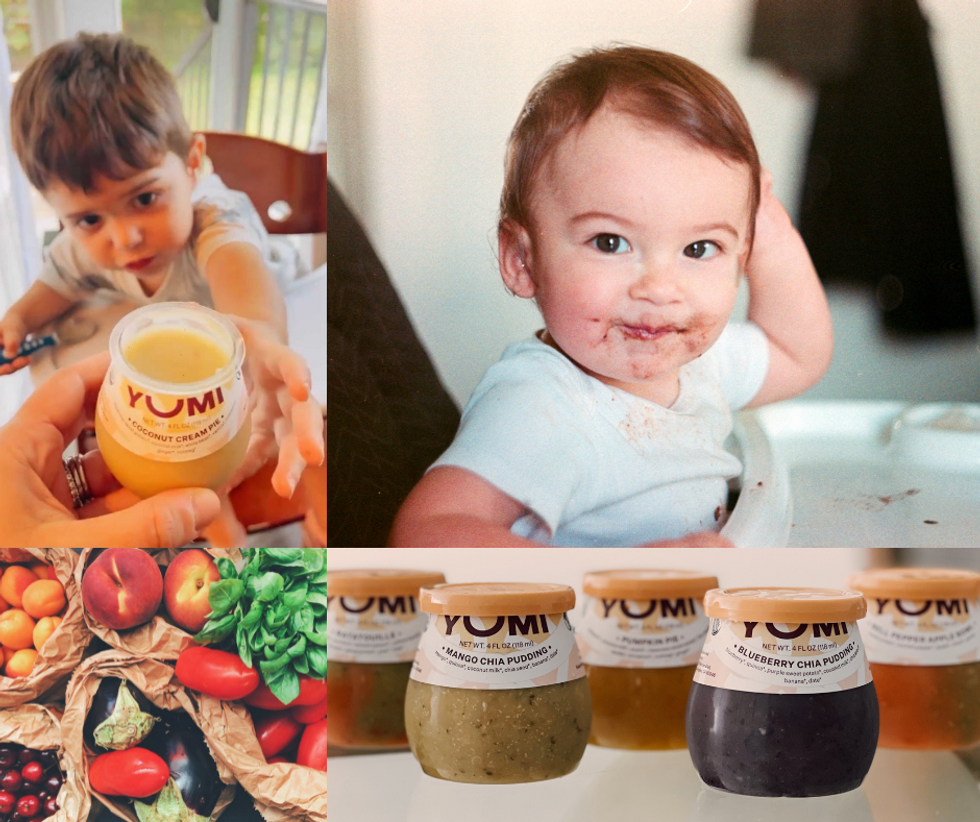 Yumi's menu is divided into 7 stages, to guide babies on their journey to eating solid foods. At six months you start with thin, single-ingredient blends and progress to nutrient-dense bites. Their blends don't contain preservatives, added sugars, or GMOs, and are free of the Big 9 Allergens.
That's what did it for me - all those health benefits. And I can pause or opt-out of my plan at any time. Once I chose my weekly plan and placed Mia's order, Yumi then blended her food and shipped it right to my door in an insulated box so it's guaranteed fresh.
But the proof was in Mia's reaction. On the very first bite, her face lit up - she adores Yumi's flavors. Her current favorites are the Beet Chickpea Combo and the Squash Quinoa Combo. I can't wait for her to try the Gingerbread Bites and Sweet Potato Cheesecake - I'm saving them for a post-holiday dinner surprise.
This Holiday Season, let's drop those family traditions that only leave you frazzled. Let someone else take care of the big stuff - the ham, the vegan turkey roast, the salmon - and slow down dinnertime. It's time to focus on family and friends as we gather around the table. And let's not forget the little ones.
Eliminate your holiday stresses with Yumi's fresh, ready-to-eat baby food.