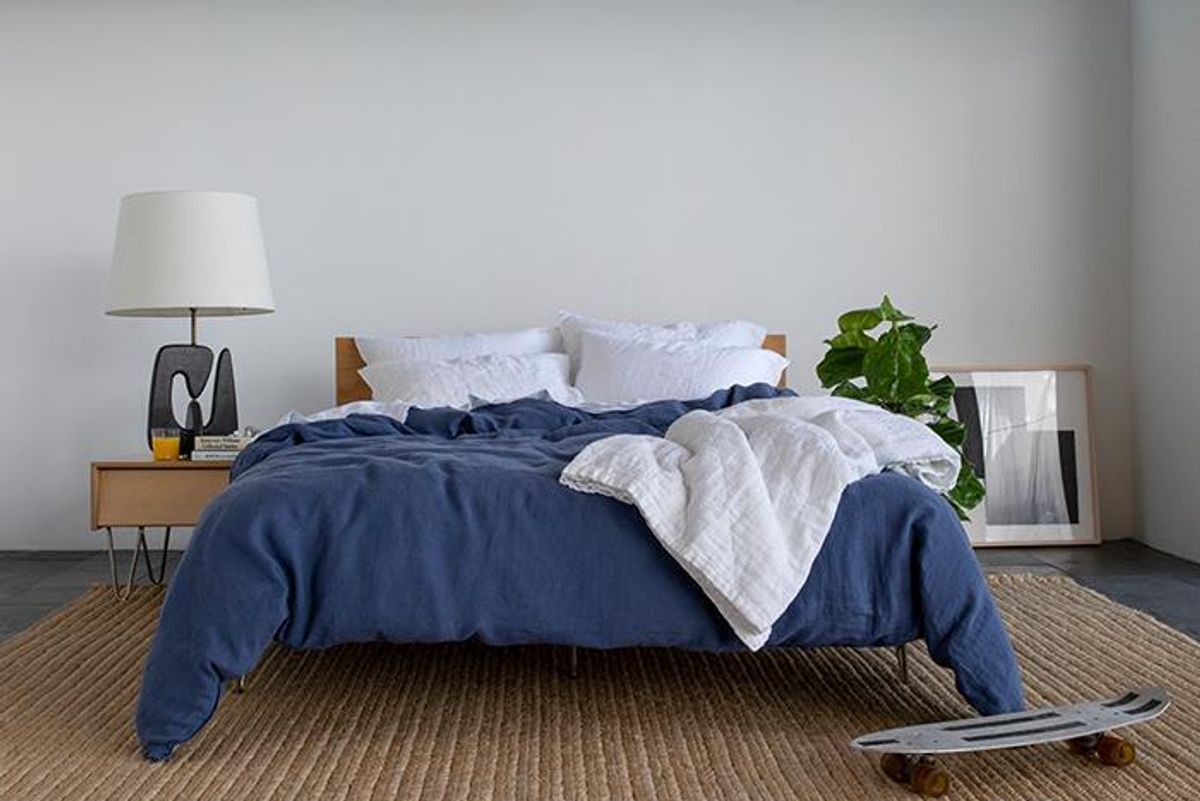 Brooklinen's Linen Bedding Is Perfect for Fall
If you're not sleeping on linen, you're doing it all wrong.
Inevitably, summer comes and goes way too fast. Every year, fall surprises me.
Sometimes I think if it weren't for the fall devotees — decking out their porches and homes with their gourds and halloween goods — I could live blissfully unaware of the seasonal change and live in a euphoric state of perpetual summer.
---
But the truth is a cold front, literally, jolting me out of my sun-soaked daydreams forcing me to face it — it's autumn, dammit. The days are chillier, the sky is more often grey than blue, and golden leaves litter the sidewalks.
But some days, I wake up to the sun and a 79 degree forecast. These are the best days, but they make for confusing nights. Sure, this transitional period is temperamental, and makes it hard to sustain a comfy temperature. In the daytime, you can easily adjust by pulling on or shedding layers. At night, the answer is more complex.
Many nights at 3am, I throw off my blankets in a fit — the heat is that unbearable. Other nights, I clutch my duvet tight to me, shivering. I'd accepted this as the cycle of life: sometimes, you pile on your socks; on others, you wage a war with your comforter.
However, after a barrage of Instagram ads for linen bedding — how did they know? — I finally decided to see if making the switch would be the answer to my problems.
Mind you, I didn't merely stumble across some random Instagram link and take the plunge. I did my research — and not just of the brand targeted to me by Mark Zuckerberg, et al — into linen bedding in general.
I like the look of linen, and I have linen summer tops and dresses on rotation for the dog days of August. So intuitively, linen seemed promising.
My research got my hopes up, promising breathability, a better night's sleep, and even a subtle massaging effect from the fibers.
That sounded too good to be true but I was in the market for new bedding and lured in by the aforementioned social media targeting. Sooooo, I traded my old sheets for linen sheets from Brooklinen and I haven't looked back.
First of all, they just feel good. If I'd have known that simple linen is true luxury, I'd have converted so long ago. I've always loved that feeling of slipping into bed. But the texture of Brooklinen's sheets is a pure, hedonistic delight. These sheets take luxury to another level. If I never leave this bed again — yes I'm writing this from bed in my contrasting ochre and ink blueBrooklinen sheets, call it market research — you'll know why.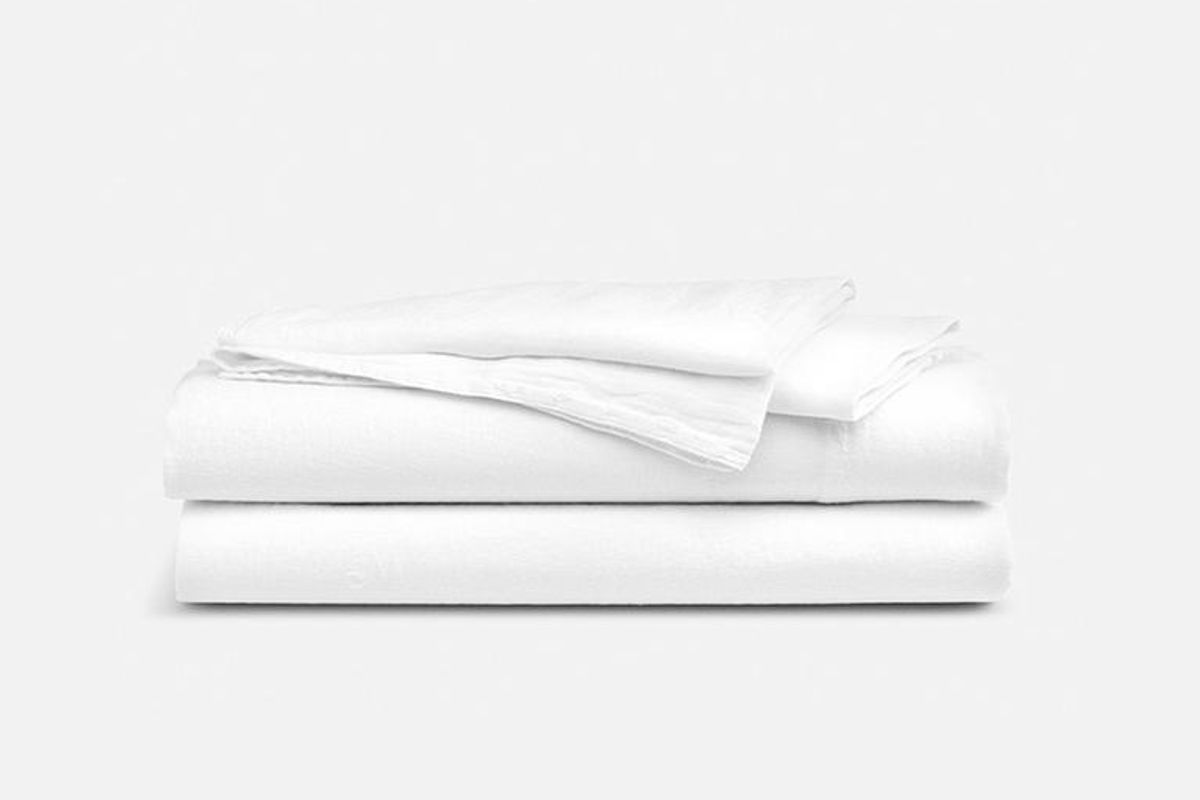 The Brooklinen Linen Core Sheet Set is the Platonic ideal of linen sheets. They're 100% linen and made from European flax, a natural, durable, and comfortable material which is a high-quality, sustainable material. Turns out, most run-of-the-mill sheets are filled with chemicals. Yep. The very sheets you sleep on utilize materials that contain harmful elements with adverse effects to your health. In contrast, Brooklinen sheets are OEKO-TEX® certified for chemical safety.
This lightweight, soft set is stone-washed for comfort and an airy aesthetic. Get the authentic, relaxed look that Brooklinen is known for and give your bedroom a minimalist, effortless vibe. There's a nice variety of handmade colors for a unique wash every time and a personal touch you can actually feel.
My Brooklinen linen bedding far exceeded my expectations. They're impossibly soft and their happy customers insist their linens grow even softer with time. Other customers agree, leaving glowing reviews about everything from quality to comfort, and carrying their Brooklinen totes all through Bushwick and Thompson Square Park:
"I sleep better since purchasing my first set of linen sheets and pillowcases. Cooler, more supportive rest, with less temperature variation during the night. Ahhhh!" Alicia M.


Absolutely LOVE this sheet set. Will be getting it for the guest rooms as well! Adds comfort and elegance to the room." Samra L.


"I absolutely love my sheets. The color is beautiful and the linen feels light and cool to touch. Generous size to fit thick mattresses." Imre S.
From comfort to style, the Brooklinen Linen Sheet Set is a staple I'll buy in many colors and will keep for years.
I no longer kick my blankets off in my sleep now. I sleep well and feel good. Brooklinen keeps my temperature regulated through the unpredictable season we're in — yes, I'm talking about the weather. But with the days getting shorter, the pandemic still raging, and mercury in retrograde, but armed with my new Brooklinen bedding and my weighted blanket, I think I've got it.