Hair renewal has long been the ultimate goal for those facing damaged, broken hair. Other than a fresh chop, so many people are searching for a product to bring hair back to life.
As more and more options line the shelves all promising they hold the key to bringing back shiny, undamaged hair, it can become difficult to determine what the key really is.
For years, bond builders were the holy grail to hair repair, but lately, we've seen promising science like K18's biomimetic hair technology that can rejuvenate hair in just four minutes.
To uncover the best way to healthier hair, we put K18's Leave-in Molecular Repair Hair Mask and classic bond builders to the test to see whose technology delivers the best results.
Here's what we found out:
Key Similarities
Both repair damage inside the strand
Both repair broken disulfide bonds
Key Differences
Bond builders can be washed away with shampoo + water
Bond builders only temporarily reconnect disulfide bonds, offering only temporary results
K18 reconnect breaks at the inner-most layer of hair (the polypeptide chains) and reconnects broken disulfide bonds like the leading bond builder
K18 focuses on hair's core strength and elasticity not creating the appearance of healthy hair
K18Peptide™ is recognized as natural in hair so it won't wash away leading to instant and progressive results
K18
K18 uses biomimetic technology — which is the process of learning from and mimicking nature — to get to the root of lasting damage repair. By using this biotech approach, the K18Peptide™ mimics the natural structure of polypeptide chains to seamlessly fit in as the perfect molecular puzzle piece to repair breaks along the chain that leads to lowered strength and resilience.
Rather than apply a layer only to be washed out later, the K18 Leave-in Molecular Repair Hair Mask travels to the innermost layers of hair, reconnects the broken polypeptide chains and stays put to reverse years of damage in just 4 minutes—with many seeing renewed strength, softness, smoothness, and bounce after just one use. The coolest part? Since all hair is identical on the molecular level, this mask works across all hair types and textures.
Simply apply K18 out of the shower to clean, towel-dried damp hair (when you're in the shower remember to skip conditioner!), leave it on for 4 minutes to activate, then comb and style as usual.
K18's Leave-In Molecular Repair Hair Mask's highly-concentrated formula means a little goes a long way, so you won't use even close to the amount of a traditional mask. This keeps the price point of $75 more reasonable, as you'll go through it a lot more slowly than other products.
Here's a look at how K18's biomimetic science differs from traditional bonding methods in the way it treats hair damage.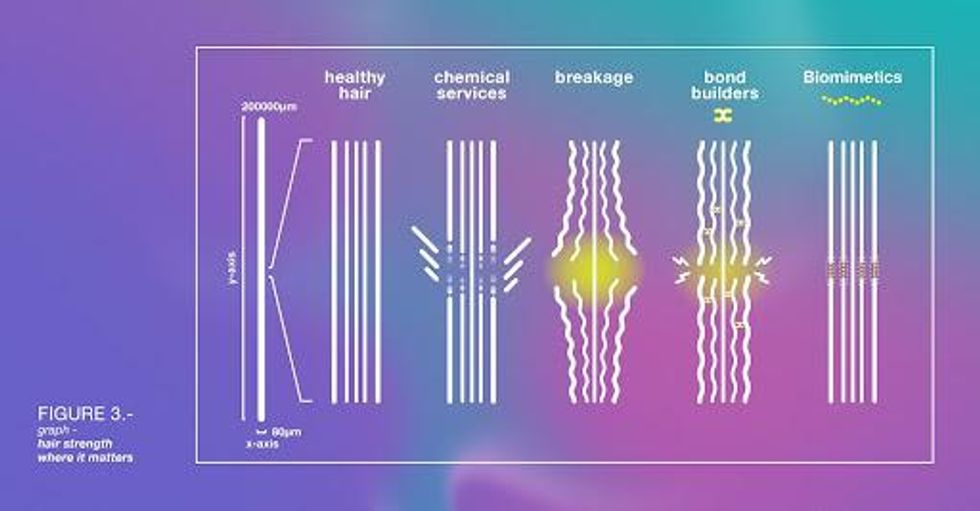 Bond Builders
As anyone who has dealt with overly crisp hair knows, bond builders are normally the first thing people reach for when addressing damaged hair. Bond builders were revolutionary because they tackled damaged hair past the surface, working in the cortex level of hair instead of the top layer or cuticle like traditional conditioners + masks.
Bond builders like those from Olaplex, IGK, or Amika are effective as their ionic cross-linking technology works to target bonds and form a bridge. One-half of the active protects bonds with sulfur, and the other half creates an ionic bond connecting the bridge altogether.
While this ionic bond is effective, it can still be affected by pH which leads to the middle linker washing away with many forms of tap water.
Verdict
While both bond builders and K18 repair hair from the inside out, K18 goes further and employs different technology to renew hair's core strength and elasticity without washing out.
Bond builders are directed at only repairing certain bonds, and have a tendency to wash out with water, making all of it for naught! K18's biomimetic technology is a total upgrade to generic bond builders. Rather than washing out or only repairing certain bonds, it's a universal solution for all hair types and bonds, and holds the key to repairing long-term hair damage.
Plus, who can beat a four-minute repair time?
JUST FOR YOU: Our friends at K18 are giving readers 10% off + FREE shipping to new customers! Follow this link to shop!