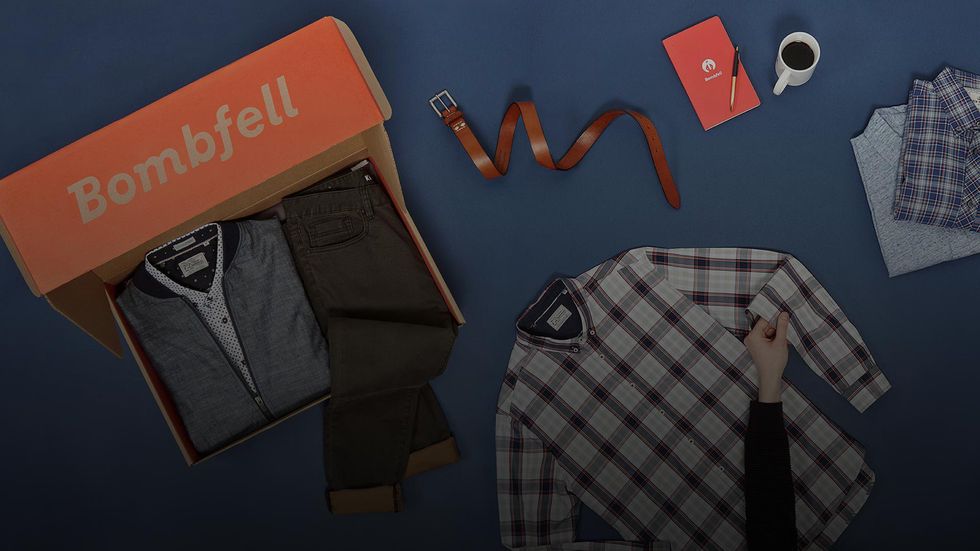 Bombfell is the Most Convenient Shopping Shortcut for Men
We're all looking for shortcuts to make our lives simpler. When it comes to shopping for clothes, I always look for faster ways to get out of the store. Shopping online was my go-to for quick purchases, but I was annoyed by the difficult return policies, inaccurate fit, and overpriced shipping. Recently, I heard about a clothing service called Bombfell, which is designed for the everyday man who wants to look good without too much effort. Here's how it works.
Bombfell allows you to customize your clothing based on your preferences and get them sent right to your door. They have expert stylists who pick out outfits for you, relieving you of the struggle to find your perfect style. After completing a short and simple survey on their website, I was matched with a stylist who personalized my own shipment of clothing based on my favorite styles.
My first shipment included a pair of Mavi jeans and a Howe blazer. I was surprised that the jeans weren't too skinny or too baggy, and they fell at the right length. The blazer was sharp and would look great with jeans or slacks, for a casual or corporate event. I sent back a T-shirt that was a little too long, but other than that I was really impressed by how accurately my stylist was able to get what I would like. I gave my stylist feedback on my first shipment by email, and she was more than happy to take my comments and incorporate them into my next shipment the following month.
Bombfell not only provides quality clothes but also has an incredible shopping experience. You have the flexibility to preview your shipment selections within 48 hours and can swap any items before they get sent out. Then, you'll have 7 days to try them on and pick the ones you'd like to keep. The rest, you can send back in the pre-paid bag. This way, I can try on fashionable clothes according to my schedule and have the freedom to change my mind.
Each shipment has been increasingly on point, and I'm even expanding my wardrobe to include things I normally would have passed by in the department store. I've also noticed that my coworkers and friends are commenting on my new clothes more, going so far as asking me where I bought my shirts. I actually convinced one of them to give it a try for himself.
At the end of the day, what makes Bombfell unlike other services is that it's easier than ever to get stylish clothes without spending the time to shop. Plus, there are no subscription fees or stylist fees, so you just pay for what you keep. Their average price point is around $89 per item, but you can customize your price preferences in the fashion profile to stay near your budget. If you're looking to save time and effort on shopping, Bombfell will make your life so much easier.
Update: With Bombfell, you pay $0 to try-on your new clothes. Follow this link to try Bombfell risk-free. Only pay for the clothes you keep!