We all love our homes, but that doesn't stop us from wanting to improve them. However, even moving furniture to paint the living room can be stressful.
When it comes to fixing up a home, we all have our own horror stories. But good news! Gone are the days when we must do everything ourselves. Now, all we have to do is find out who to call to get the stuff done for us.
Our editors took up this renovation challenge and found a solution for you—Block Renovation.
Block is an end-to-end renovation company that can help make your dreams come true. We tried Block Renovation and compared it to taking on a project yourself from start to finish.
Check out which method is the quickest, most efficient, and most beautiful: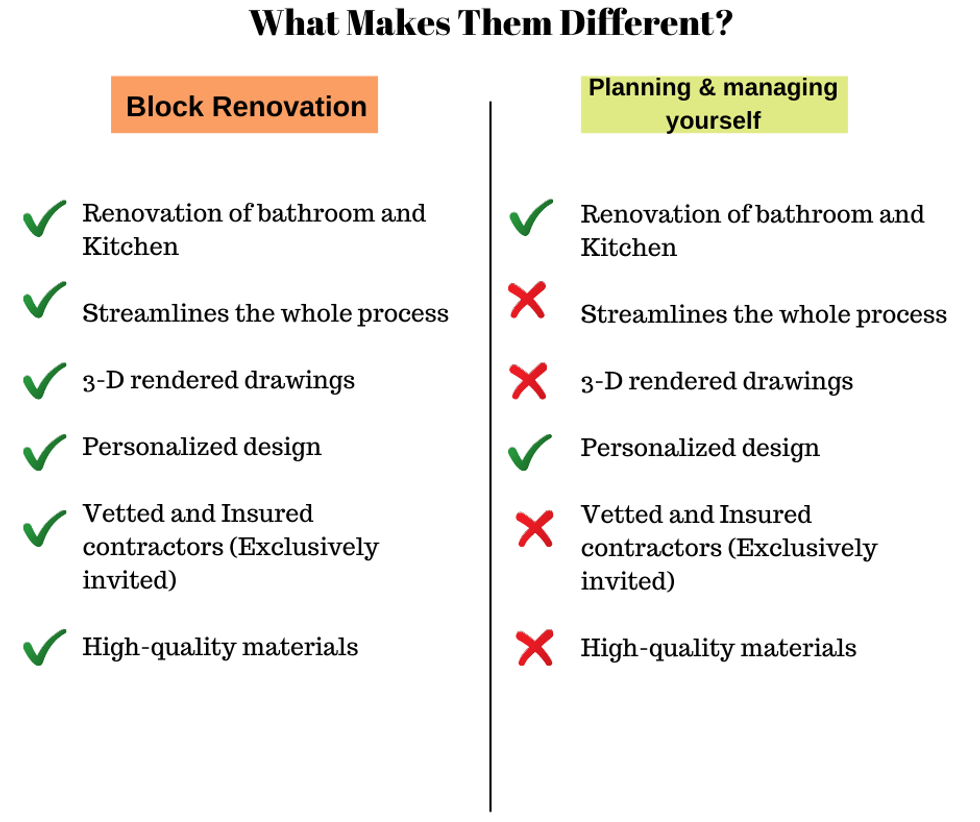 Block Renovation Overview:
Block Renovation handles your kitchen and bathroom renovations from start to finish. They offer high-end work with a holistic approach that will turn your dinky kitchen into a streamlined one.
Simply enter your details: zip code, type of home—condo, single, or multi-family—how old the building is, preferred design styles, and when you'd like to break ground. You'll then receive a line-by-line proposal from the Block experts within the next 48 hours.
Block makes design accessible via its Visual Planner tool. You can review an extensive catalog of materials and see them all come together onscreen. The Block Materials Library helps to both simplify your decision-making and provides access to timeless, high-quality fixtures and finishes.
You then have a design session with Block's team of award-winning designers. After this meeting, the team will follow up with a package containing technical drawings, 3-D renderings, and clear, construction-ready plans.
Block's start-to-finish approach will save time, money, and seriously alleviate stress! Bathroom renovations start at $18,900 and kitchens start at around $16,500.
Planning and managing a renovation yourself overview:
From searching for inspiration on Pinterest to drawing up your own desired kitchen, renovations can be a real headache.
Once you have a design in hand, it's time to vet a contractor, make sure all your permits are in check, and then trust your contractor to hire exceptional people who will bring the project in on time and on budget. Then there's the sourcing of materials, fixtures, and appliances.
Most homeowners embark on the sourcing and organization side of the project to try and save a buck or two, but between contract negotiations, unexpected delays, and miscellaneous expenses, a massive home renovation tends to actually go over budget. Not to mention the added stress of managing a renovation project on top of everything else you've got going on.
Final Thoughts:
Instead of tackling a massive renovation project all by yourself, check out Block Renovation. It's more convenient, more affordable, and—most of all—more reliable. They'll play a key role at each milestone so your renovation will come in on time, on budget, and with far fewer headaches.