Renovating your bathroom or kitchen can seem like a daunting task.
Whether the prices skyrocketed after breaking ground, it took longer than expected, or the contractors walked out in the middle of the project, we've all heard at least one construction horror story.
But even if everything goes right, it can take weeks or months from so many stop-start delays.
Well, don't worry, because we found a renovation startup that solves every problem – Block Renovation.
Block Renovation streamlines the whole process for you by bringing design, sourcing, and vetted general contractors into one seamless, uninterrupted experience. Design in 3D with your dedicated designer and watch as your dream bathroom or kitchen is completed 3 times faster than the national average.
Interested? Here are all your questions answered.
What is Block Renovation?
The technology-enabled company offers high-end bathroom and kitchen renovations at reasonable prices, with a lot less stress. With Block, you get the whole package of accurate home scans, architect-grade designs & drawings, materials sourcing, and a ready-to-build contractor.
How does it work?
The whole process is straightforward and technology-assisted. To get an estimate, all you have to do is enter details about your dream project on their website: zip code, the type of home (co-op, condo, single, or multi-family), how old it is, design styles you like best, and when you would like to break ground.
Once that information is completed, you send photos or a video of your space, and you'll get a detailed line by line proposal within 24 hours.
After a design consultation or two, Block's team of award-winning designers and architects follow up with a package containing your rendered designs, building approvals, detailed drawings, all finish materials, protection, and scheduled deliveries of your products. That's everything you need to get your home renovation going.
Next up, the building begins! The project is executed efficiently and on time by qualified and vetted contractors and builders.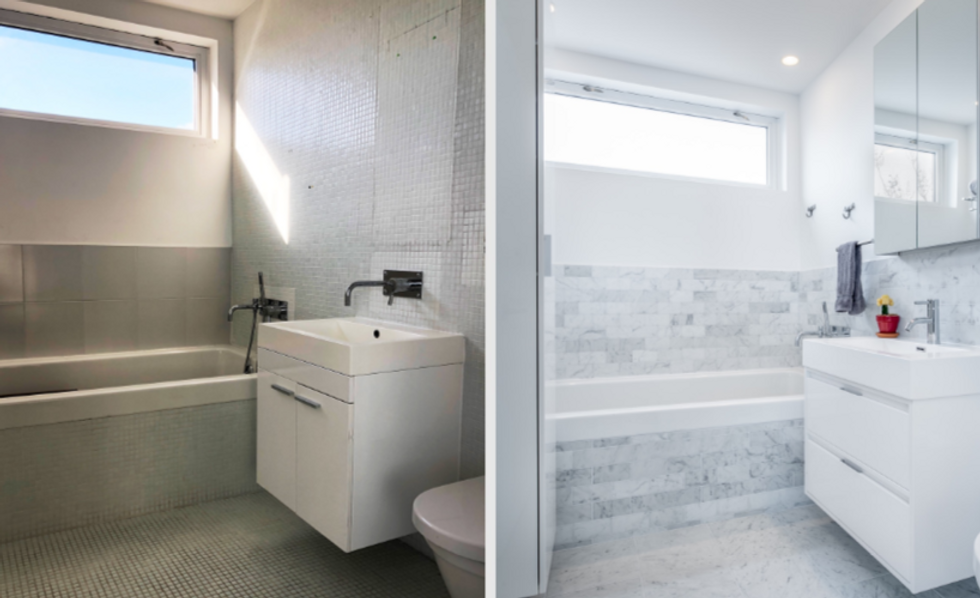 What makes Block Renovation different than using a regular contractor?
With a typical renovation experience, it's likely that the price and the estimated date of completion will change as complications arise. With strong competition at the outset, many pros bid with the most optimistic numbers and request change orders along the way. Block, on the other hand, is transparent and realistic about the price: it'll cost this much and take this much time.
Block's designers create detailed 3D-rendered technical drawings for each project, so there is an additional level of accuracy and craft. They order and deliver all the materials needed so you don't have to source them yourself or deal with backorders like you would with most renovation projects.
Block also has built a trusted network of vetted and licensed builders. Their average build time for a bathroom is 4 weeks! This compares with a national average closer to 16 weeks.
Jamie S, says "A huge plus for choosing to work with Block was the local partnerships they have established with trusted contractors which saved me the headache of vetting plumbers, electricians, and a demo team!"
Once you break ground, Block will support you and your assigned builder from start to finish, so there are no delays, saving you 60+ hours of personal time trying to manage and organize the whole project.
What materials does Block Renovation use?
The finish materials and fixtures of your renovation are handpicked from premium brands like Kohler, Toto, and Grohe. Block has great volume-driven relationships with the largest plumbing supply, tile, and bathroom and kitchen fixture vendors, allowing them to procure the highest quality materials at a superior cost.
Overall, the benefits of using Block Renovation instead of a regular contractor are overwhelming. It's more affordable, more efficient, and more convenient. They make high-end bathroom and kitchen renovations easy and accessible for everyone.

If you're looking to re-do your bathroom or kitchen or are just curious about what it would take, why not visit the Block Renovation website to get your estimate for free.