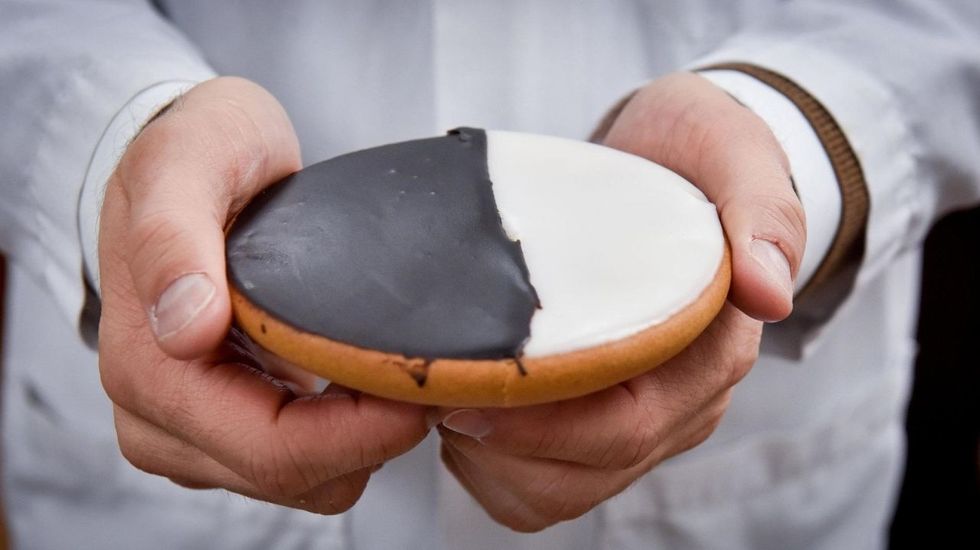 The Best Black and White Cookies in NYC
These two-toned treats are double the pleasure.
The black and white cookie. Something of a New York City staple, yet its appetizing appeal is universal. Sweet, spongy, and oh, so satisfying, the (usually) fondant-topped treat is what enjoying life is all about. Split down the middle with one side topped with chocolate and the other vanilla, these two-toned treats are double the pleasure.

Black and white cookie connoisseurs usually have their own way of going about enjoying the baked beauty. You've got your "white side first" folks and the "black side first" fans. Then there are those who switch flavors between each bite. Some break their cookie in half and others take the whole thing straight to their longing lips. But as we all know, there really is no wrong way to bite into a black and white cookie. There are, however, some NYC spots who are spot-on when in comes to baking the best black and white cookies. These five fabulous places prove that the black and white cookie will never go out of style, and when done right, can be one of the best bites you'll find in the Big Apple.
Russ & Daughters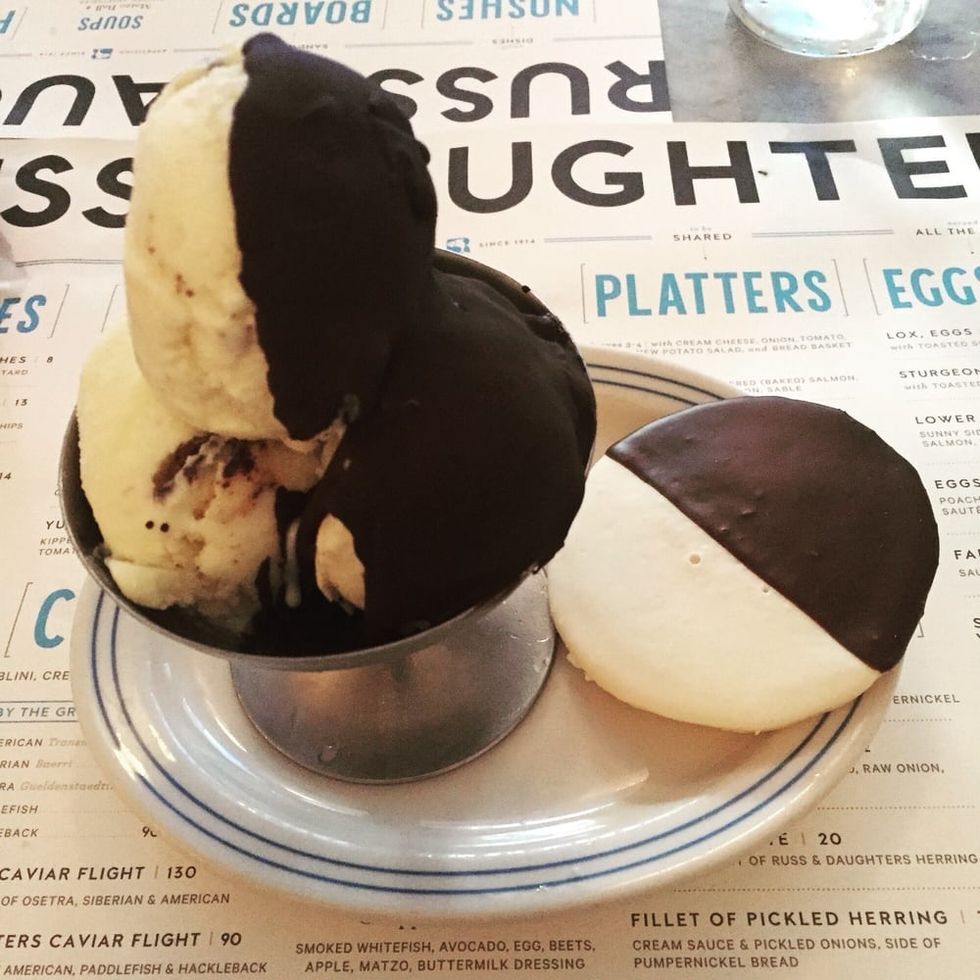 Russ & DaughtersVia yelp.com
You may know Russ & Daughtersbest for their generous bagels and sensational smoked fish, but when your sweet tooth comes calling, a black and white cookie from Russ & Daughters will dazzle you with a dessert worth dumping your diet for. Gothamistranks their cookie as #1 in all of NYC, and if you've ever tried one, you know exactly why. Big, balanced, and something of a bargain – just $1.50 per cookie - Russ & Daughters' black and white cookie makes for the perfect ending to a noteworthy NYC meal. As if the cookie isn't enough, pair yours with their black-and-white sundae – black and white cookie batter ice cream, ½ coated with a chocolate shell. If this doesn't cure your craving, nothing will.
179 E. Houston St. NYC
Glaser's Bakery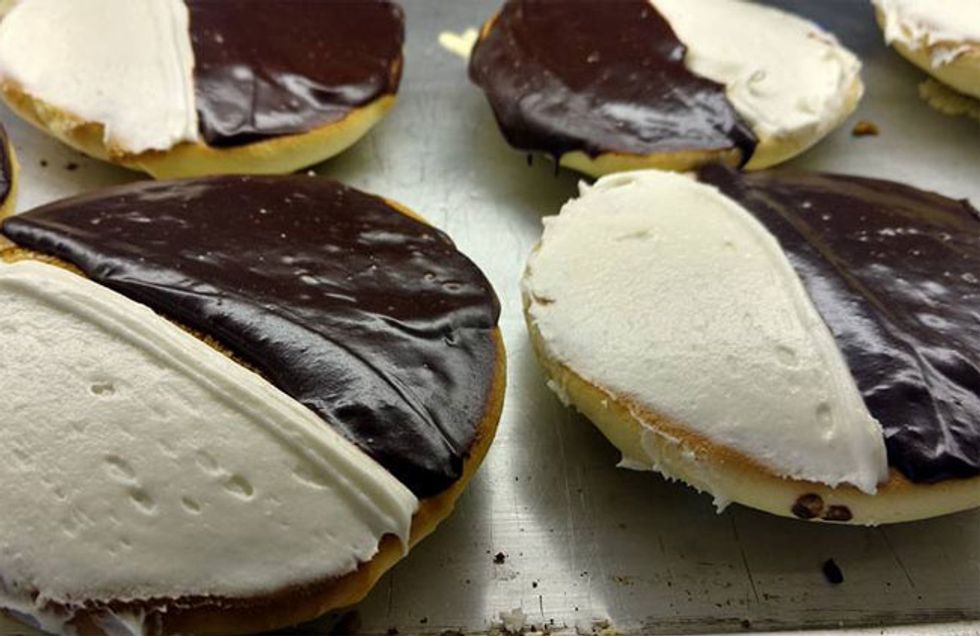 Glaser's BakeryVia bakemag.com
Since 1902, Glaser's Bakeryhas been treating New Yorker's to pastries, cakes, breads, and more (cookies included), and their "famous" black and white cookies are worth a trip to Manhattan's Upper East Side. While most black and white cookies are topped with fondant, Glaser's does theirs with rich frosting - a twist that's just as tasty. Chosen as the best black and white cookie in NYC by CBS, not only does their frosted topping stand out, but the cake bottoms are slightly lemony, giving their cookies a light lift. $1.50 for a cookie that has stood the test of time for more than a century is money well spent. That said, open your wallet (and your mouth) now, because the bakery is set to close its doors for good on July 1 of this year. Experience a taste of NYC history before the "cookie crumbles."
1670 1 st Ave. NYC
Joyce Bakeshop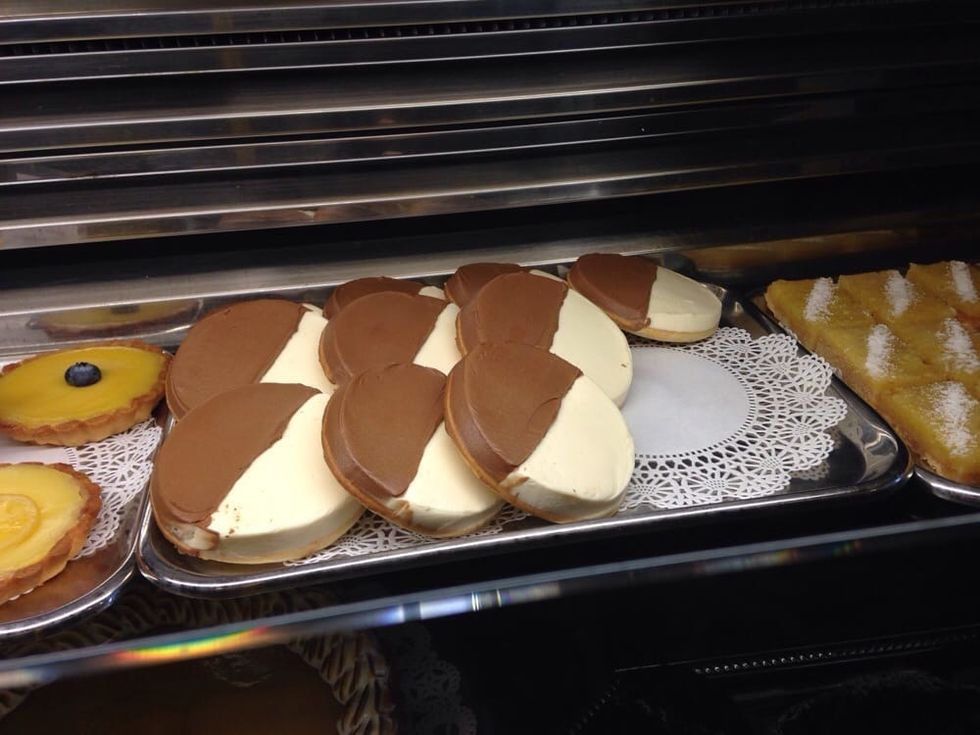 Joyce BakeshopVia yelp.com
Brooklynites love their black and whites baked in the borough, and Joyce Bakeshop caters to Prospect Heights locals with luscious cookies that are big in size and flavor. Men's Journalpicked Joyce Bakeshop as one of their best spots for black and white cookies in the country, let alone NYC. Also topped with a frosting rather than fondant, these cookies are moist, rich, and always fresh. Visit seasonally for changes in frosting color to celebrate holidays and special occasions. Then again, eating a Joyce Bakeshop black and white cookie is a special occasion. As one Trip Advisor user raved, "They have the best black and white cookies ever, very creamy and perfect size, excellent price, love it." And other "blessed" their Joyce Bakeshop's goodies as, "homemade heaven." 'Nuff said.

646 Vanderbilt Ave. Brooklyn
Nussbaum & Wu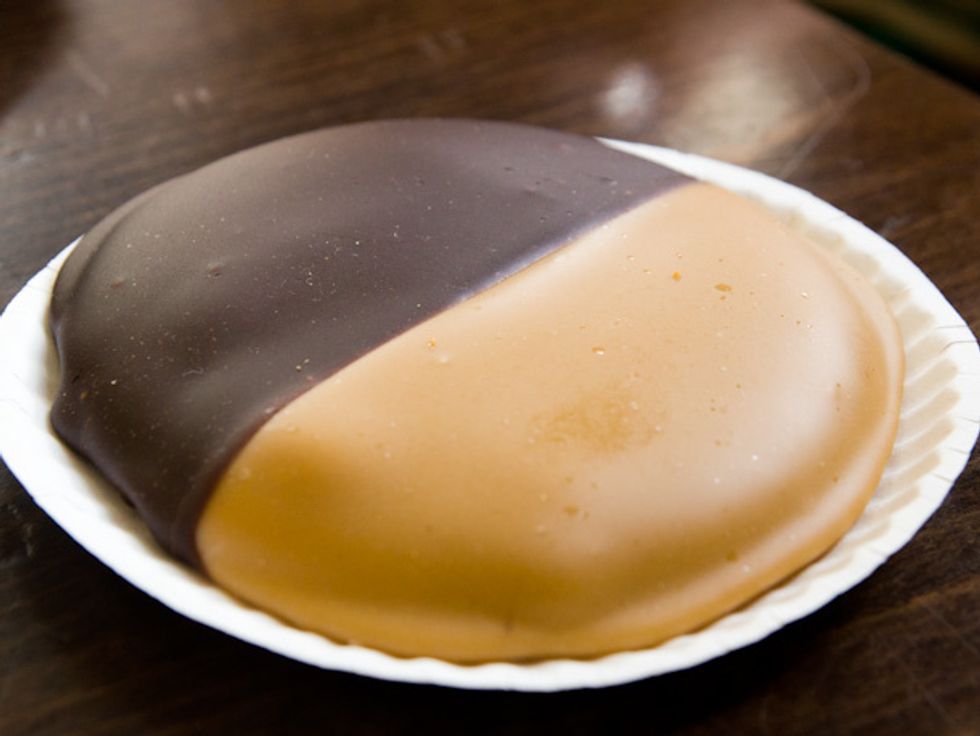 Nussbaum & WuVia seriouseats.com
Sometimes you just want a mini black and white cookie and other times your belly begs for more, that's why Nussbaum & Wuis the place to come no matter your appetite. CBS loves their gourmet-level cookies for their "fancy" quality; the tops are completely encased in fondant and the bottoms are flat, taking the cookie from rustic to refined. And if black and white is too basic for your cookie plate, pick up one of Nussbaum & Wu's gold and black cookies – a magical mocha and chocolate creation. Serious Eats describes their cookies…, "Unlike every other deli cookie out there, it's fresh with the delicate kiss of vanilla and the slightly eggy scent of homemade birthday cake." Sounds like a celebration to us!

2897 Broadway, NYC
Zabar's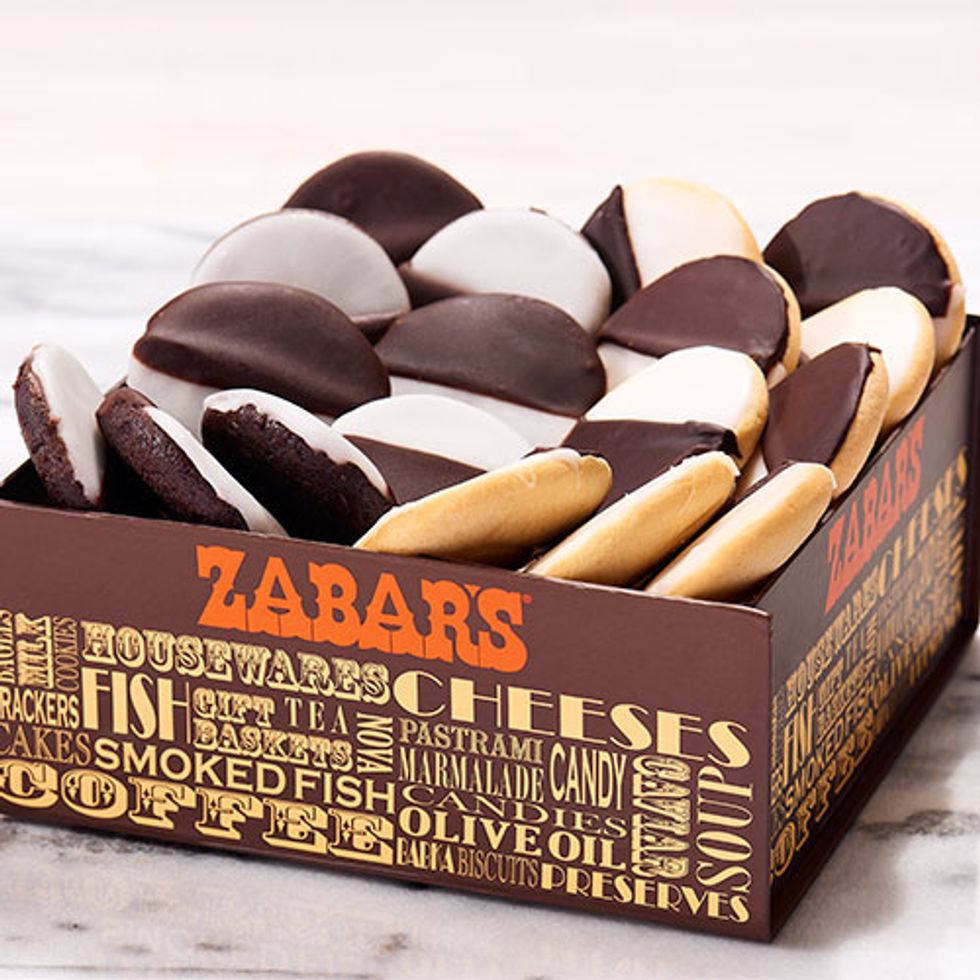 Zabar'sVia zabars.com
A New York culinary institution, Zabar'soffers up some of the tastiest black and white cookies in the city. Gothamist describes their version as, "very fresh, and the icing is gooier than you'd expect." Fresh and gooey sounds pretty great, and Zabar's always knocks it out of the park. Not only does Zabar's sell a buttery vanilla cake-based black and white cookie, but they have a devil's food version too. Chocoholics are feeding their cookie addiction and they're not holding back! Zabar's sells a mini version too, so mix and match depending on your munching mood.Epicuruswrites, "When in New York, everyone should make a visit to Zabar's as it's much more fun than even the Empire State Building for any foodie." Cheers to that…with glasses of ice cold milk, of course!

2245 Broadway, NYC
Unleash your inner Cookie Monster on some of NYC's best black and whites!