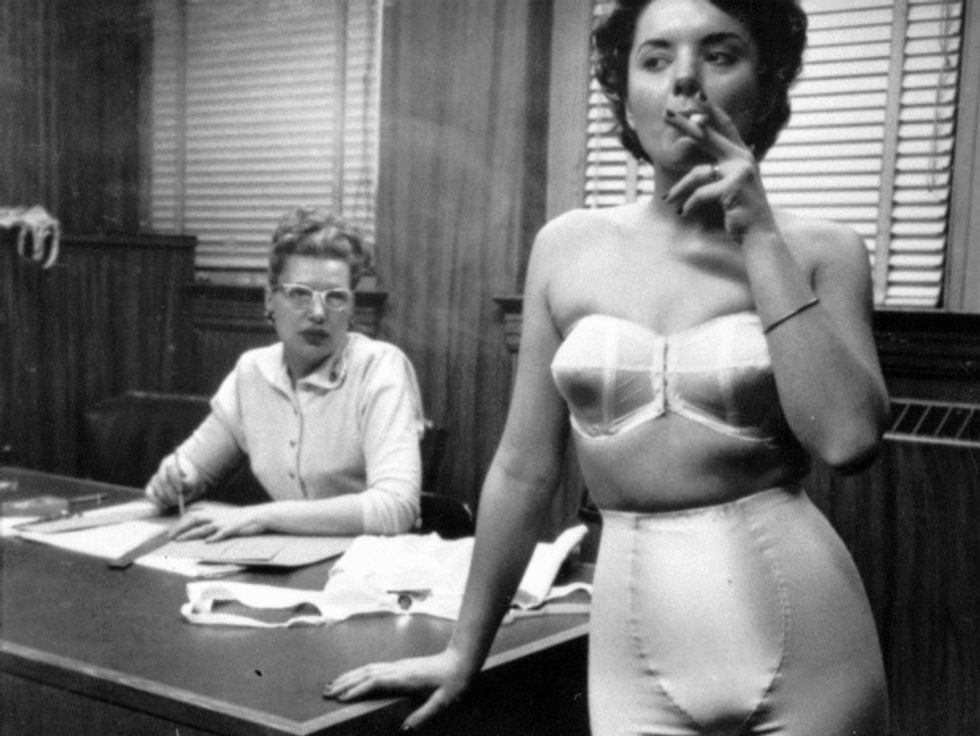 The Best Strapless Bras for Every Body Type
We've got your ladies covered
It's that time of the year when you can finally leave your house without a jacket. The flowers are in bloom, the air is fragrant, and the days are getting longer. 'Tis the season for sundresses and weddings! The one caveat to this glorious weather is you'll probably need some, ahem, additional supportive options to rock those cute strapless numbers you've been eyeing.
Enter the strapless bra. Beloved by none, this upper topper flopper stopper is the bane of many women's existence. Is it really so hard to find a comfortable, supportive strapless bra that doesn't slide down with every movement or squash your breasts into a uni-boob? One that subtly enhances cleavage without making your breasts look like two furtive animals looking to escape their cloth prison? Apparently, yes. It is quite difficult. Luckily, we've got you covered.
Best strapless bras for large cup sizes

So you've been blessed with an ample bosom. Mazel tov! Your bras need to be supportive, yet comfortable enough to avoid the dreaded bra strap digging into your shoulder blade and back. And if they could avoid looking like industrial warehouse support that would be nice too. Here are your best bets: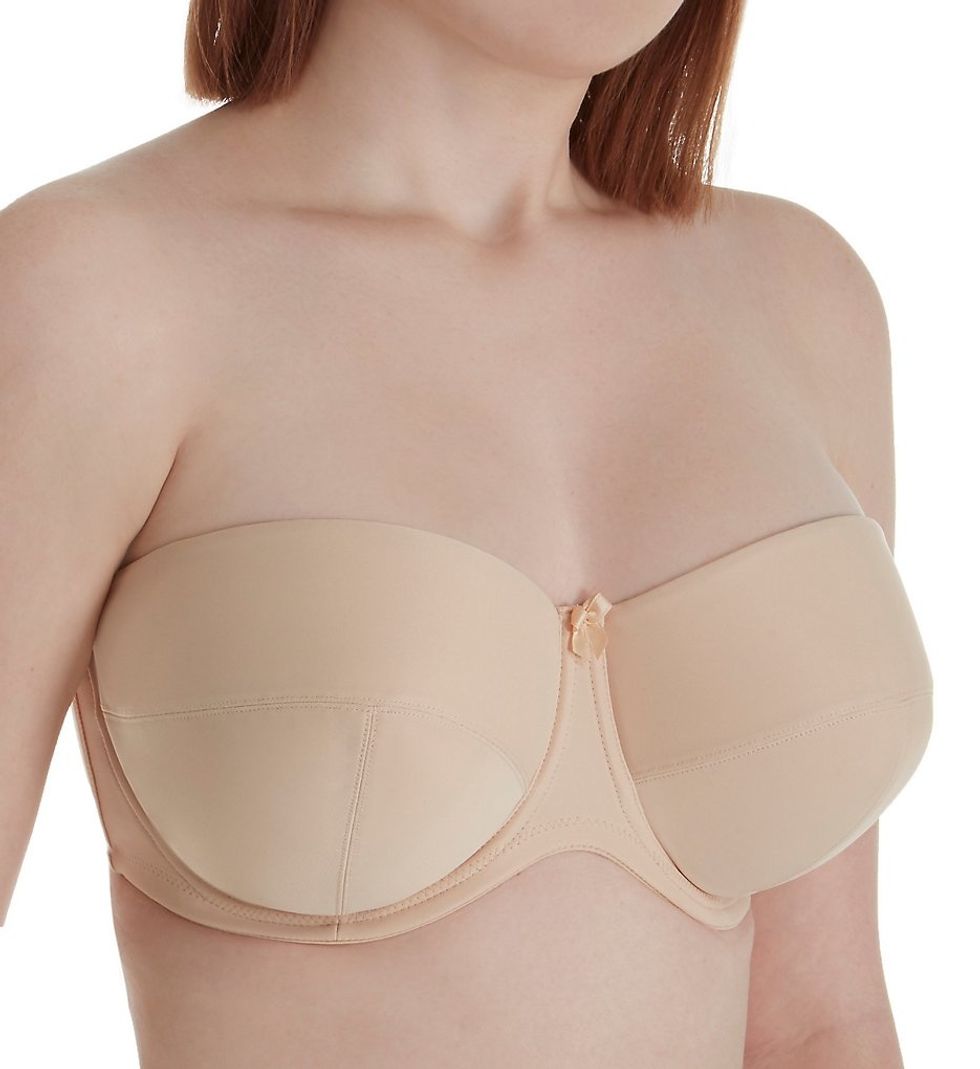 Comfortable, yet supportivehttps://www.herroom.com/panache-5320-evie-straples...
Panache Evie Strapless Bra 5320
If you're looking for a simple, lightly padded, convertible bra, the Panache Evie should be your go-to. It comes with removable straps for converting it into a racerback, halter, one-shoulder, or a traditional style, and its silicone gripper elastic edges mean you don't have to worry about it slipping down during a particularly rousing Hora. Cotton lining means the Evie is comfortable enough to wear all day, and it comes in nude or black.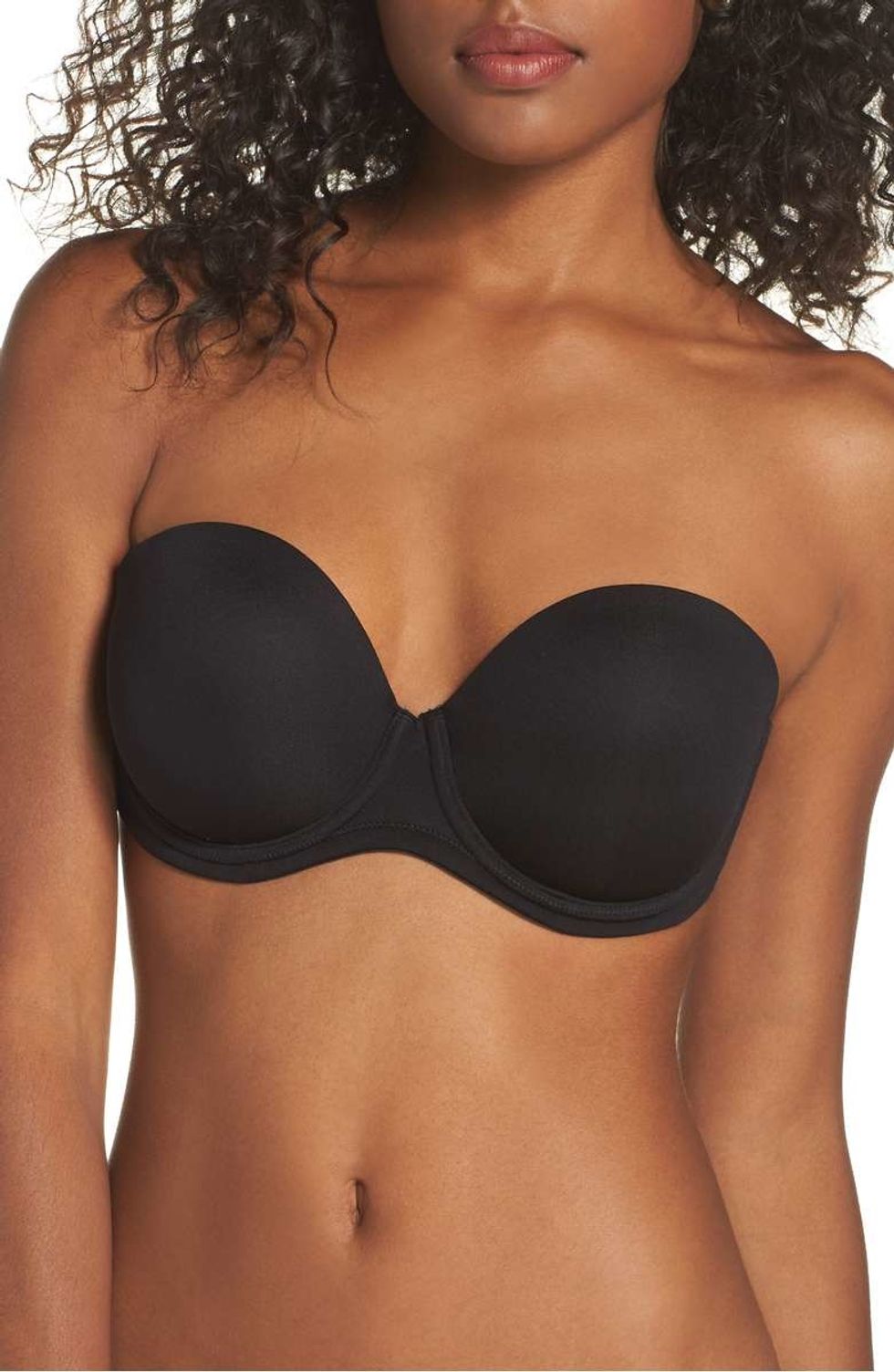 Rock that red carpet, baby!https://shop.nordstrom.com/s/wacoal-red-carpet-con...
Wacoal Red Carpet Convertible Strapless Bra
Wacoal has been producing high-quality lingerie since 1946, and it's not hard to see why they're still popular. Fans love how this bra doesn't lump your breasts together in a uni-boob, nor does it require a massive tug of war when putting it on. It comes with removable straps to suit any number of styles and offers very light padding to enhance natural shape. To the women with extra generous bosoms: never fear – this number is the go-to choice for those with bra sizes DD-H. The Red Carpet bra comes in nude or black.
Best strapless bras for smaller breasts
While you may sometimes pine for ample cleavage, being on the smaller side is usually a pretty sweet deal. However, a more compact chest doesn't necessarily equate with easy-to-find strapless bras. You still need to consider a comfortable fit and sometimes (sadly) having enough breast to fill the cups. Sigh. Don't worry. The following numbers are tried and true bras that will allow you to enjoy baring your shoulders without fear of slippage or creasing.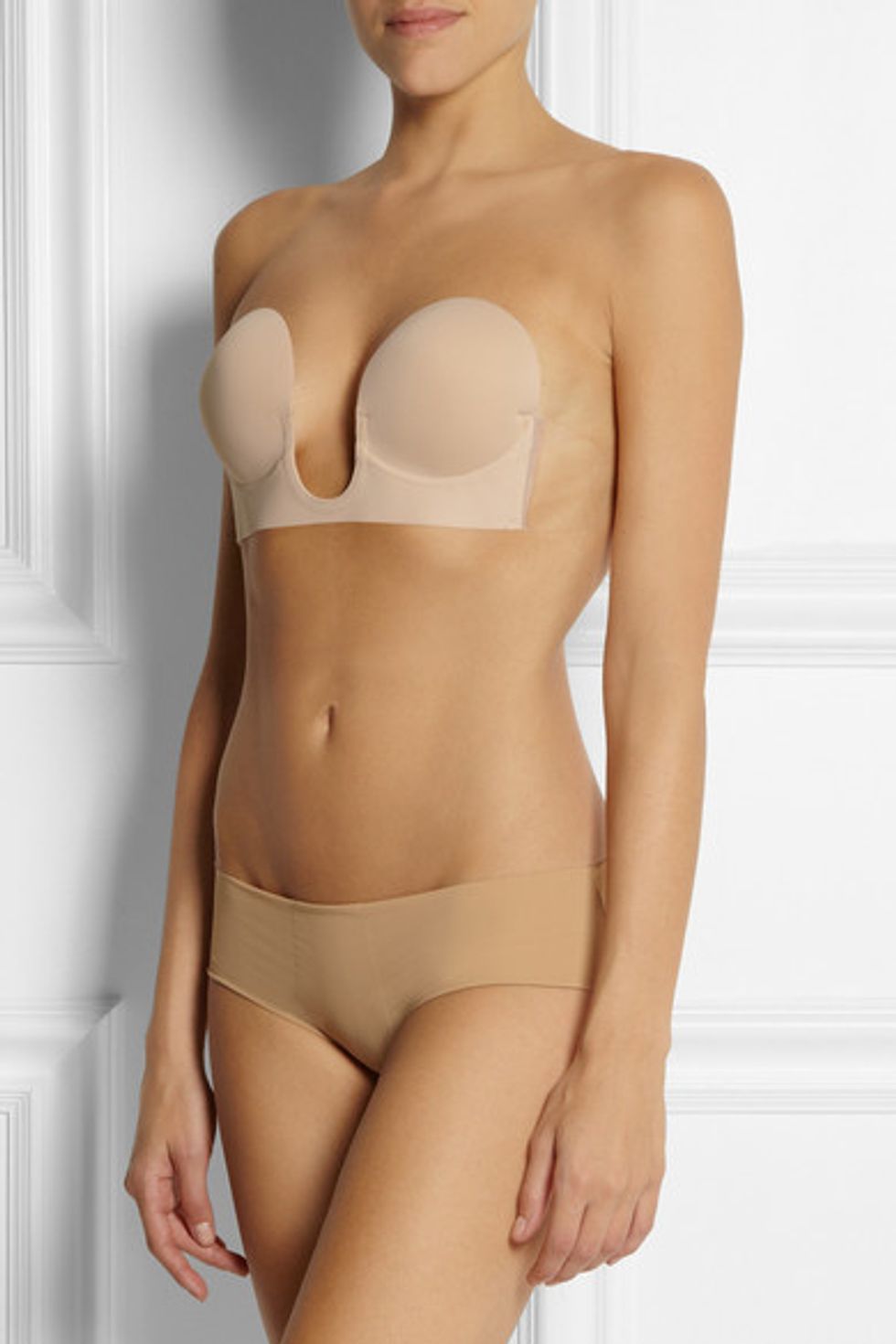 Show off that sexy plunge!https://www.net-a-porter.com/us/en/product/318280/...
Fashion Forms U-Plunge self-adhesive backless strapless bra
Have a plunging neckline or even a button-down shirt you'd like to feel more alluring in? The U-plunge self-adhesive is your new best friend. It comes with straps in case you don't feel like using the adhesive, but even with straps, it's comfortable enough to rock all day. With slight padding to enhance your shape, its molded, underwired cups ensure a smooth, seam-free look under even the sheerest fabric. If you're looking for a pushup style, Fashion Forms also offers the Go Bare self-adhesive style.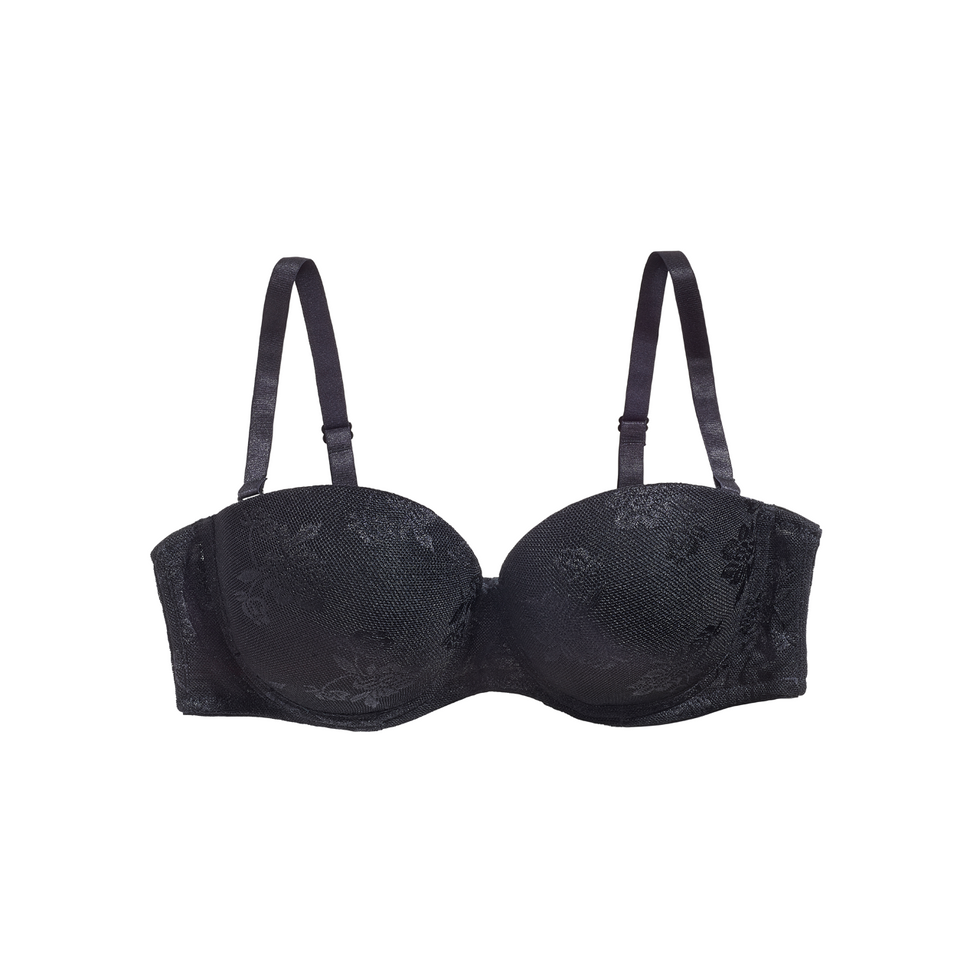 They're made just for petite bustshttps://www.thelittlebracompany.com/pages/about-us
The Little Bra Company Sascha

The Sascha bra is designed to enhance a smaller bosom, but its removable pads also allow for those not seeking a boost. It comes with removable straps and is available in a feminine lace that's virtually invisible under clothing or a smooth cup version. Devotees swear that it stays up even under the most intense dance movements, and feels comfortable for all-day wear. The Little Bra Company creates lingerie specifically for women on the smaller side (breast size that is, not height), so rest assured you're in good hands.
Best minimizing strapless bra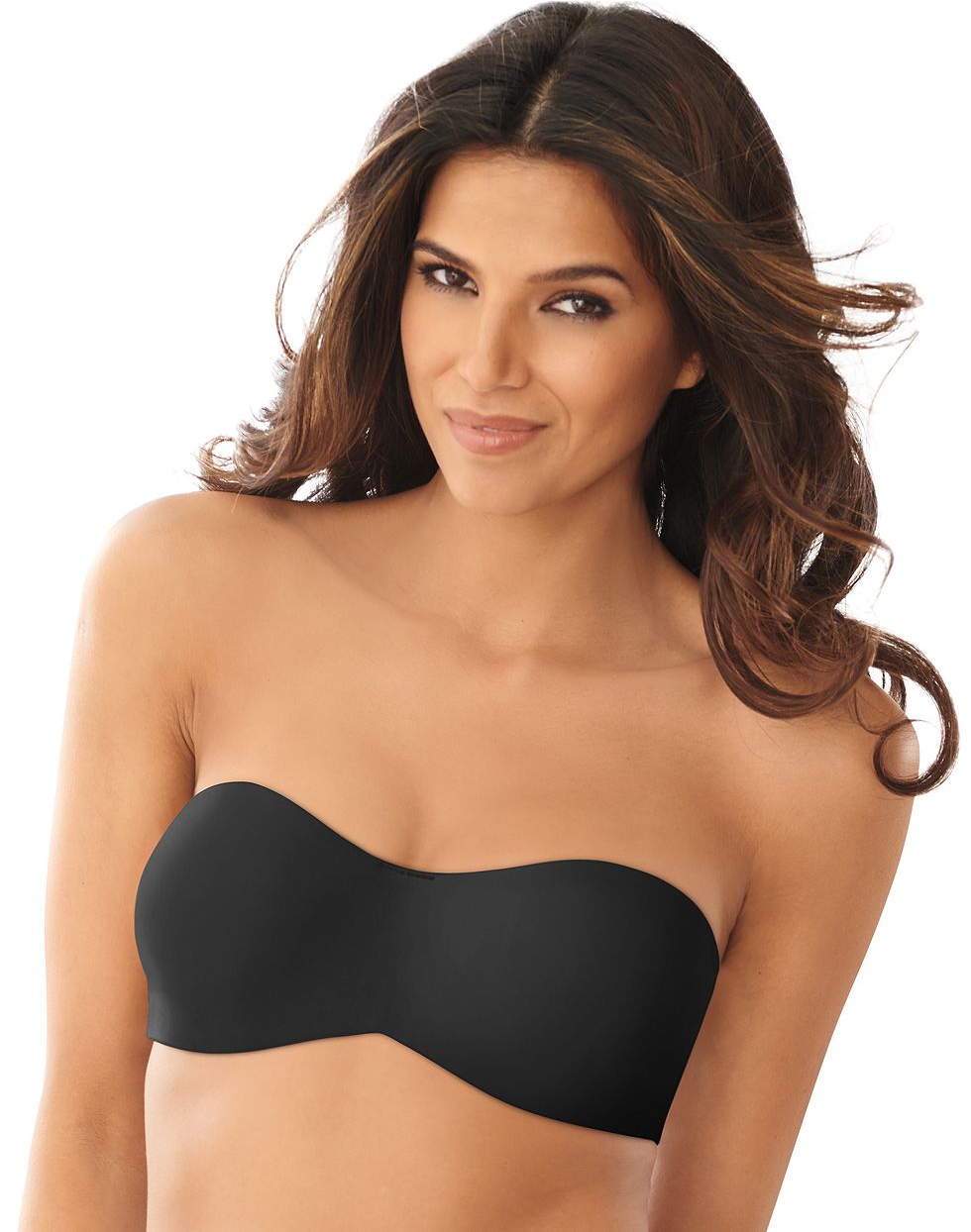 Flaunt your curves without overflowinghttps://www.onehanesplace.com/shop/onehanesplace/l...
Lilyette by Bali Tailored Strapless Minimizer Bra
If you're looking to downplay your curvy silhouette, the Lilyette by Bali Tailored Strapless Minimizer Bra is one of the top picks for a comfortable, yet versatile minimizing bra. It features a seamless fit with a grip that's snug without being suffocating. It also converts to racerback, halter, and demi style and can be worn under a number of different styles. It's perfect for women who are sick of shoulder pain due to uncomfortable straps. The Bali brand has been a crowd-pleaser for years, and this bra definitely lives up to their high standards.
Best push-up strapless bra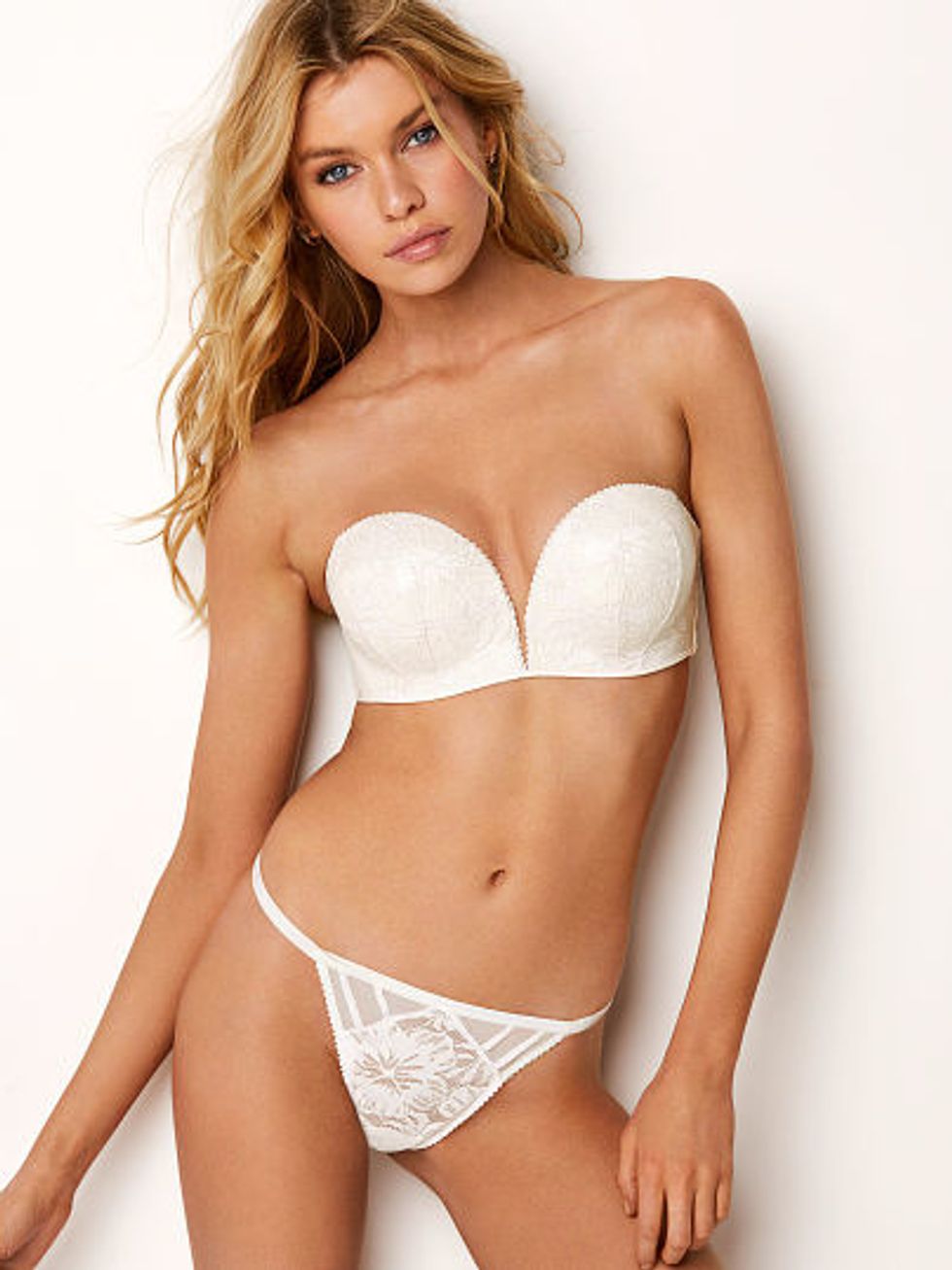 We can all look that good...it's totally the brahttps://www.victoriassecret.com
Add-2-Cups Multi-Way Push-Up Bra
When Mother Nature hasn't blessed you an hourglass shape and the dress you're eying has enough room for at least two sets of your breasts, you can't go wrong with Victoria's Secret. Their Add-2-Cups Multi-Way Push-Up Bra promises an increase of two full sizes thanks to soft padding that cushions and plumps up your breasts. You can order it in sizes AA-DD, and it comes in several colors including nude, black, white, and sheer pink. If you're looking for a little extra feminine lace, go for the Coconut White Palm Springs or Black Wildflower Lace options. Its non-slip sides provide the support you need without strangling your chest, and the underwire rests snugly under your breasts for added definition. No one will ever know that those curves aren't 100% God-given.
Best strapless corset bra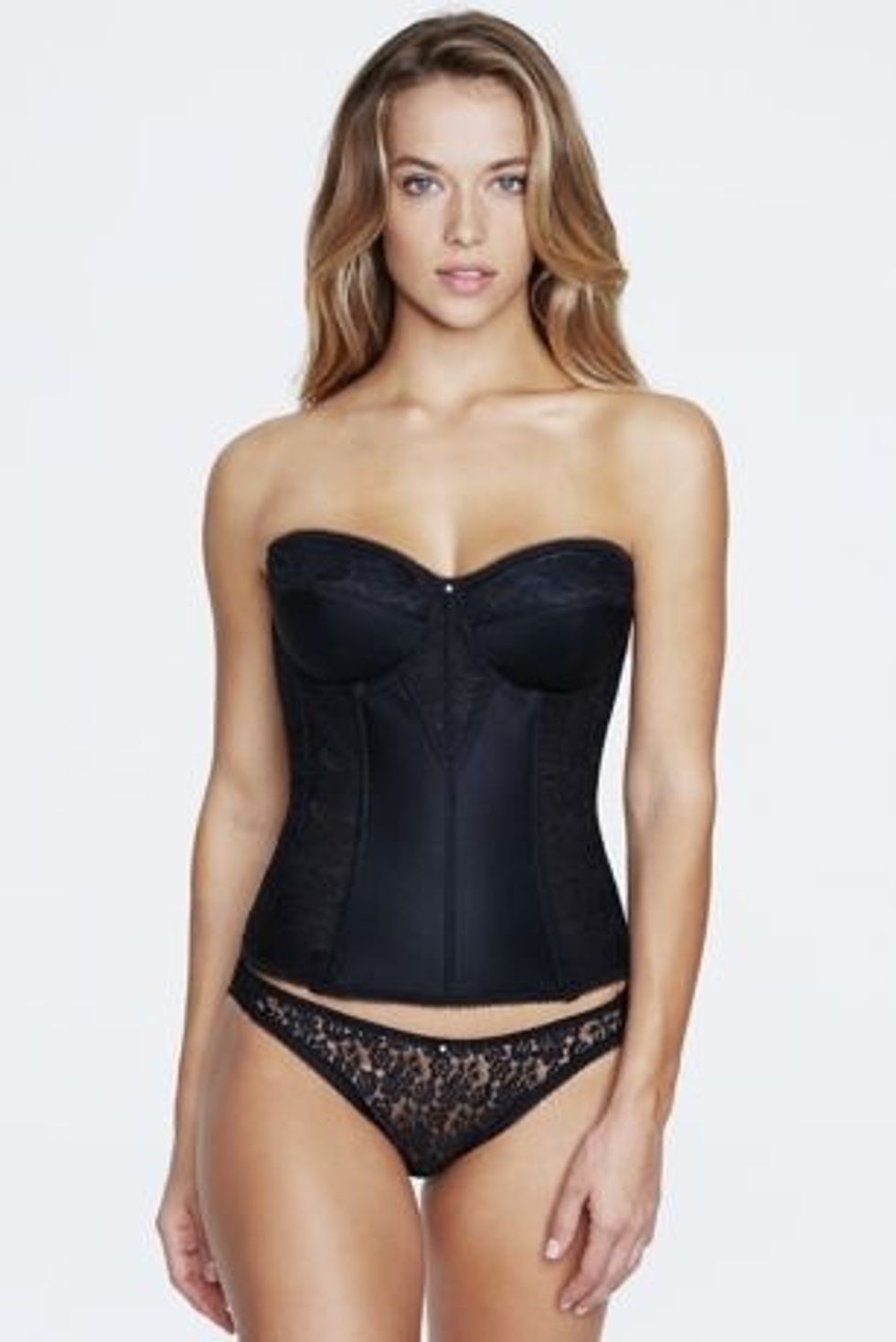 Sleek lines and support. What else do you need?http://www.davidsbridal.com/Product_dominique-sati...
Dominique Longline Lace Torsolette
The Dominique Longline Lace Torsolette is everything you've ever wanted in a strapless bra: sexy allure, pushup power, and a stay-put grip. Why settle for boring when you've got the chance to feel like Wonder Woman? Check out the boning support for a smoother, slimmer, silhouette and lightly lined cups. Think Spanx but not as restrictive. Perfect for weddings and special occasions, and definitely a keeper.
With the proliferation of online retail and boutique e-commerce shops, finding the perfect strapless bra has gotten a lot easier. Many stores offer free shipping and returns so you can even try them on in the comfort of your own home, without the nosy saleswoman announcing your bra size to the entire store. With all this at your fingertips, you're sure to find a strapless bra that suits you and your breasts to perfection.