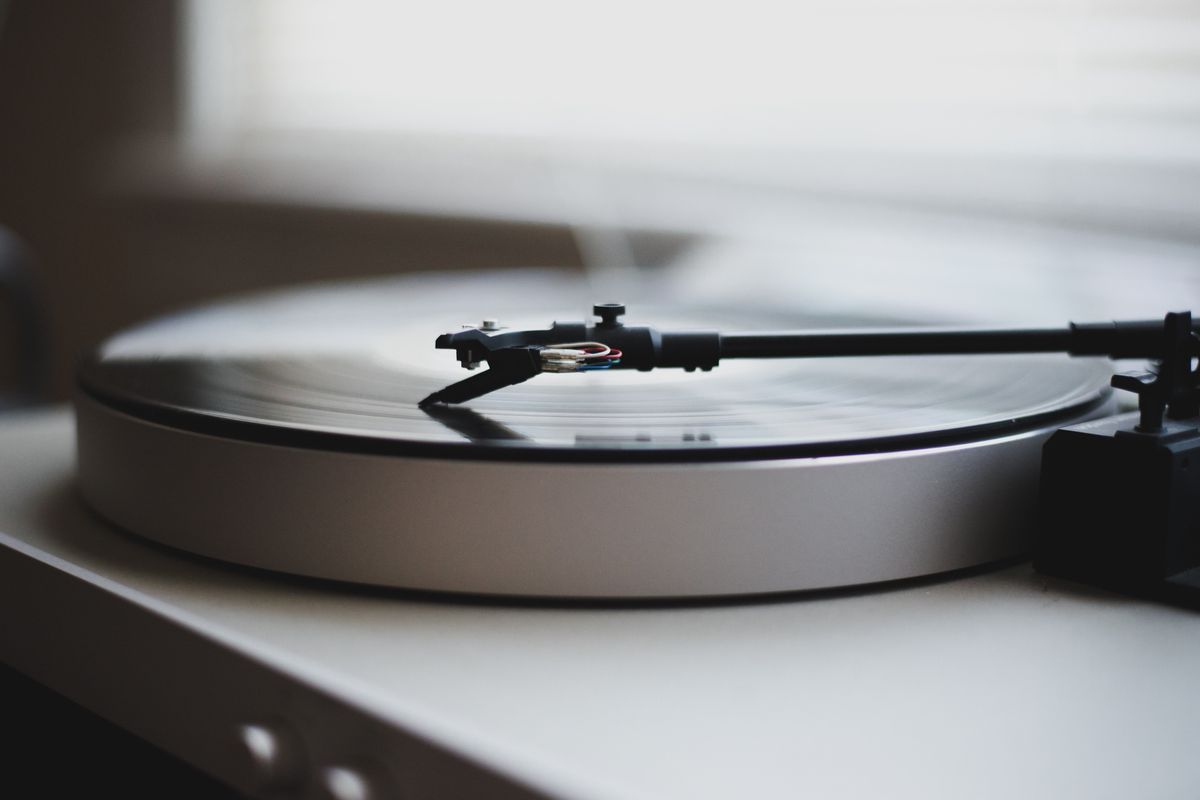 10 Best Record Players on Amazon
It's time to throw out the suitcase-style Crosley turntable you got at Urban Outfitters and upgrade to something better.
The vinyl resurgence is still going strong.
At the beginning of the year, BuzzAngle reported that vinyl sales experienced another consecutive year of double-digit growth in 2018. Whether you're a seasoned audiophile or a newcomer looking to build a record collection, investing in a reliable turntable is worth it in the long run. Here's a list of 10 record players available on Amazon––ranging in price, sound quality, and ease of use.
1. The Audio-Technica AT-LP120-USB
This is one of the most popular turntables in the game. Praised for being easy to use and offering extensive features, this model is great for those who are starting out or looking for a turntable that can grow with their collection. The AT-LP120 can play 33 ⅓, 45 and 78 RPM records, so there's no LP it won't be able to play. The easy setup makes it an attractive choice for beginners, and the ability to dial in the vertical tracking angle, tracking force and replaceable headshell ticks all the boxes for a more experienced vinyl enthusiast. It also has a built-in phono preamp, cueing lever, adjustable anti-skate, and a USB output.
2. Audio-Technica AT-LP60 Fully Automatic Belt-Drive Stereo Turntable, Silver
The LP60 has one of the best price points on the market, especially given its clear and balanced sound. This is a good option for beginners who are looking for an easy-to-use, compact, and affordable record player. This model is fully automated, meaning you don't have to fuss over the placement of the needle. The AT-LP60 can play 7-inch and 12-inch records and can connect directly to your computer, home stereo, powered speakers and more. It's available in silver and black. There's also a Bluetooth connection.
3. Pro-Ject Debut Carbon
If you're in the market for a higher-end record player with an elevated design, then Pro-Ject may be the brand for you. Of the under $500 category, The Debut Carbon is a sleek choice with a look that hearkens back to the original 1990's design. Its center offers an 8.6-inch carbon tonearm, which increases stiffness while decreasing unwanted resonances. This turntable also has a high-end cartridge, resulting in truly excellent sound quality.
4. Victrola Vintage 3-Speed Bluetooth Suitcase
The Victrola Vintage 3-speed Bluetooth Suitcase is a truly affordable, compact, and portable option for beginners. It's the perfect intersection of retro and modern with a vintage suitcase design and Bluetooth connectivity, as well as an aux cord that offers even more options to connect. At $59.99 on Amazon, this model may not be the most advanced option, but definitely worth looking into for beginners because of its ability to play discs at 33 ½, 45, and 78 RPM.
5. 1byone Belt-Drive 3-Speed Stereo Turntable
This is another vintage-style turntable that won't break the bank. It has a beautiful design, good sound quality, and a price you can't beat at $48.00 on Amazon. It comes with front-facing speakers, but also has the ability to connect to your home sound system if needed. It can digitally record your favorite vinyl to any plugged-in USB, allowing you to take your favorite records around with you.
6. U-Turn Audio Orbit Special Turntable
The U-Turn Audio Orbit Special Turntable is known for its good value, simplicity, and excellent sound. One of the standout aspects of this model is the solid hardwood plinth in the customer's choice of flat-cut maple or rift walnut. It has the Ortofon 2m Red cartridge, which allows for nuance without coloring your sound quality. It has a precise gimbal tonearm for accurate tracking and minimal distortion, plus an internal anti-skate and adjustable counterweight.
7. TEAC TN-300
The luxurious and simple design of the Teac TN-300, plus its built-in Phono amplifier and USB output, makes it a great choice for those looking for a slightly more advanced model. This belt-drive turntable has an extensive range of features: manual arm lifter for analog playback, static balance straight type tonearm, an anti-skating system to prevent tracking errors, and USB digital outputs for transferring music from vinyl to PC or Mac, among others.
8. Fluance RT81
This model comes from a relatively new brand but is still a great option especially in terms of bang for your buck. The RT81 turntable prioritizes sound quality over a fussy design. It has a solid, weighty presentation, with a built-in phono stage, and overall has an attractive and well-engineered design. It is missing a USB output, but its key feature is the built-in pre-amp.
9. Denon DP-400
The Denon DP-400 is another popular turntable on Amazon. Its key elements are the strong, elegant design; the re-engineered S-shaped tonearm with auto lift and playback stop, and a new DC power motor. The DP-400 is an upgrade from the DP-300F and features removable power and RCA plugs.
10. Crosley C200 Direct-Drive Turntable with S-Shaped Tone Arm
It's time to get rid of the suitcase style Crosley (known to damage records) you bought at Urban Outfitters and upgrade to the Crosley C200 turntable. If you've been thinking about taking your audiophilia to a new level, this might be a good move for those who were introduced to the world of records through the cheaper Crosley design. The Audio-Technica cartridge offers great sound considering the price. It doesn't have a super extensive range of features, but it is a sleek and simple to use turntable, making this model a great, reliable option. This turntable is easy to set up and maintain, has a functional design, and a built-in phono pre-amp that makes stereo integration easy.