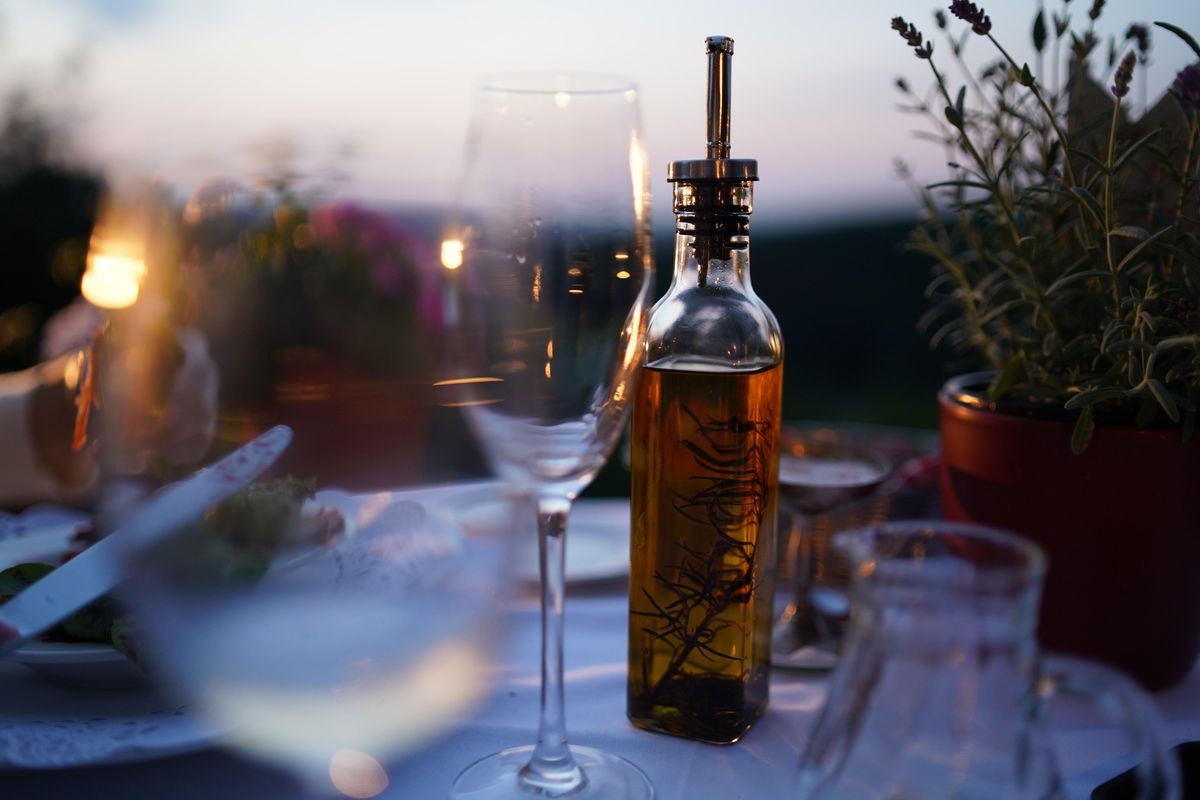 Your Olive Oil is About to Be the Coolest Thing in Your Kitchen
Whether you love or hate cooking, you need better olive oil.
When I walk into my local Erewhon, I'm immediately overwhelmed with choices. Bougie brands abound, vegan and flourless remakes of my favorite dishes fill the shelves. And the line for the Hailey Bieber Rhode Erewhon Smoothie stretches far past the smoothie bar. When I push my way past the throng to the grocery aisles, I get to browse the selections. Healthy snacks, kombucha by the gallon, and a whole lot of olive oil.
---
Olive oil is slowly becoming a luxury good. And when I saw a giant display shelf of olive oil smack bang in the middle of Erewhon, I knew it had reached celebrity status. Regular olive oil is out, fancy olive oil is in.
Skeptics, I understand. My first thought was: why overspend on olive oil? I've always bought my olive oil in bulk from the local grocery store, and that's how I liked it. To me, it was just a means to an end. A cooking necessity. And for someone who hates cooking, I do the bare minimum and not much else, thank you.
But then my eyes were opened. One of my Caraway-loving, Emily Mariko-worshipping friends gifted me a set of Brightland Olive Oils. Since then, my life has completely changed.
The first recipe I tried was the perennial pasta dish for people who cannot cook but act as they do — spicy vodka rigatoni. This superstar pasta is low-effort but high-reward. It's simple, delicious, and endlessly iterated. Carbone's version is a Deuxmoi favorite. Gigi Hadid's version went viral on TikTok. Emma Chamberlain also has an internet-favorite version. And though I've made this recipe a hundred times in a hundred ways, I was intrigued by this version recently featured on Brightland's Instagram.
The result: I was an instant convert.
Never have I ever had a bite like that from my own kitchen. I'm used to my food tasting either fine or good. I've accepted that I'll never be Carmy from The Bear. But upon my first Brightland bite, I had thought, "wait, how did I make this?" The reason for this improvement was obvious — my Brightland Chili-Infused Olive Oil.
It's like that scene in Ratatouille when Remy takes a bite of the strawberry and the cheese together. Symphonies. Fireworks. And all I need to achieve this is to use quality olive oil. This will certainly get me to cook at home more often. 2023 resolutions: off to a great start.
For a moment I thought it's too good to be true. But I've been cooking with Brightland for weeks now and each meal is one taste sensation after another. My friends who switched to premium olive oil long before me are quite fond of recounting their life-changing experiences. The latest addition to my sublime cooking stash: Wonder Valley Olive Oil.
When I think about it, it makes sense. Like investing in good cookware, investing in the building blocks of food prep will make your cooking endeavors much easier and tastier. This is true for novice chefs and cooking maestros alike.
So, whether you love or hate cooking, you need better olive oil. With sleek packaging, it will instantly become the chicest item in your kitchen.
Here are some of the most sensational, artisanal olive oils around:
All products featured are independently selected by our editors. Things you buy through our links may earn us a commission.
Brightland Chili-Infused Olive Oil
One of the OG brands in the olive oil game, Brightland is a kitchen staple. They made olive oil cool, so they earned their crown. Olive oil is already a healthier alternative to other low-grade cooking oils — and butter, despite what the keto crowd tells you. But Brightland's made olive oil even healthier. Discover their California extra virgin olive oil — it's loaded with antioxidants. My personal favorite is their chili-infused blend.
Wonder Valley Olive Oil
I'm a devoted fan of the Wonder Valley Oil Cleanser for my face. This brand's olive oils are the hottest oil on the skincare market. And now that I'm venturing into the world of artisanal olive oils for my kitchen, Wonder Valley was at the top of my "to try" list. And it's — unsurprisingly — worth the hype. Fresh-picked California olives are plucked at their best — fat and green — to give it its bright, herbaceous, peppery flavor. Added bonus: it delivers a delicious dose of polyphenols, the powerful antioxidant associated with longevity, fine overall health — and skin.
Graza "Drizzle" & "Sizzle" Extra Virgin Olive Oil Set
One of the more affordable artisanal brands on the market, Graza isn't just a brand, it's a lifestyle. Their two-product range proves that there's an olive oil for everything: "Sizzle" — for cooking and heating, and "Drizzle" — for garnishing. Each has distinct tastes: one is mellow, the other punchy. Buy both the cooking oil and the finishing oil to level up your meals and snacks alike.
Fat Gold
Fat Gold is the cool, trendy girl of olive oil. This independent, small-batch oil has quirky packaging and the substance to back it up. The Bay Area-based brand is on a mission to de-commodify extra virgin olive oil and elevate its place in American food culture. Bye-bye butter! Fat Gold for everyone!
Sardel
It's giving Euro Summer. It's giving White Lotus. This 100% organic extra virgin olive oil is produced in Puglia, Italy — a bucket list travel destination you can visit through this culinary experience. This blend features local Ogliarola and Coratina olives for that rich fresh taste. It's sexy and it's Italian. What more could you want? If it were a film, it would be Call Me By Your Name.Elio, Elio, Elio … Olive Oil, Olive Oil, Olive Oil…
Nunez de Prado
Hand-picked with love and care in the Andalusia region of Spain, this full-flavored olive oil is considered one of the finest in the world. It's made up of three varieties of native, organic olives with notes of citrus and almond and a fruity, buttery finish. Try it on your roasted meats, dressings, it's up for the task.
Pineapple Collaborative The Olive Oil
Despite its name, there is no pineapple in this tin. However, that doesn't stop it from being sweet by name, sweet by nature. It's crafted in collaboration with Kathryn Tomajan using organic Arbosana & Koroneiki olives that are grown by the Ricchiuti family at ENZO Olive Oil Company.
Onsuri Olive Oil
Michelin Chefs the world over trust Onsuri with their finest recipes. You can now have this Jordanian treasure in your kitchen. Crowned the "Best Extra Virgin Olive Oil," it's lovingly made on a solar-powered family farm. And at a comparable price point to other EVOOs in the supermarket, you'll get award-winning quality and flavor without sacrificing your wallet.
Kosterina Organic Everyday Extra Virgin Olive Oil
This Greek blend will have you saying, Mamma Mia! For Mediterranean-inspired recipes or anything else you can imagine, this EVOO blend is light yet bold. It stands up to heat without compromising on taste. It's fit for cooking or flavor enhancing with its mild, fruity flavor with a smooth finish that will not overpower your meal.
Flamingo Estate Olive Oil
As an Angeleno, I would be remiss not to mention the fabulous Flamingo Estate, and the beautiful and bounteous LA farm where "vegetables become art." It may seem that LA is all aesthetics and no substance. But everything from Flamingo Estate is the best of both worlds. Beloved by celebrities and stylish people, this Olive Oil tastes as good as it looks. It's made from California olives hand-picked at peak ripeness and processed that very evening for a homegrown, vibrant, peppery taste.