When it comes to our busy lives, Meal Kits are a game-changer. For a lot of people, having everything you need delivered and sitting in your fridge waiting to be cooked at the end of a long day is nothing short of a miracle.
Because meal kits are so convenient and reliable, there's now a surplus of options. We wanted to identify the best meal kit in this ultra-saturated market.
We took a look at Chefs Plate, Goodfood, and Cook it and pitted them against each other in a side-by-side comparison.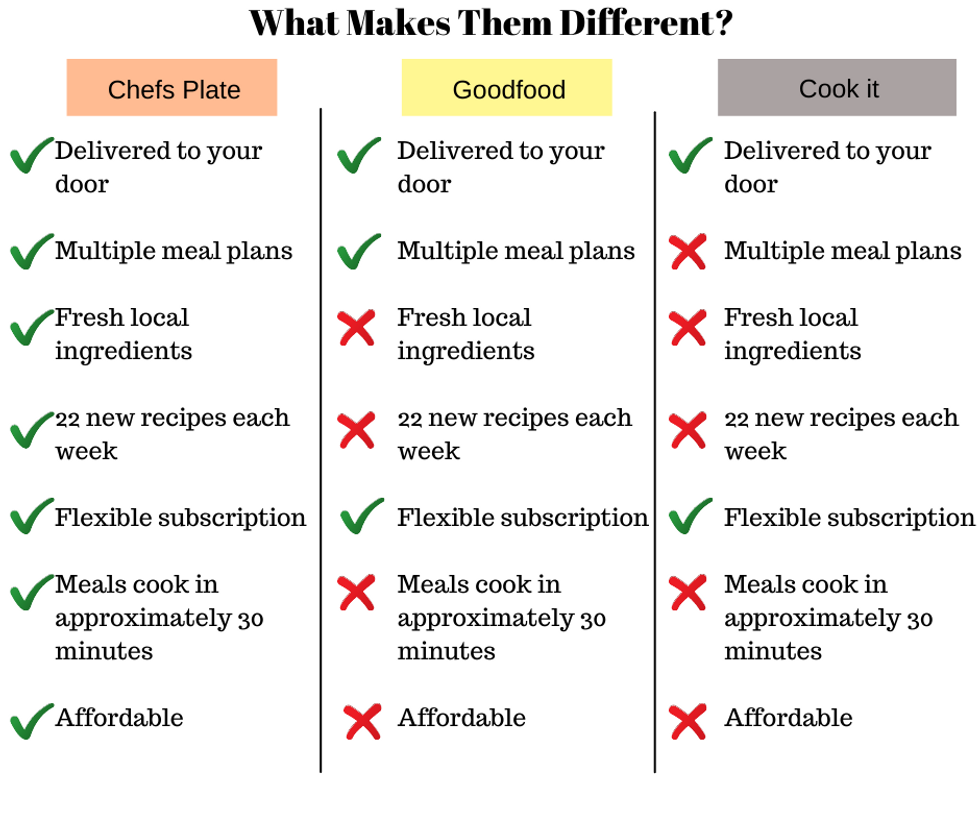 Chefs Plate:
Chef's Plate offers a wide variety of meal options that we haven't seen in a meal kit delivery service in quite a while. They have classic, 15-minute, and vegetarian meal plans, so you have the flexibility to switch up your diet and never get bored.
Simply choose from 21 menu options for between 2 and 4 meals a week. If you're going out of town and need to pause your subscription, no problem. Subscribers can pause, adjust, or opt-out at any time.
Starting at $8.99 a serving Chef's Plate is way less expensive than most subscriptions, not to mention those trips to the grocery store. Plus, free shipping!
They also send you the perfect amount of servings, so you don't have to push leftovers to the corner of your fridge ever again.
Goodfood
We've been hearing a lot about Good food and wanted to see if the juice was worth the squeeze here. When we checked out their website, there were so many options with different prices that we didn't know where to start.
While we liked Good food's breakfasts, their other meal options seemed a little… complex.
Meal kits are meant to cut time out of cooking and reduce trips to the grocery store, but a lot of their recipes don't seem approachable for cooking newbies. Sure, Seared Pork Chops with Pistachio-Parsley Gremolata may sound great, but something tells us it's going to take far longer than just 30 minutes.
Like Chefs Plate, Goodfood provides a selection of meal plans including their Easy Prep Basket, Classic Basket, and Family Basket. Prices per basket vary based on recipes and your choice of plan. Two recipes a week average anywhere from $9 to $12.
Cook it
Cook it lets you choose 2 - 7 recipes from 14 meals each week. We were surprised to find that they also offer ready-to-eat options that you pop in the microwave.
The pricing comes in a tad higher than Chefs Plate and Good food. The lowest cost option for two servings, twice a week comes out to be $10.88 - $11.83 a serving.
Much like Good food, Cook it's recipes are complicated and, frankly, intimidating. Although Cook it suggests the kitchen hardware you'll need, some recipes call for blenders and equipment we may not have handy.
Survey Says...
Picking a meal kit can be pretty daunting. We all want premium foods, a wide array of choice and the ability to customize each week. So we're going with Chefs Plate as our number one pick. Not only does Chefs Plate have the lowest pricing by far, it offers fresh, local ingredients that provide super delicious dinners.
Between the ease of skipping weeks or swapping meals and the simplicity of their recipes, Chefs Plate feels like a no-brainer for people new and old in the meal kit space.
Exclusive for our Readers: 50% Off Your First 2 Chefs Plate Meals + Free Delivery