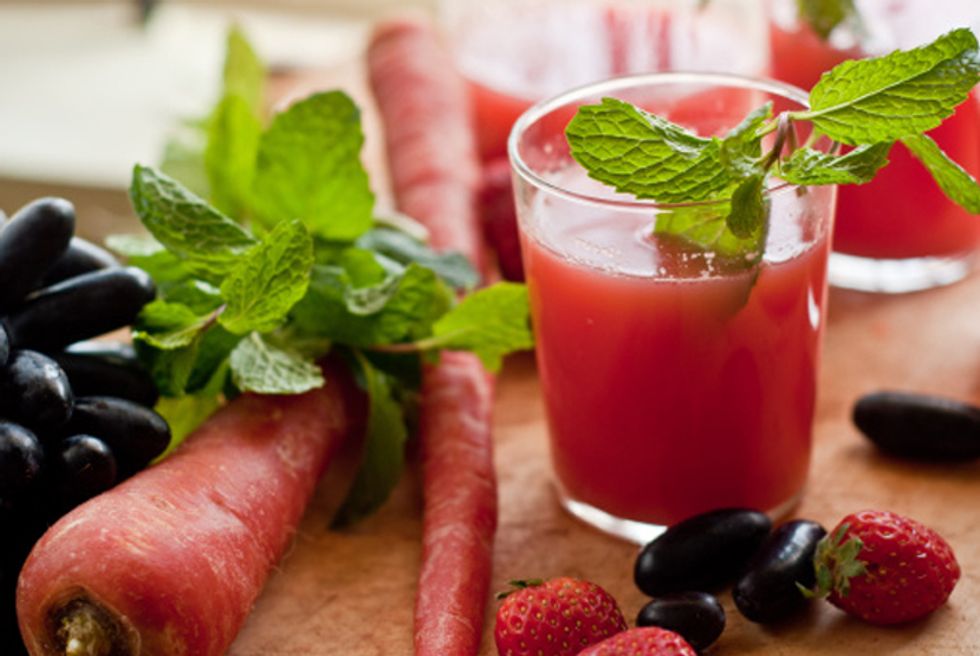 Best Juicer Under $100
You want to be healthier, but those dang coffee shop concoctions and wannabe mixologist friends are not helping your cut-down-on-calories endeavor, particularly in the beverage department. It's time to ditch those unhealthy sips and invest in a body-improving juicer! Juicers come in all price points, but we want you to be healthy without going broke. So, we've looked into some of the most popular juicers under 100 bucks so you'll still have dough left for all the fruits and veggies you'll need to actually make use of your new kitchen appliance. After multiple servings of delicious juice combinations and just as many trips to the bathroom, we've concluded our pick for best juicer under $100 is the Breville (BJE200XL Compact Juice Fountain to be exact)! Grab a glass of OJ and find out why…
Coming in at just under $100, the Breville product is a heavy-duty and powerful appliance considering its affordable price point and compact size. It's got an impressive 700-watt motor and an extra-large feed tube for you to shove down all the fruits and veggies you can handle. All the juicer's parts are dishwasher safe and made of strong and stable materials such as titanium and stainless steel. It's a top seller on Amazon and receives mainly all positive reviews for its ease of use and sleek shape. With Breville, you will never need to crunch into a carrot, dice up a chopped salad, or pop a grape into your pie hole ever again. Just pour your produce into a tall glass to sip and savor your refreshing homemade juice blends. Cheers!
Another impressive option is the Hamilton Beach67601A Big Mouth Juice Extractor. Cost is lower than the Breville, at just under $80, but the clunkier design of the Hamilton Beach juicer makes the Breville a better choice for saving precious counter space. The feed chute is the same size as the Breville but the Hamilton Beach gives you 100 more watts of power. Even so, the Breville's power was more than necessary in order for us to make any juice we wanted. Like Breville, the Hamilton Beach juicer's parts are dishwasher safe and it is easy to dismantle. So, if you need to save an Andrew Jackson (soon to be someone else), go for the Hamilton Beach, but we say just convince your mixologist friend to give you 2 free cocktails next Saturday night and go for the Breville.
Finally, if you really want a low-priced juicer, the Black & DeckerJE2200B Juice Extractor is the right choice for you. Cost is under $40 and it gets the job done. The 400-watt motor won't hold a torch to the Breville or Hamilton Beach, but it will blend most fruits and veggies quite well and it is easy to clean. The Black & Decker is fairly compact and comes with custom juice cups for easy measuring and serving. If you are new to juicing and need to save money, the Black & Decker is easy to swallow.
So, the next time you're perusing the goods at your local farmer's market or you are pacing the aisles of the grocery store, stock up on a variety of fruits and vegetables and get ready to juice. You'll feel better, look better, and never long for a pre-packaged drink again. Bottoms up to juicy living!