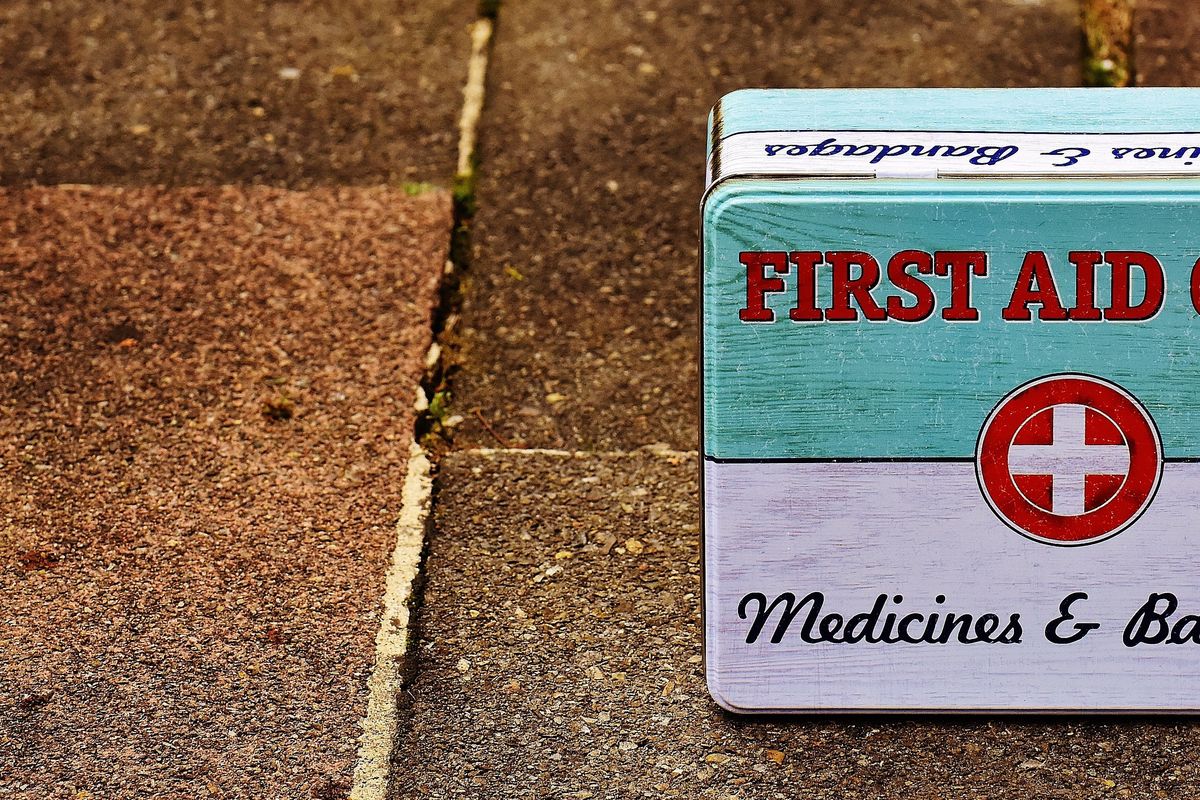 Best mini first-aid kits
Don't let an injury catch you unawares!
Let's face it: accidents happen. Most of the time they're no more serious than a skinned knee or small bruise, but regardless of the outcome you should be prepared to treat injuries – especially in locations where you're spending a lot of time, like your office, car, or home. You should also take extra precautions when you're traveling, as you may be doing activities you normally don't partake in, like hiking or biking, or, you know, diving with sharks.
First-aid kits are simple to put together, but, in case you're not exactly the DIY sort, here are several that are just a click away. There are tons of different kits; choose one that works for your lifestyle.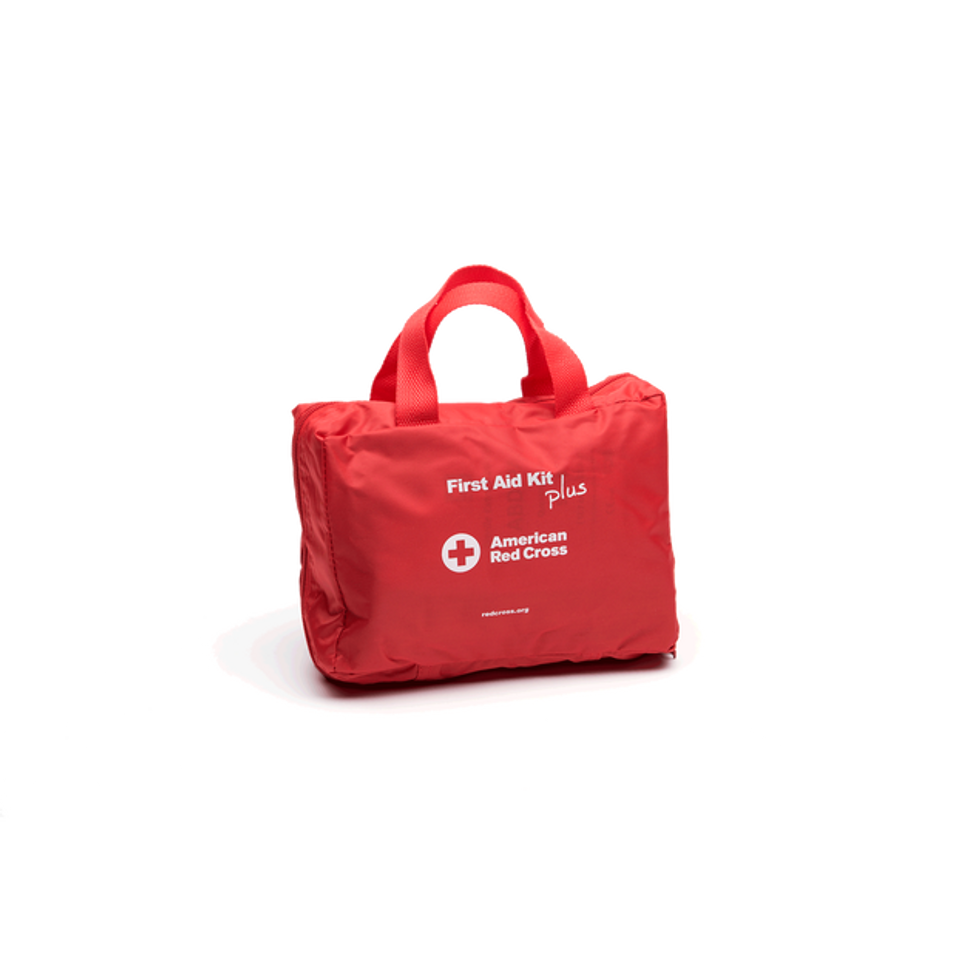 You can't beat the Red Cross for fixing injuries
The American Red Cross official first aid kit
The American Red Cross is synonymous with treating injuries, and for good reason. Established by Clara Barton (the "Angel of the Battlefield" during the Civil War) almost 250 years ago, it remains an incredible force for assistance in times of a crisis. Its First Aid Kit PLUS has everything you need to treat most minor injuries like scrapes, burns, and cuts. Tucked inside this bright red, expandable pack you'll find a plethora of bandages, gauze, hand sanitizer packs, and other tools (including a disposable thermometer) that can fix up minor wounds. The 115-piece Deluxe Family First Aid Kit is a more robust version, filled with items you may never even think to purchase on your own, like a First Aid Tape Roll and triangular sling bandages.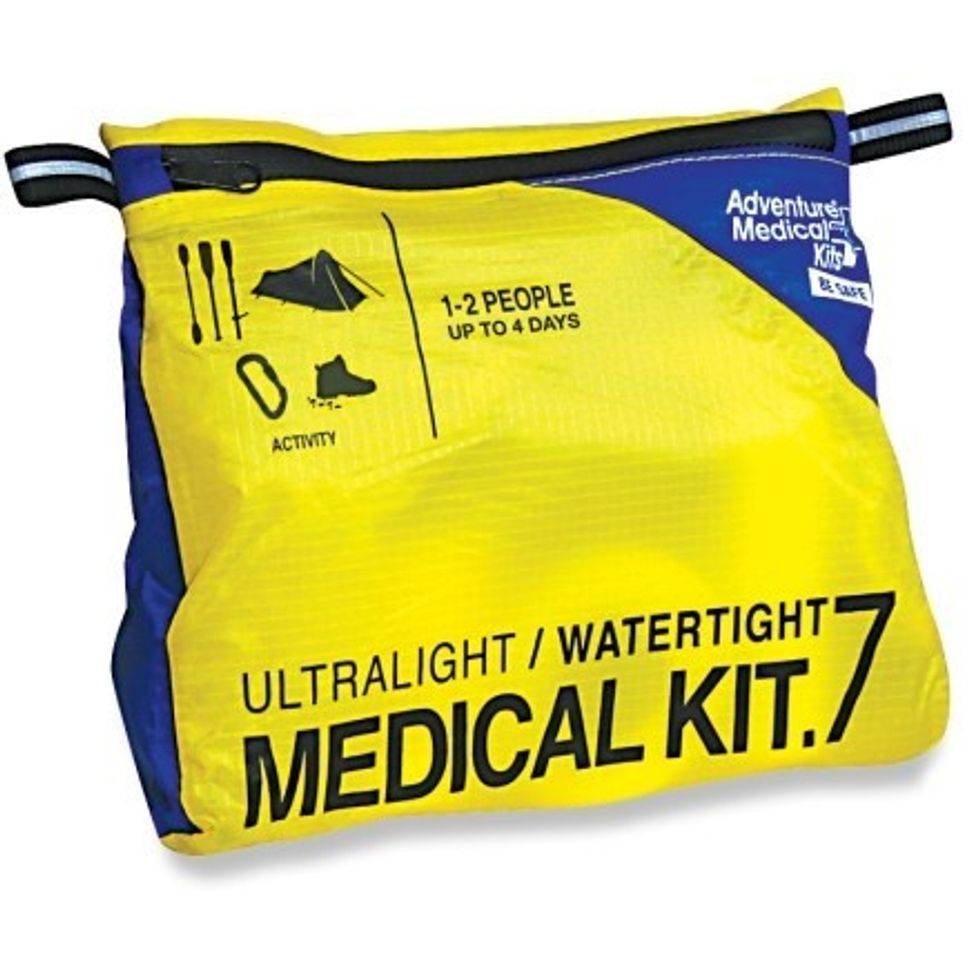 This bad boy won't weigh you down
The bare minimum kit for hiking and trekking
This ultra-light kit is perfect for when you don't want a lot of extra stuff weighing you down. Even better, the pack is completely waterproof, and its contents are enclosed in two inner DryFlex™ watertight pouches to ensure everything is kept safe and dry throughout your adventures. You'll get splinter-picker forceps (for when you snag a nasty splinter while grabbing a piece of wood for your campfire), some OTC meds like antihistamines and aspirin, and of course, a hiker's best friend: moleskin.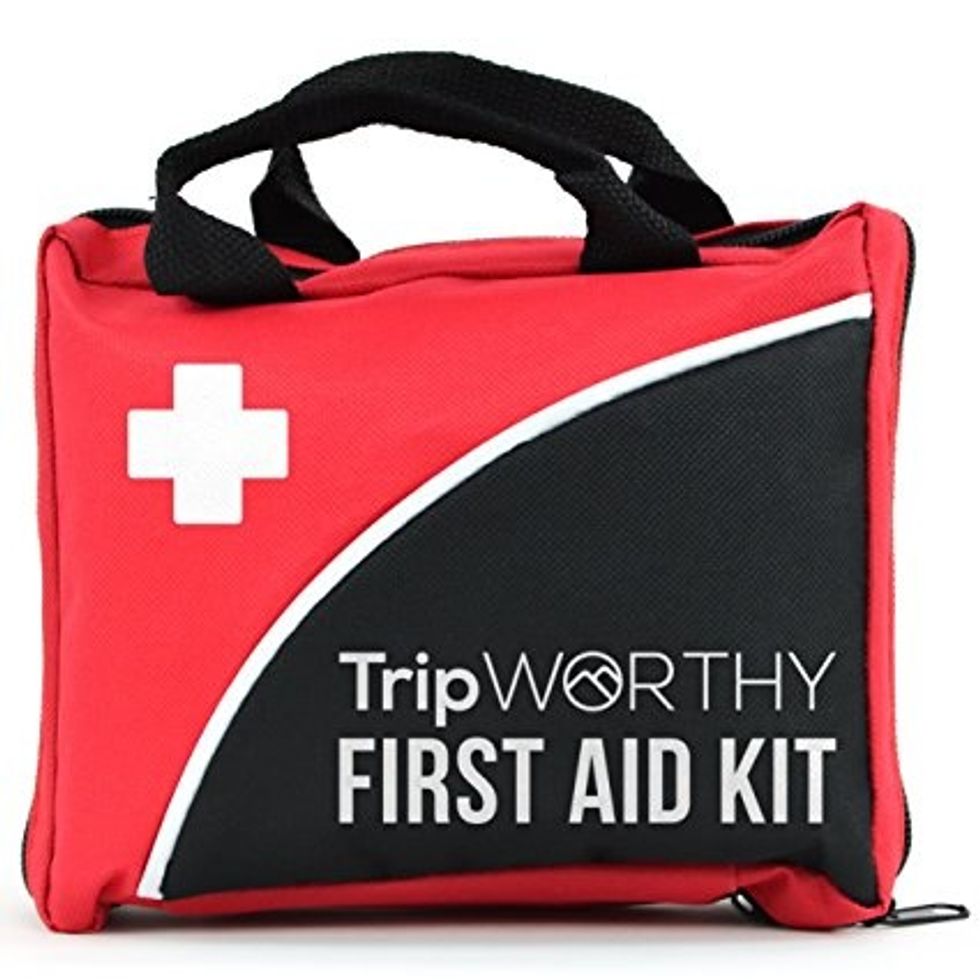 When wanderlust turns dangerous
The traveler's best friend
The TripWorthy Compact First Aid Kit is a perennial favorite. It only weighs a pound (which means more room for other essentials in your bag), and it's actually a combination of survival and first aid components to ensure you can weather any storm, literally and figuratively. Inside you'll find essential elements like wraps and gauze, ointments and bandages, but it also includes emergency survival items like a blanket, poncho, and glow stick. It's the perfect accessory for all your travels, and it's the only one you'll hope never sees the light of day!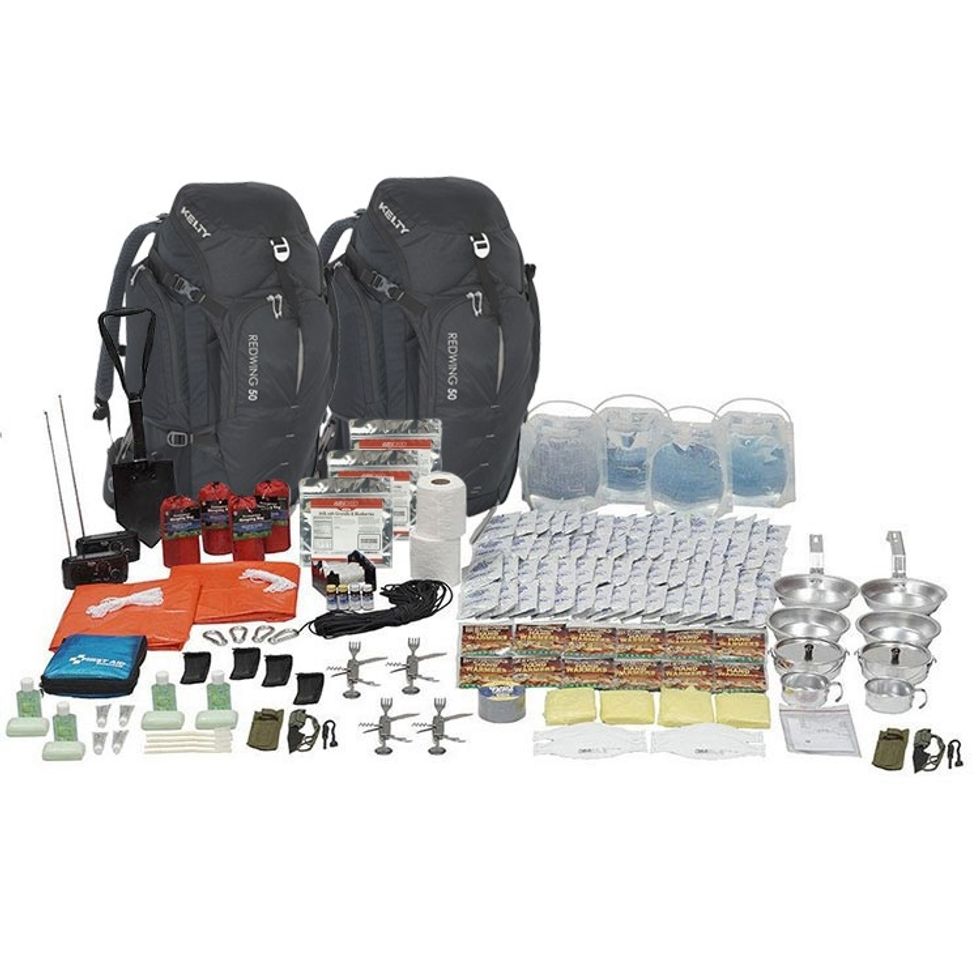 You'll laugh in the face of an apocalypse
Best for the survival enthusiast
Whether you're a big-time camper or simply want to be prepared for the worst (and I do mean worst), the Minuteman Four Person Emergency Kit is a godsend. With a shelf-life of five years, this kit will help you survive anything from a natural disaster (hello wildfire and global-warming spurred hurricanes) to the breakdown of society at large. It includes high-calorie protein bars, water purification tablets, aluminum coated tube tents, sleeping bags, N95 vented particulate respirator face masks, folding shovel, and more. And the best part? It's all tucked neatly into a camping-issue backpack that you can keep in a handy location. You'll have nothing to fear from Mother Nature when you're armed with this.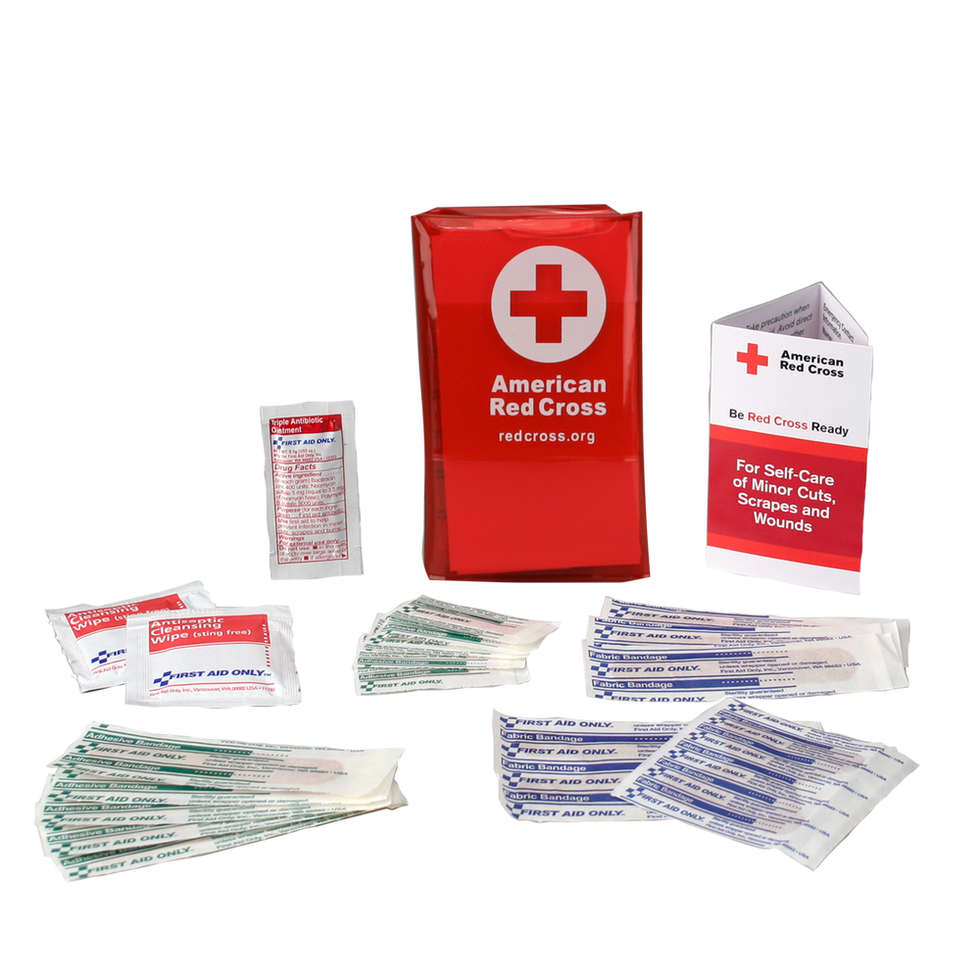 Good things come in small packages
The pocket-sized wonder
The Red Cross strikes again with their exemplary Pocket First Aid Kit. Though it's under three inches high, five inches wide, and weighs in at just 1/10 of a pound, it packs a punch. It's filled with five different types of bandages, individual use antibiotic ointment packs, and antiseptic cleansing wipes. If you're feeling the DIY urge though, you can easily make your own by packing a few necessities into an Altoids tin.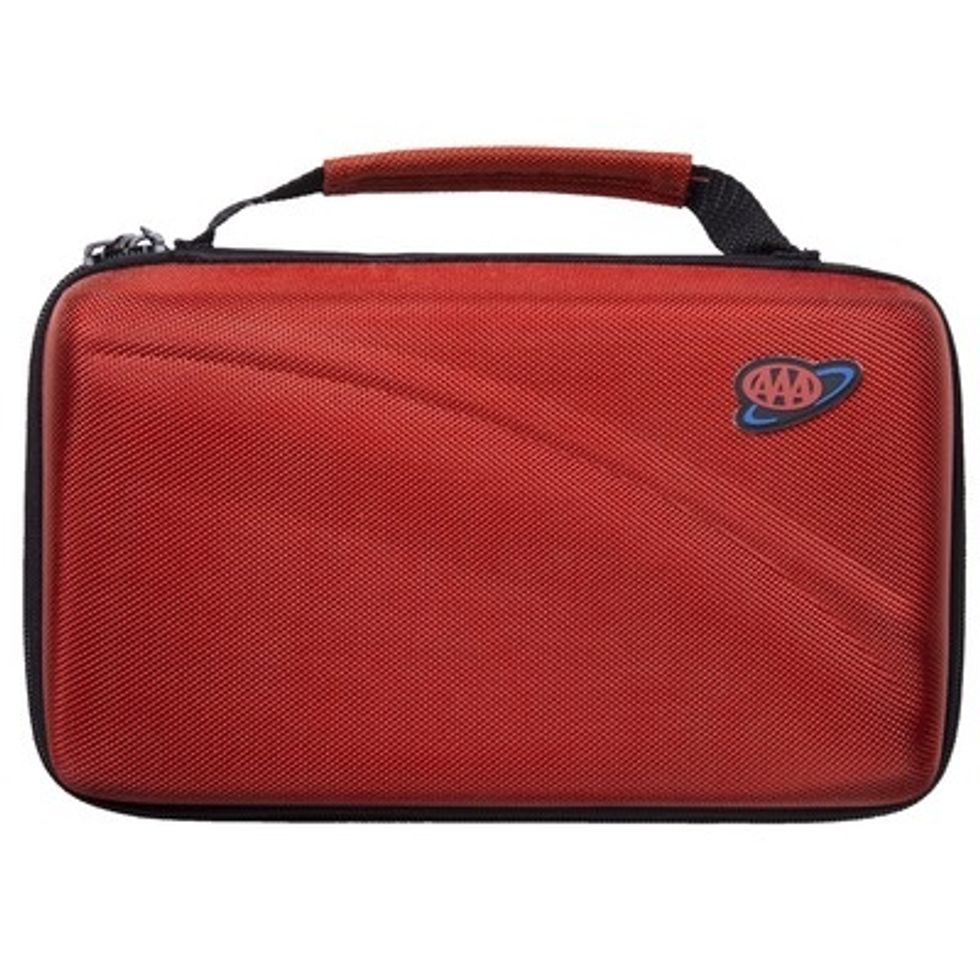 Just pop it in your trunk and forget about it
Car-friendly first aid
Thanks to commuting and suburban sprawl, we spend a lot time in our cars. It's just practical to keep a first-aid kit in an easily accessible place that goes with you wherever you go.
The Lifeline AAA 4180AAA 121-Piece Road Trip First Aid Kit is perfect to tuck in the back of your car and forget about until you actually need it. Its 121 pieces of gauze, bandages, and other first aid tools fit snugly into its foam carrying case, and it even includes an emergency whistle. For…keeping your spirits up? (Just kidding).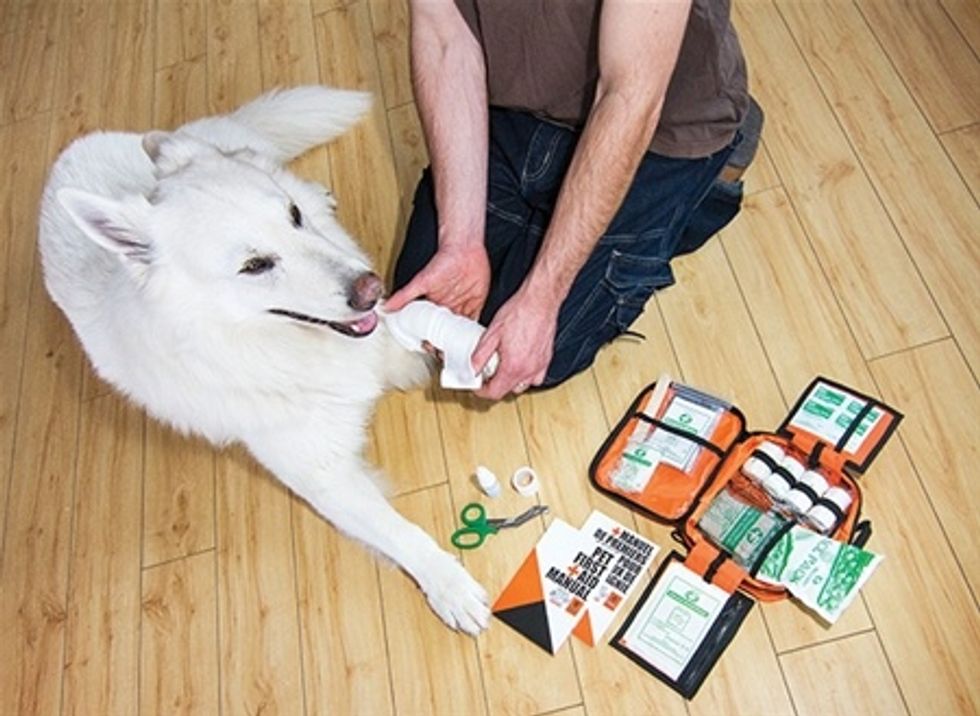 Ruff and tumble injury
For your furry friends
Dogs get hurt too, so why shouldn't Fido have a little emergency insurance? This Pocket Pet First Aid Kit is small enough to hang on your dog's leash and includes gloves, gauze, antiseptic wipes, and bandages. Seeing your four-legged pal in pain is never fun, but at least with this kit you'll be able to fix minor injuries on the fly.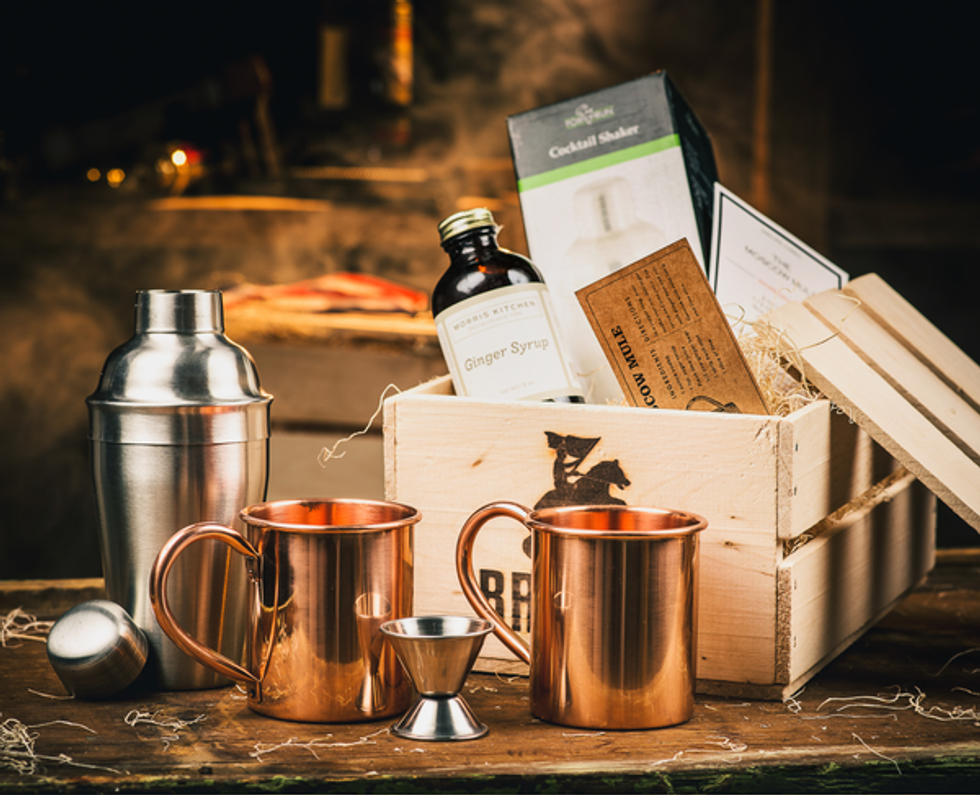 Sometimes a mule is the best medicine
The Moscow mule kit
Because there's scientific evidence that alcohol dulls pain, drinking could (almost) be considered medicinal. This luxurious Moscow Mule Red Dawn Kit from Broquet (get it?) provides all the essentials including Morris Kitchen ginger syrup, a cocktail shaker, one and two-ounce jiggers, and of course, the quintessential copper mug. If the Mule isn't your drink of choice, Broquet offers a Whiskey Sour Cocktail Kit with Morris Kitchen Preserved Lemon Syrup and heavy-duty lemon reamer, or you could check out their Gentleman and a Scholar Old-Fashioned Kit, complete with two different types of Hella bitters and a stainless steel outset muddler. Hey, if you get injured, why not make lemonade out of lemons?
Taking precautions for the inevitable may not rank up there with going out for a night on the town with the girls, or even cleaning off your desk (which is so satisfying when you're done, ammiright?!) but it's just plain smart to have a first aid kit handy. And since you can buy a pre-made kit that's ready to go right out of the box, what's stopping you? Start shopping!