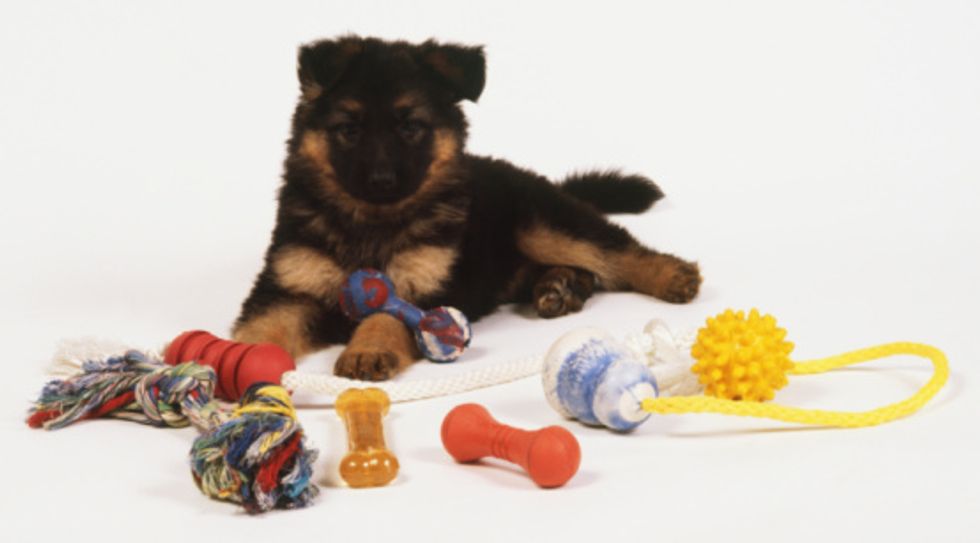 Best Dog Subscription Box
Dogs have it doggone great. We feed them. We pet them. We provide a loving home. Heck, we pick up their stinky poops and they get the treat. Well now, your pup is about to become even more pampered with the newest in pet paraphernalia… a monthly dog subscription box service full of treats, toys, and more. Your pooch will be panting over new items each month and will be begging for more (and he'll get more as your subscription goes on). We've researched the top in the field and have given the ultimate round of 'appaws' to BarkBox! Learn more about this tail-waggingly great service and how you can get a subscription for your best friend. Plus, hear about another great company that may also make you drool.
BarkBox has been a leader in dog subscription boxes since 2011. With their service, every month your pooch will receive a surprise box of hand-picked toys, healthy and gourmet treats, gadgets, bones, chews, hygiene products, and more. Every month, new items are loaded into the box. Members may choose from either a 12 month, 6 month, 3 month, or 1 month plan with rates ranging from a reasonable $19 - $29 per month with free shipping in the continental U.S. Plus, for every BarkBox sold, the company donates $3 to local rescues and shelters! Plans automatically renew, but you can cancel at any time. But why would you after seeing how deliriously happy Fido is with his new stuff? Boxes are geared towards your dog's size and you can even have a special box created if your pup's got any allergies. If your dog isn't into something in one of his boxes, you can exchange it, and if he's wild about an item, you can order more separately on the company's site. BarkBox is a wonderful way to introduce your dog to new things you may not be able to find in stores near you. Whatcha waiting for? Your dog can only roll over so many times. He wants a BarkBox subscription, no bones about it!
PawPack is another popular subscription service pleasing dogs with only eco-friendly and hypo-allergenic treats, toys, chews, bones, accessories, etc. from small businesses and boutique companies. All of their goodies are all-natural and grain free. This is certainly appealing to pet parents and dogs alike. BarkBox is high on health too, but they do not claim to be 100% like PawPack. Like BarkBox, the plans renew automatically and you can cancel at any time. PawPack is pricier than BarkBox and only has 3 shipment options, 12, 6, or 1 month plans with rates ranging from $25 per month to $35 per month with free shipping in the continental U.S. Boxes are also geared towards your dog's size. Like BarkBox, PawPack also gives a portion of their proceeds to pet-related charities and shelters.
Both companies are doing something special for wet noses all over. BarkBox has got the package down best with their better pricing, wider variety of options, and customer service. Your dog's gonna give you a paws up for his new BarkBox subscription… get ready for a big, wet lick! Now who's a good boy?