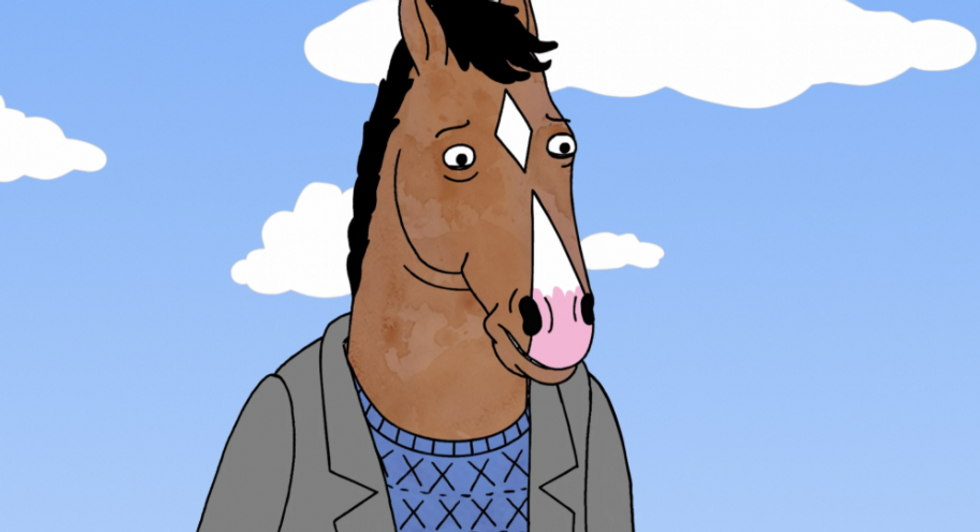 Best Animated Series On-Demand: Half-Man, Half-Horse, All Funny
Will Arnett plays the title character in this quick-witted dark comedy that aired on Netflix in 2014. BoJack Horseman is the ego-studded half-man, half-horse who's trying to make a comeback after a wildly successful stint on the popular sitcom, Horsin' Around. Since then, he's let himself go. Along with his lovable, accidental roommate, Todd (voiced by Aaron Paul) and his demanding but sensitive cat agent, Princess Carolyn (voiced by Amy Sedaris), BoJack negotiates his place in the world of LA D-listers.

BoJack is different from a lot of animated series because it is not afraid to tackle difficult issues with bombastic comedy. We take a deep dive through the frivolous scene of 90's LA to the just-as-shocking modern day, and follow BoJack as he attempts to redefine his career and bring meaning back into his life.
The cast of BoJack characters spans the human and animal kingdom. There's Diane, the bookish human ghost writer who's trying to write BoJack's memoir. She's with Mr. Peanutbutter, BoJack's perfect foil. He's a high-energy dog-man who copied BoJack's career, but did it better. Then there's BoJack's oldest friend, the sardonic Herb Kazzaz -- the one who got him into showbiz in the first place.
The dark themes juxtapose brilliantly against the bright, fun animation. Even the animal characters seem human. BoJack is truly a rich character (both figuratively and literally). Behind the money, the fame, the women, and the scotch, all he really wants is to be loved. At moments you'll laugh so hard that you'll cry, and at other moments you'll just cry.
The show won the 2016 Critics' Choice Awards for Best Animated Series. The combination of sharp writing, deep acting, and an engaging base of characters makes BoJack Horseman our pick. Watch it now on Netflix!