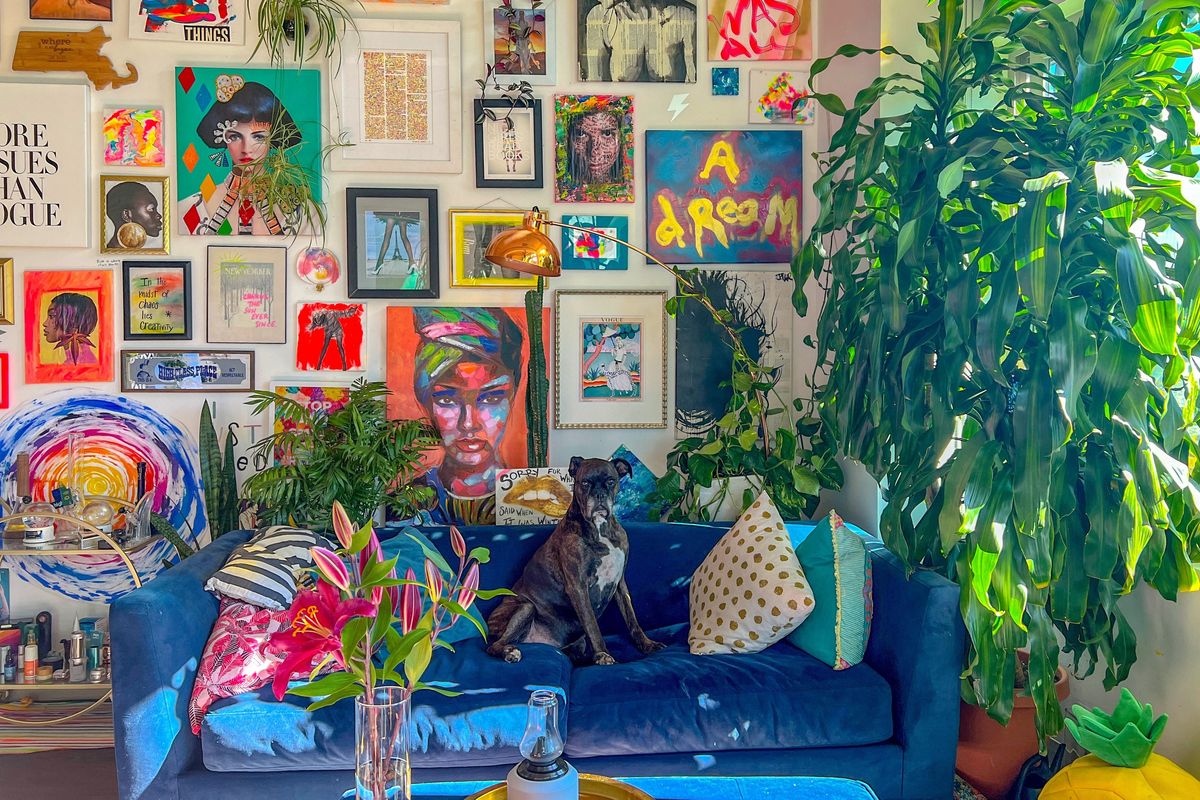 If You Can't Buy It, Dupe It: How I Decorated My Apartment On A Budget
Photo by Steph Wilson on Unsplash
All products featured are independently selected by our editors. Things you buy through our links may earn us a commission.
I recently moved into an apartment and had absolutely no funding to buy the West Elm decorations of my dreams. That's right, it wasn't feasible for me to afford the Anthropologie Gleaming Primrose Mirror, nor the coveted Cloud Couch. I'll cut my losses.
Not only did I move into an apartment, but I moved into an apartment previously owned by a group of fraternity brothers who did not care if the apartment was standing by the time they were done with it. It honestly looked like someone was held hostage in my room before I got there.
So, the apartment needed some TLC and I wanted a livable space that wasn't so dingy. I yearned for cottage core and avant-basic bright colors. I wanted neutrals in my room and minimalistic detailing. My roommates and I became Walmart versions of the Property Brothers and went full HGTV on our place.
And, not to toot my own horn here, it looks fantastic. We thrifted our entire living room setup thanks to Facebook Marketplace, so the most expensive item - our coffee table - was $45. A couch, futon, armchair, and papasan were all free.
The splurging, however, comes with decor. Sure you can get a couch for free, but almost no one is giving away a disco ball. And how can you cover an expansive wall if posters are $30+? It all seems impossible…
At the end of the day, vases, accent lighting, chairs, bedding – everything is expensive. Inflation is here, baby. I can't afford the trendy decor because literally no one can these days.
If you're like me and don't want to spend millions on your home decor but still want to have the kind of apartment TikTok would fawn over, fear not – it's extremely doable. You, too, can do great things with little money.
Here are some of my tricks and dupes for a trendy apartment on a budget.
If you can't afford Barefoot Dreams…
Don't cry because Kim Kardashian's favorite blanket is $180 and feels like a cloud. Find a dupe! I've felt a Barefoot Dreams blanket and it literally changed the way I view life, so naturally I want one of my own.
But that silly price tag. I took to Amazon to find the perfect dupe, and of course, Jeff offered me thousands of options to choose from. The five-star review for this one drew me in and I was not disappointed.
I love the cheetah print in neutral colors and it goes perfectly with my nude and pink accented room. The blanket is oversized and perfect to throw over your bed for naptime.
Get creative with wall art…
One of my roommates is a Canva queen. When we would find posters that we like, we create our own versions of them and print them at Walgreens Photos for a discounted poster. This mitigates the shipping and exorbitant prices of posters and prints.
Another good idea is to scroll through Pinterest and find photos you'd want on a poster there. It gives you more control over your room decor and is undoubtedly cheaper. Etsy sellers also have JPEG images for a few dollars each that they immediately forward to you and you can print them at your local photo area.
Collage walls are huge right now. Fill an entire wall with colorful posters, neon signs, and other decor like records and you have an IG swoon-worthy space. A great hack is to check out your local record store. I paid $15 for 10 records that completely brought my wall together.
Neon Beach also has some great wall signs, but I did purchase one for $200 and it did break within a year. So if you're going to get a neon sign, look to Amazon for dupes like this one that may even be better than the OG. You may as well just buy a cheap one and save some money for your troubles.
If you can't afford a huge disco ball…
Retro vibes are back in style, so it's the perfect time to bring back room-dividing beads. Well, they aren't actual beads anymore, but a mix of colorful strings. All you need is a tension rod and you'll be good to go.
My dreams of having a huge disco ball that rotates and has lights attached were quickly demolished when I saw the price. I found a few on Marketplace for a discounted price, but I understand not everyone is so lucky.
This Amazon disco ball pack is the next best thing because you can hang several in varying sizes in one corner of the room. These adhesive spotlights are also great to stick on the ceiling and make the disco ball shine in different colors.
Finally, if your bathroom or kitchen is heinous, don't just give up. If you don't have the time to go all Love It Or List It on your home, get peel and stick tiles! They completely transform your space from meh to trendy in under ten minutes.
Apartment decor is intimidating, but there are thousands of affordable dupes out there that can get you a cohesive look for under $300.