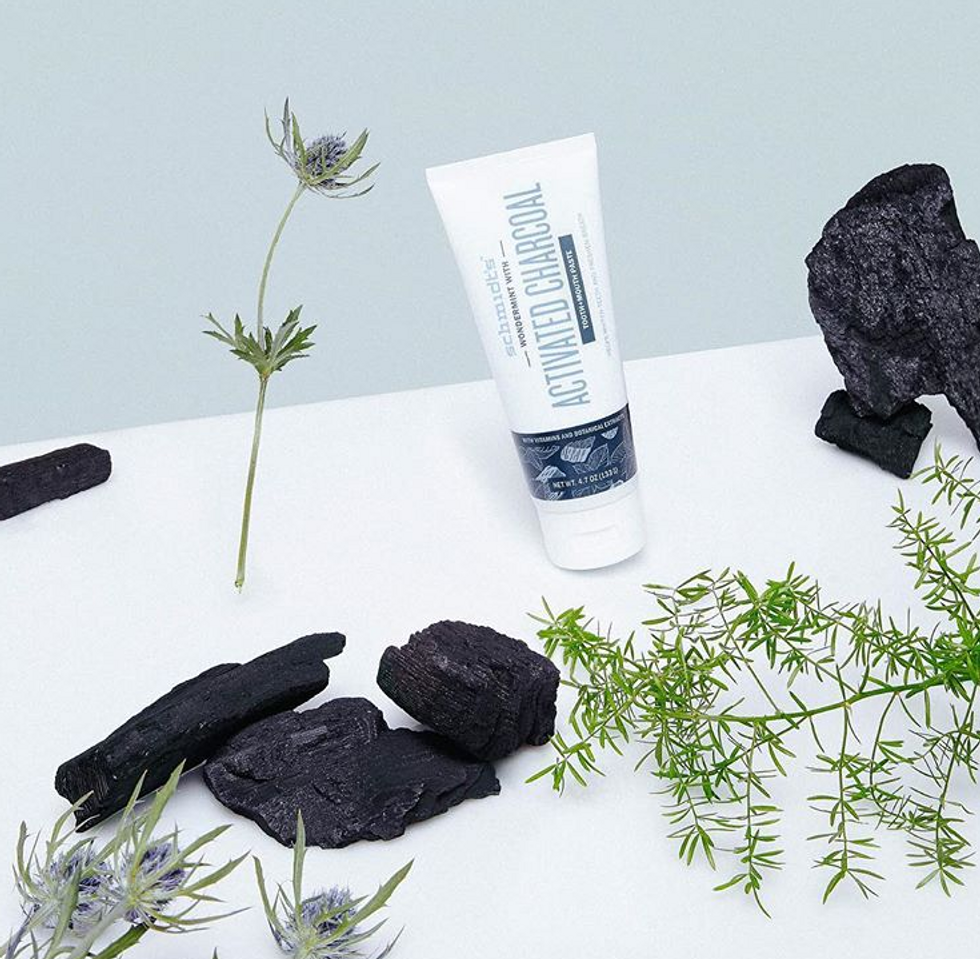 Charcoal takeover: five charcoal-based products that will change your life
The best products with activated charcoal
It's no surprise that charcoal is all the rage these days when it comes to the many unbelievable benefits it offers. Chemicals and additives are on the outs and an all-natural way to cleanse and purify is in. According to Dr. Axe, "Activated charcoal is a potent natural treatment used to trap toxins and chemicals in the body, allowing them to be flushed out so the body doesn't reabsorb them."
Note that this is not the sort of charcoal you use on your grill to cook up burgers and franks. As per Thank Your Body, "Activated carbon, aka activated charcoal, is basically a material that is produced from different carbon sources. When these carbon sources (like coal, coconuts, or wood) are cooked at a really, really high temperature (around 1,800°F) a magical chemical reaction occurs. When that happens, all the harsh compounds disappear and tons of good ones are added in."
It sounds hard to believe, but charcoal-based products work wonders. Here are five that will change your daily routine.
Best toothpaste: Schmidt's Activated Charcoal with Wondermint Tooth + Mouth Paste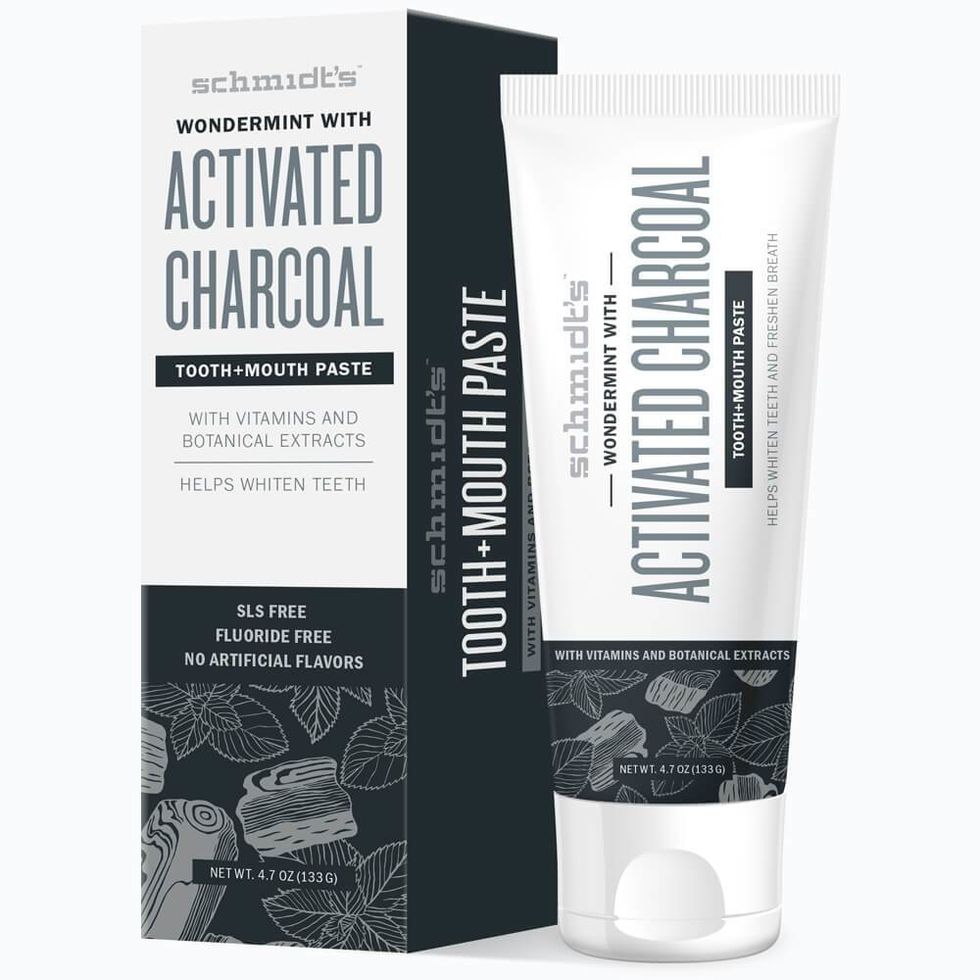 Via shop.schmidtsnaturals.com
As Dr. Axe notes, "(Activated charcoal) works to whiten teeth by adsorbing plaque and microscopic tidbits that stain teeth." Schmidt's Activated Charcoal with Wondermint Tooth + Mouth Paste is the company's top seller and for good reason. Not only is this paste free of sweeteners, fluoride, and dyes, but the charcoal goes to work while freshening breath with all-natural organic aloe leaf juice, magnolia bark extract, goji extract, and pomegranate extract. Brush as you normally would but get the added benefits from the strength of charcoal as it pulls away the debris and polishes to perfection.
Cost: $5.99 for a 4.7-oz. Tube
Best Soap: Pacha Soap Co. Clarifying Charcoal Bar Soap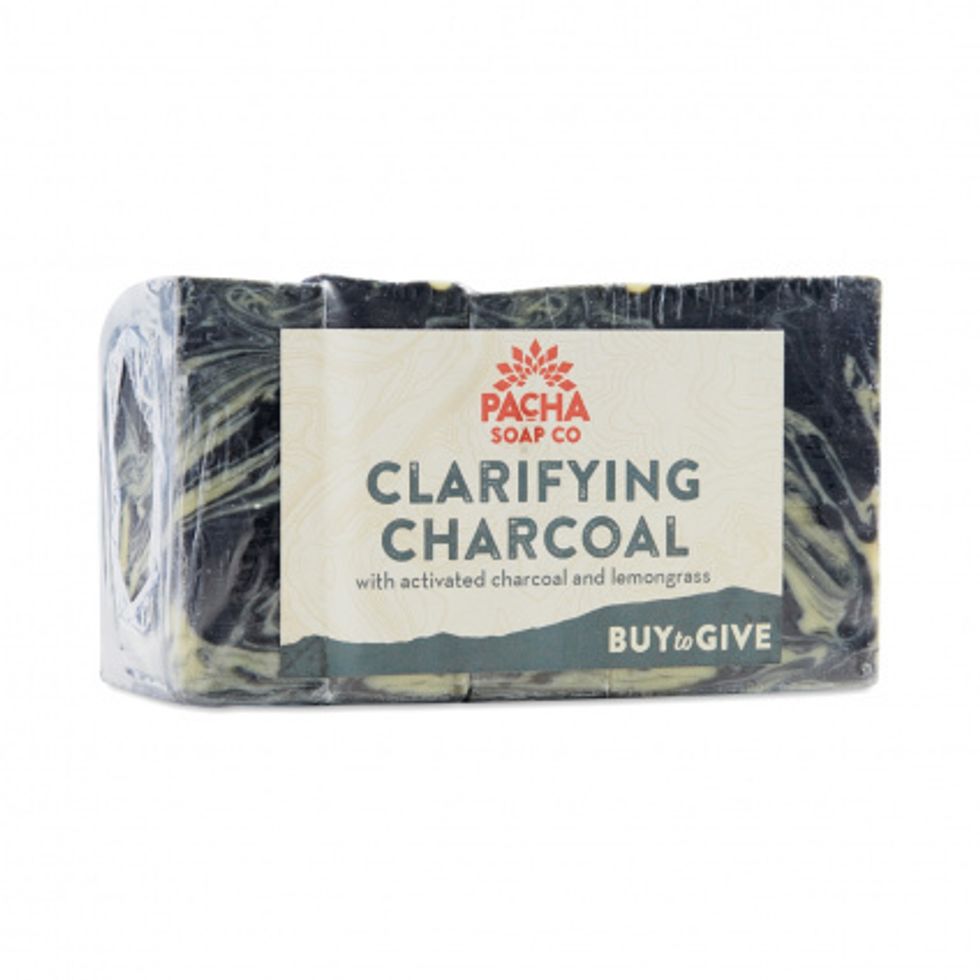 Via thrivemarket.com
Suds up with the action of charcoal as you wash away the day's dirt and grime to reveal skin that is cleaner than you could have ever imagined. Pacha Soap Co. Clarifying Charcoal Bar Soap is not only fun to use thanks to its whimsical look, but it does the job from head to toe. Toxins are whisked away as you are left soft and supple from the coconut oil and shea butter added to each bar. And the lemongrass scent is mild yet invigorating. According to Stylecraze, "Activated charcoal soap is known to be highly beneficial in the treatment of acne. It also reduces pore size, treats oily skin, and makes skin tighter and firmer." Not only will you be squeaky clean, but you'll look better than ever.
Cost: $25.00 for a pack of 5 Bars
Best Shampoo: Drybar On the Rocks Clarifying Charcoal Shampoo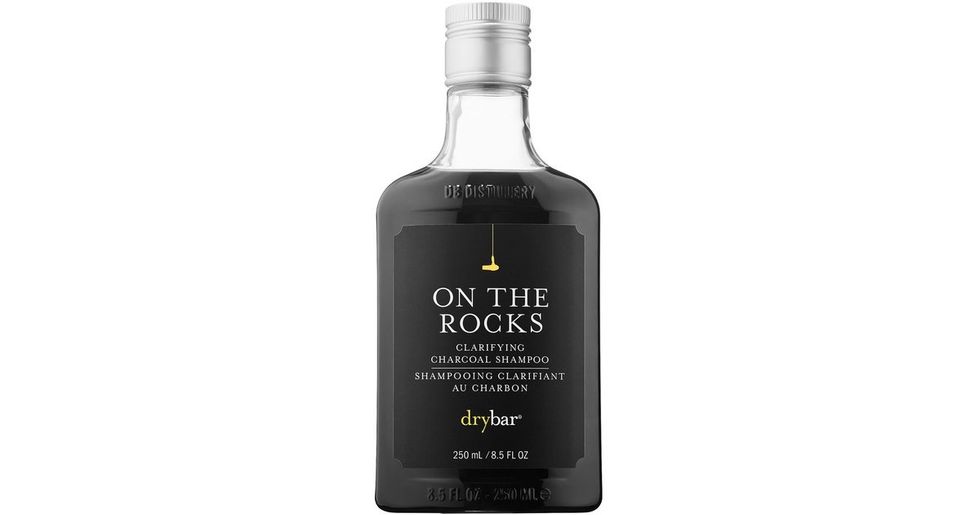 Via popsugar.com
No matter your hair type, Drybar On the Rocks Clarifying Charcoal Shampoowill work its way from root to tip removing oils, dirt, and buildup effectively without stripping hair of its natural moisture. It cleans the hair and the scalp creating a head of hair that is fresh as can be and super-shiny thanks to the added vegetable proteins in the unique formula. Sulfate- and paraben-free, this strengthening shampoo is unlike the run-of-the-mill brands that may smell nice but can't come close to Drybar's purifying power. Use Drybar On the Rocks one or two times per week for hair that rocks.Best Health Magazine recommends, "Try a test patch before using it on all of your hair at once."
Cost: $26.00 for an 8.5-oz. Bottle
Best Mask: Origins Clear Improvement Active Charcoal Mask to Clear Pores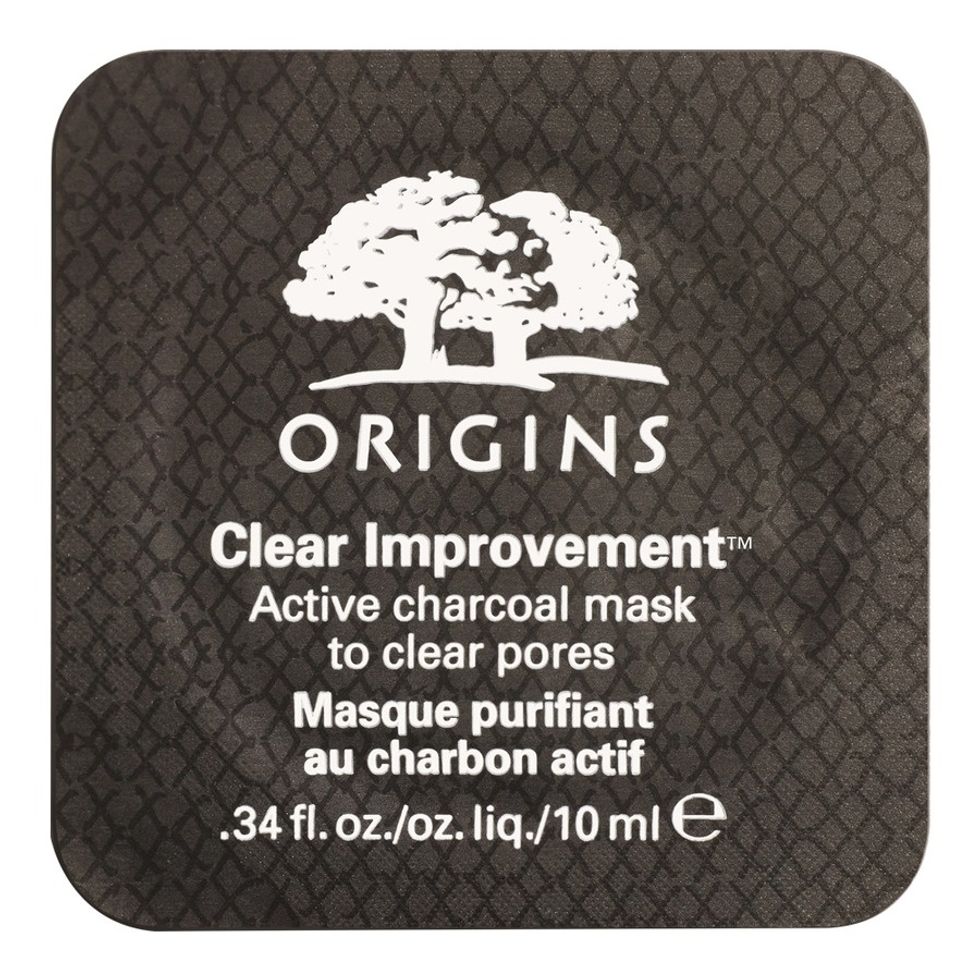 Via sephora.my
Why mask your face with concealer and cover up when you can have a flawless finish that is natural and pure? Use Origins Clear Improvement Active Charcoal Mask to Clear Pores, and oiliness and dullness will be lifted away leaving your face free of toxins, debris, and other pesky pore-clogging compounds. As per Best Health Magazine, "Activated charcoal when used in a face mask binds to and helps pull the dirt out of your pores." Pores will become less noticeable as your complexion is clearer thanks to the formula's bamboo charcoal and white China clay. As per DurableHealth, "Kaolin clay (white China clay) is used as skin detoxifying and cleansing agent. The clay contains high content of silica that helps in removing dead skin." Leave this mask on for 10 minutes after placing a warm towel over your face to open your pores. Rinse off and see a face that's as fabulous as ever!
Cost: $27.00 for a 3.4-oz. Tube
Best Odor Absorber: AirBOSS Closet Charcoal Gel Odor Absorber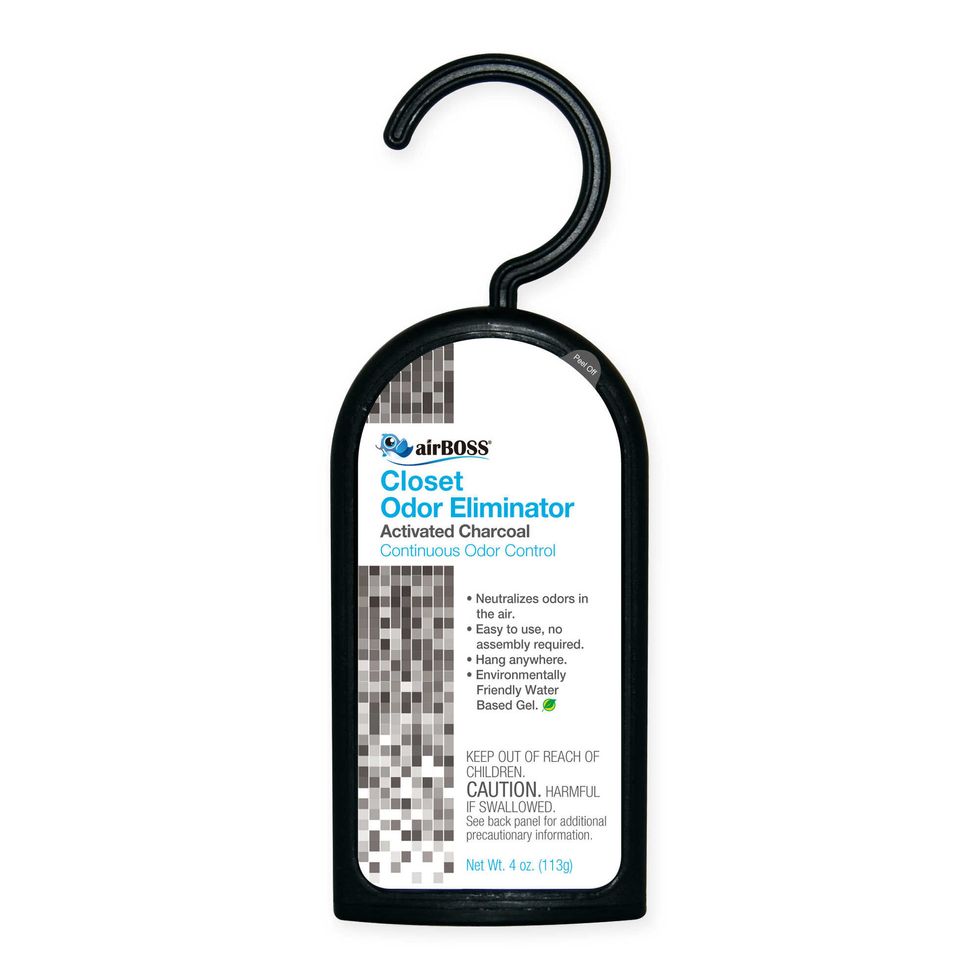 Via bedbathandbeyond.com
Freshness around the house is just as pleasing as a clean body, so keep those small spaces in the home free of funk by hanging an AirBOSS Closet Charcoal Gel Odor Absorber in tight places that could use a little freshening. Think closets, lockers, hampers, or the corners of the "man cave." Musty odors are absorbed, and stale smells vanish as AirBOSS sucks them in and leaves your home smelling neutrally nice. According to Vitchelo, "Scent-free, charcoal odor absorbers are praised to help fight odors just as effectively as aerosols do." Forget the spray coverup and make those smells truly disappear.
Cost: $4.99 for one 4-oz. Absorber
Charcoal… activate!