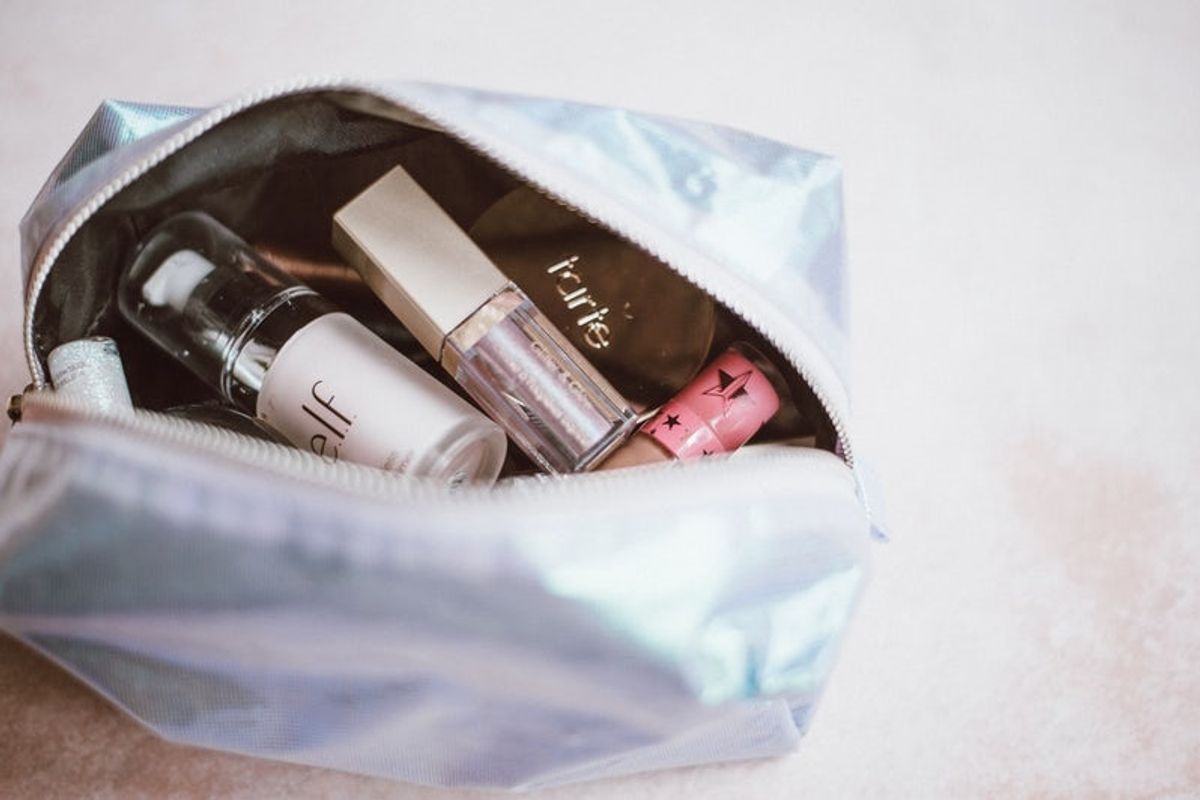 Beauty Saviors: 6 On-The-Go Products Under $40
We all have those hectic days when you're scrambling to get ready, and primping before work or class is a luxury. Instead of feeling less than your best, why not keep a stash of beauty products to help you get ready on the go? Here are the top 5 products under $40 that you can keep in your purse or glove box, so you can get ready in a flash and arrive looking fresh.

Concealer
Keeping the right concealer on-to-go is essential for those times you need to cover up dark circles or make it look like you got a better night's sleep than you really did. The trick is to pick a concealer that you can apply with your fingertips, so you don't need extra brushes that could add another step to your routine. Look for a formula that's creamy and has both brightening and corrective properties. Glossier Stretch Concealer ($18 on glossier.com) is easy to apply, elastic instead of cakey, and full of nourishing oils to give your skin a naturally glowing finish.
Lip and Cheek Tint
If you wake looking a little pale, some tint is all you need to look bright and fresh, and the good news is that you can use just one small bottle or dual tint to give both your lips and cheeks and boost. A formula like RMS Lip2Cheek tint ($36 on Sephora) can be applied with your fingertips and should last you the day. Opt for a color that offers a simple rosy hue, similar to the tone of your skin when your cheeks are flushed. Apply the tint over your cheekbones and blend back towards your hairline, and then use the extra to dab on your lips.
Cleanse and Moisturize
If you don't have time to wash your face before applying makeup, use a towelette for a quick complexion refresher. Choose something that's alcohol-free so your skin doesn't dry out. Jack Black all-over wipes ($15 on Sephora) can be used on your face and body (in case you don't have time for deodorant) and are suitable whether you have sensitive or oily skin. You may also want to add an all-purpose balm that you can use as a moisturizer, hand cream, flyaway tamer, or even for extra sheen on your cheeks for a dewy look. Connock Kukui Wonder Balm($22 on Amazon) is made with Hawaiian Kukui oil and has a pleasing beachy aroma.
Acne Treatment
The only thing that can make a hectic morning worse is discovering you've woken up with a pimple. Rather than just cover it up and risk making it worse, why not treat it? Acne treatment dots are small invisible patches that are jam-packed with acne-treating ingredients like salicylic acid and target the specific area. Peter Thomas Roth acne-clear invisible dots ($30 on Sephora) contain tea tree oil and .5 percent salicylic acid to get rid of oil and bacteria as well as hyaluronic acid to keep the area moisturized.
Dry Shampoo
Dry shampoo is a lifesaver if you don't have time to shower or style your hair before leaving the house. Choose a non-aerosol version that won't burst when exposed to extreme heat or sunlight. Hask charcoal purifying dry shampoo ($7.99 on Ultabeauty.com) is a non-aerosol dry shampoo that has tapioca and rice starches to sop up extra oil from your scalp, as well as charcoal to draw out impurities.