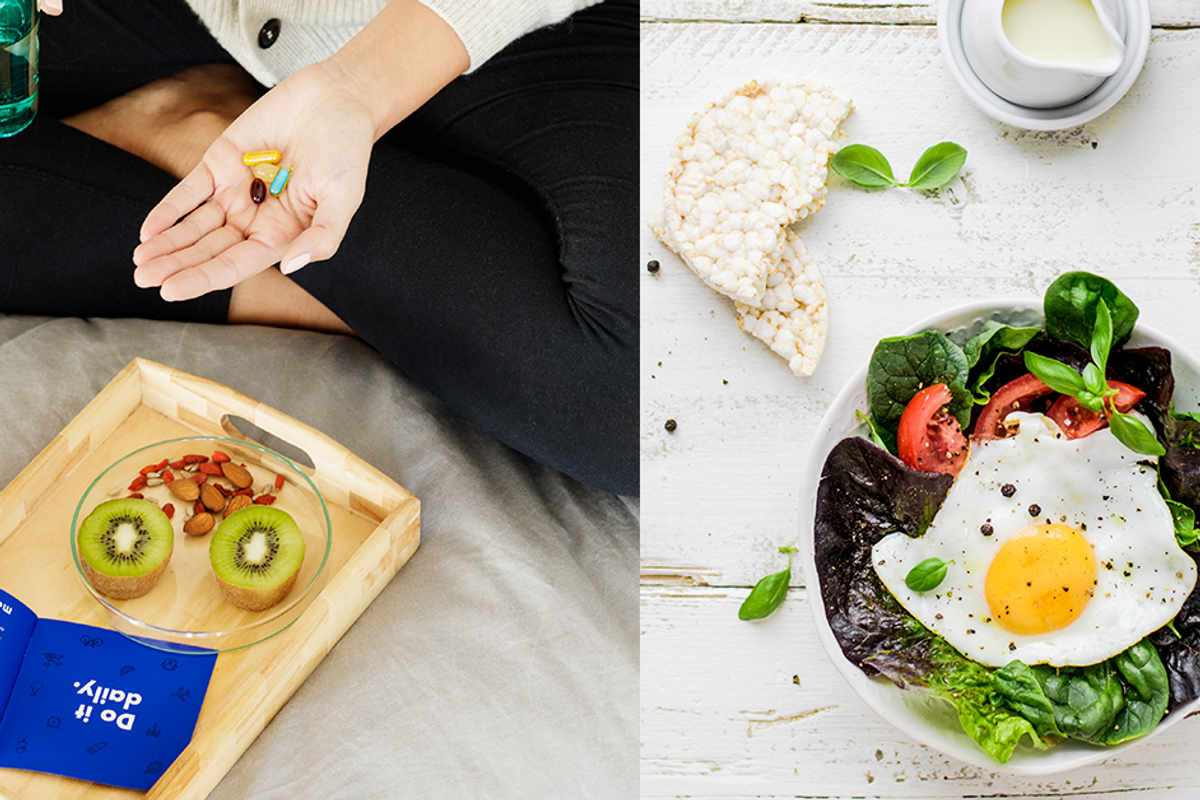 Asked & Answered: Everything You Need To Know About Madefor Personalized Daily Vitamins
Studies show that people across all ages and genders are deficient in essential nutrients. This includes iron, calcium, zinc, vitamin B1, vitamin D, to name a few. Science shows that missing these key nutrients leads to fatigue, stress, constant illness, and foggy brain function. There are a ton of reasons why this may be, from diet to lifestyle choices and even weather, but how do you combat the issue? Made For_ is providing what your breakfast can't; a guaranteed healthy way to get the nutrients you're missing that is tailored directly to your individual needs. Made For_ is a daily supplement pack of vitamins that's customized for your lifestyle, taking into account your diet, how much sleep you get a night, where you live, etc. Their packs include vitamins that you've heard of like magnesium and ones you haven't, like schisandra that can directly target stress and fatigue. Through a quiz, Made For_ learns about the gaps in your routine or diet and your strongest stressors in order to give you supplements that will help you fill in the gaps, so you can start having more energized days, for a happier, healthier life.
Here's everything you need to know about Made For_.
Why do I need vitamins if I'm otherwise pretty healthy?
Do you live in the Northern hemisphere? You're probably not getting enough Vitamin D. If you don't get enough sunshine, don't eat dairy products, or both you're at risk for a deficiency that could lead to bone pain, weakness, and depression. Did you know there are 8 different B vitamins that your body needs? If you're lacking in just one, down the line, you could have issues with skin, hair, or eye health. Even if you think you're getting the right amount of nutrients, if your lifestyle is high in stress, you probably need more nutrients.
How does the quiz know what I need?
Made For_ uses an online quiz made by experts to personalize your supplements based on your lifestyle. By learning about your unique personal, biological, and environmental factors, we can determine what you're deficient in. If you drink alcohol often, don't get enough sleep, or are trying to get pregnant, they have supplements to address that.
How do I order my supplements?
After you get your recommendations, the website helps you learn about each supplement it's recommending, including how they work in your body. You can sign up for an easy monthly subscription, so a new box arrives at your door before you can worry about running out.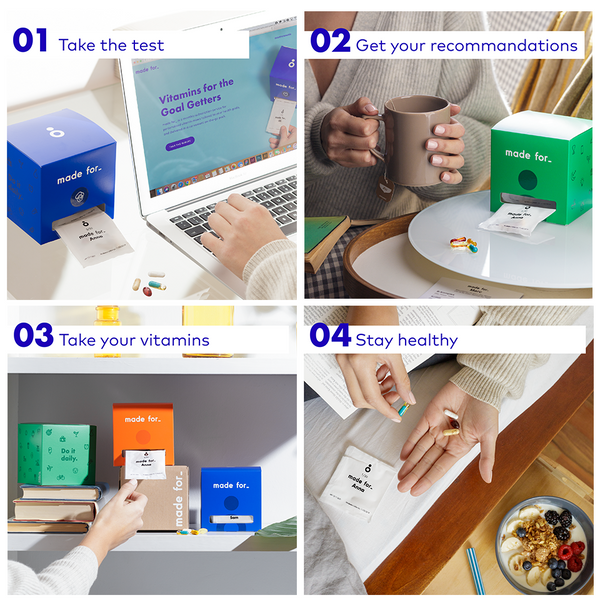 What do they look like when they arrive?

After you sign up, they'll ship you a colorful box, that contains the month's worth of individual daily packets. Each packet is filled with a day's serving of your unique blend of recommended vitamins and supplements. The mini-packs are easy to throw in your bag and take on the go. Also, each package has your name on it, because it's made just for you!
How does the shipping process work?
When you sign up, your month's worth of supplements will arrive in up to 5-6 business days. They'll be shipped every month so you'll always have them in time. Shipping is free for orders over 10 euros and in Germany for orders over 5 euros.
How are these supplements different from the ones at the pharmacy?
These are sourced from places in the world where the ingredients are at their most potent, from India to Sweden. They're all tested in the US and Germany and produced under the best manufacturing practices guidelines. For as little as a couple dollars a day, you're on your way to better health with supplements picked by experts just for you.
When will I start seeing a difference?
After 1-2 weeks of daily use, you may see a difference in your energy levels and bodily health. People report being less stressed, feeling mentally sharper, and less tired after a few weeks.
Made For_ gives you the relief that comes with knowing you're treating your body right. It's a crazy mixed-up world out there, and a little help from natural herbs, vitamins, and minerals will help your body function the way it's supposed to, even in challenging situations or under less-than-ideal circumstances. As a busy parent, a college student, or working professional, it can be easy to sacrifice your health for other obligations. Made For_ is here to remind you that your physical health is connected to your wellbeing. Taking supplements fills in the nutrition gaps and other essential vitamin deficiencies so you can operate at your best.
Sign up today so you can take a little weight off your shoulders.
Update! Made For_ is giving our readers an exclusive discount! Click here to get 50% off your first 2 months, now for a limited time!