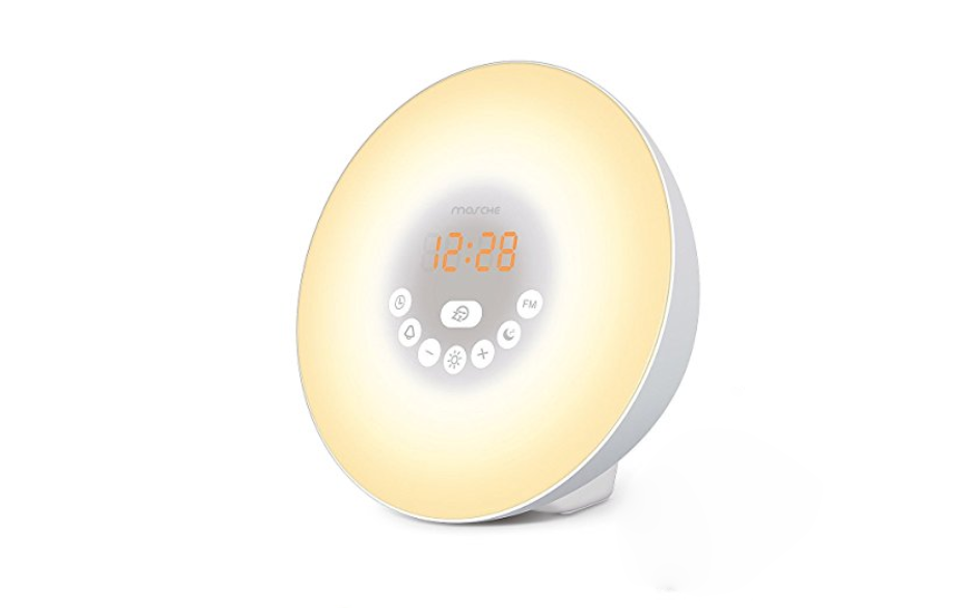 This alarm clock simulates the sunrise so you wake up feeling fresh for the day
What's better than being woken up in the most peaceful of ways?
Are you a heavy sleeper? Do you find yourself getting woken up by the sun's harsh rays invading your room, but still want to feel a sense of peace and tranquility? For those of you who have trouble waking up in the morning, this alarm clock sunrise simulator by MOSCHE is made for you.
This alarm clock is one word: innovative. It combines a variety of uses, like six different nature sounds and the ability to choose the color light, that are meant to better the life of the heavy sleeper. We get it, waking up is tough, but with this alarm clock it doesn't have to be! As the product description reads, "In every morning, maybe you want to use your hammer to smash your alarm clock. Because it was very noisy. But this wake up alarm will be on gradually from 10% of brightness to 100% of brightness until your room is filled with bright yellow light, before 30 minutes of the alarm time. Simulating the sunrise to prepare our body for waking up naturally, giving you a more energetic morning. The wake up light will be on from 1% of the brightness to 100% at set time to bring you out of deep sleep gently to welcome a refreshed day; And Sunset function will guide you to natural, restful sleep. Six natural sounds such as pure music, birds, forest, waves, beeping and so on, which let you revel in the sounds and smells of the nature. As well as FM radio, if you don't want to wake up, you can choose your favorite sound."
Sounds like a lot, right? That's because it is. Aside from being able to control the intensity and gradiant of the "sunlight" itself, you can also pick and choose what sound wakes you up - it can be birds chirping, or it can be your new favorite Kelly Clarkson song currently making rounds on the FM radio. The possibilites are endless and that's because no two people sleep the same way. This product reinforces the fact that it's important to learn yourself and what brings you to have a great night's sleep. Is it the sunlight? Is it the sound of construction outside? With this alarm clock, you get a lot more than just a nice way to wake up - you get some self-discovery, too.
JTC Fratres over at Amazon echoed our thoughts with his verified product review: "WOW! This is an awesome alarm clock! Not only does it run on AC power with an USB hookup, but can be operate via battery (3 - AAAs), too! I can move it anywhere in my room. It does loose some of the functions, such as the lights, but that's not a big deal if I'm using outdoors during the day. The sound quality is better than I would have expected from a small speaker and the radio stations come in nice and clear - comparable to my outdoor radio. The sounds that are available are 2 classical music pieces, birds, surf & a standard beep for the alarm clock or you can have your favorite radio station come on. The colors are so bright and cheerful! You can see from the pics the various colors. You can have the unit cycle through the colors or you can choose a solid color to keep it on as your night light. You can dim the colors, too, which is a nice feature. The sunrise simulation is really neat if you are someone who needs to wake up slowly or if you find it difficult to sleep, the sunset simulation is a nice, relaxing way to fall asleep. This is great for both adults and children and I highly recommend getting this for your family!"
What are you waiting for? Find the nearest Sunrise Simulator Alarm Clock and sleep better today.
The Sunrise Alarm Clock can be purchased via Amazon.