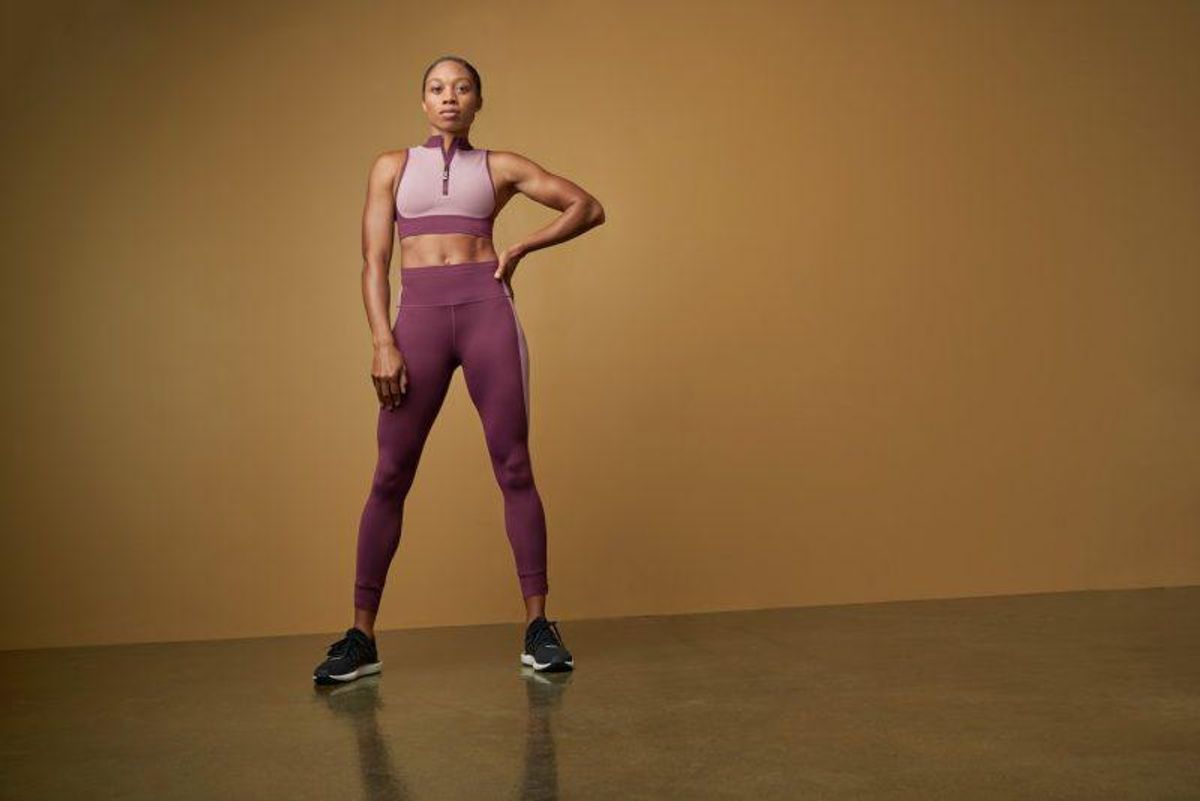 4 Must Haves to Shop in the Allyson Felix X Athleta Collaboration
Now you can look and train like an Olympian
One thing the Olympics always promises is a slate of new national icons to admire, be inspired by, and buy things from.
Though the Tokyo Olympics was definitely a strange iteration of the Games — with no audiences, a socially distanced Olympic Village, athlete TikToks giving us never-before seen behind the scenes footage, and the still-raging pandemic — the bevy of brand collaborations that came out of the Olympics gave us a small sense of normalcy.
From Subway commercials featuring Megan Rapinoe and Steph Curry to highly produced cinematic spots from Ford and Nike, commercial breaks felt like pep rallies for the athletes in Tokyo.
Brand collaborations also popped up, including the new Athleta collection with Allyson Felix.
Allyson Felix is an Olympic megastar and track and field icon. She is the most decorated US track Olympian with 11 Olympic medals. She has also made a name for herself for breaking records in relays and winning 16 world championship titles.
She also runs a lifestyle brand, Saysh. The 2021 games were Felix's last before retirement, but with her track career ending, her lifestyle brand is flourishing. Saysh is a hub for thoughtfully designed collections, as well as an online blog where Felix herself posts her own musings alongside other wellness and lifestyle content.
With a dual passion for athletics and design, it's no surprise that Felix has paired with Athleta for a collection following the Tokyo Games.
But this is not another thoughtless athlete sponsorship. Felix and Athleta paired together to make premium athletic wear which doubles as stylish lifestyle gear. The styles, shape, and colors would not be out of place in the gym or running around the city, doing errands like an Olympian.

According to Felix's website, she describes the collaboration as "a groundbreaking partnership that challenges the traditional sponsorship model and puts women first."
Athleta also recently founded a wellness blog — partly in support of Simone Biles, who was in the news for her dedication to her mental health. The new venture, AthletaWell, is a digital platform which hosts workout content and supervised chat rooms for conversation with other Athleta members.
There are so many good products in the collection it can be overwhelming to pick out your favorite pieces. Here are some of our favorites:
The Legend Shortie
These are not your average bike shorts. The once-controversial bike short is now a staple in any closet. These high rise waistband are the perfect combination of support, style, and structure. Designed for both performance and comfort, they have the perfect fit that doesn't ride up or dig in — which is the kiss of death in most bike short options. The Hearth Rose/ Palermo Pink colorway is a terracotta dream, adding the elemental aesthetic of natural and neutral tones into your color palette. If there were a time to try step out of your comfort zone and into bike shorts, these make the leap far from intimidating and instead a welcome, comfortable sartorial and workout option.
Legend Travel Sweatpant
As the athleisure movement has become more normalized as part of our day-to-day wear (thanks in part to the pandemic putting an emphasis on comfort and casual attire), you can shamelessly rock sweatpants to your Zoom meetings, to errands and even lunches, or to actually work out. Whatever your poison — the "ath" or the "leisure" — sweatpants are the new cool. The tapered leg and jogger fit give these sweatpants enough structure to not feel too slouchy, and the Minimalist Grey color is the perfect, on-trend addition to your wardrobe.
Legend Shine Crop LS
This long sleeved performance crop top is the perfect transitional piece to your workout clothes. The futuristic design is combined with the high tech manufacturing to create a shirt that is as effective as it looks. The breathable material lets air flow through the shirt to keep you cool, while the stretchy fabric blend moves as you move to meet you where you are.
Saysh One Sneaker
The classic Saysh sneaker is now available exclusively at Athleta. The shoe is manufactured for peak performance, all day comfort, and durability — all without sacrificing style. The new Hearth Rose colorway debuted shortly after the Olympics. According to the brand, the shoe was designed "drawing power from the warm, mineralized hues of sand and soil." If you're looking for a new workout shoe or casual sneaker, look no further.