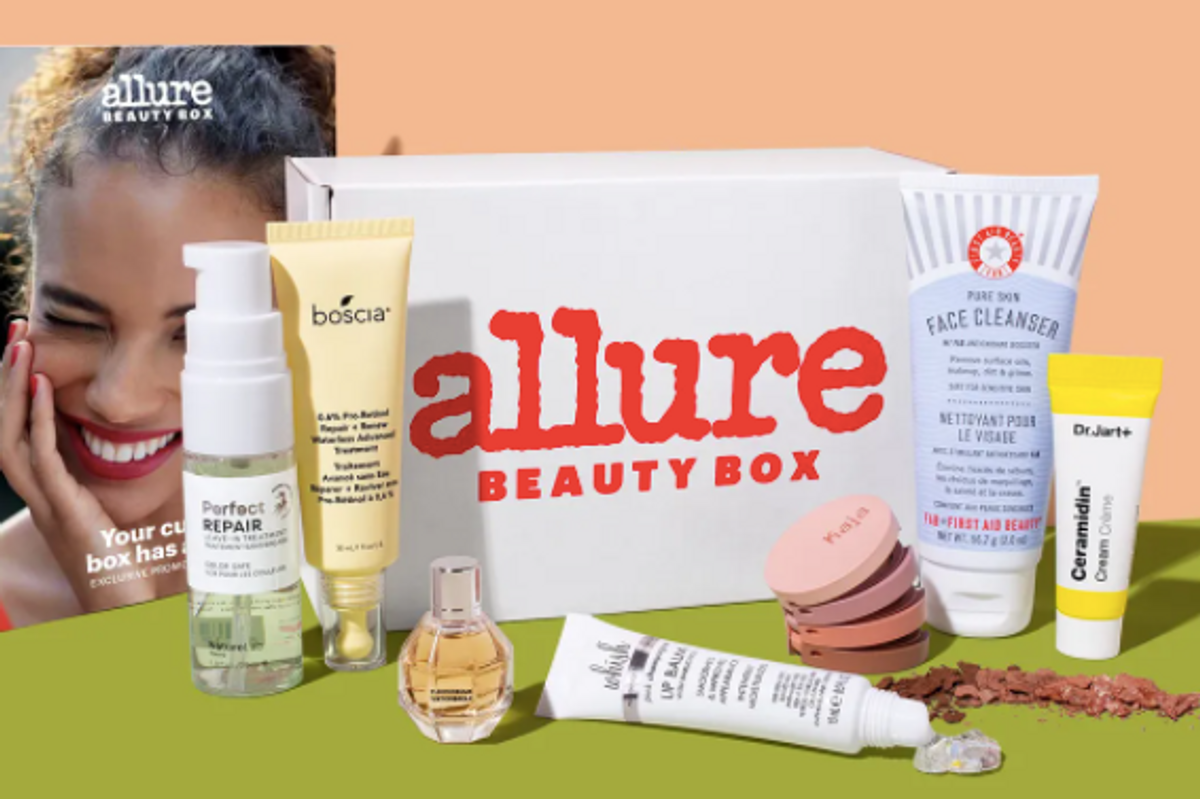 The Ultimate October 2021 Allure Beauty Box Review
Is it worth it? What do you get? All your questions, answered.
This year may feel like it's going way too fast but, though each new month surprises us, it also brings along with it a new Allure Beauty Box to salve the wound.
If you haven't heard about the Allure beauty Box, where have you been?
Each year, Allure Beauty is known for their Best of Beauty Awards which call out the very top-of-the-top skincare and makeup lines. Well, their new Allure Beauty Box brings all their top picks to you every month for one, affordable price.
The Allure Beauty Box is a unique subscription opportunity that allows you to indulge all your makeup and beauty obsessions without breaking the bank.
Whether you're looking for new products to love, or need to overhaul your entire routine without a locked-in commitment, the Allure Beauty Box is an exceptional way to get a taste of all the exciting new beauty on the shelves. And this costs only $23 — which is unheard of for these premium brands, generous product amounts, and expert-approved choices.
This fall's thirteen products are potent, glow-getting essentials — so no matter what you get in your box, you're in for a treat. Here's our rundown of the October Beauty Box so you can be sure to keep your summer glow straight through Fall and revamp your routine for the seasons to come.
Viktor & Rolf Flowerbomb: Dew, Midnight, or Nectar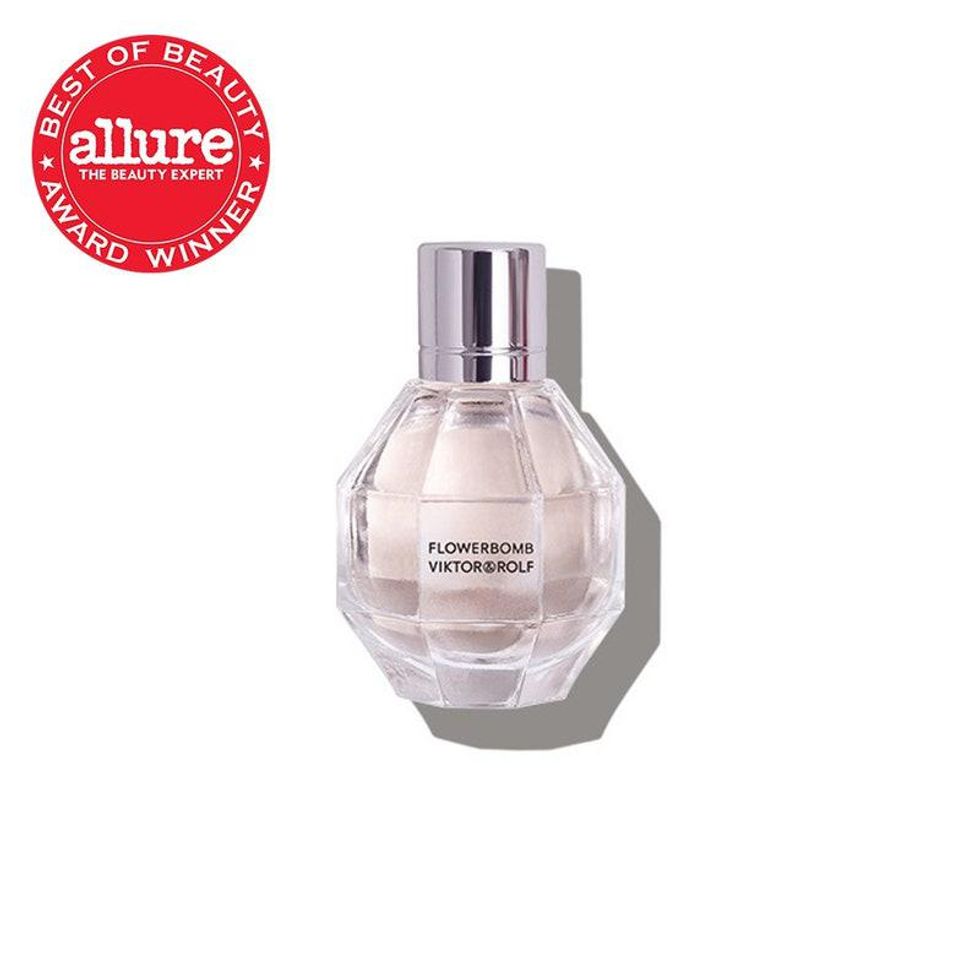 What is it?
This romantic, luxe perfume from the cult-favorite Viktor & Rolf will no doubt be your signature autumnal scent for its blend of warmer and darker notes.
What it does
This combination of floral notes — roses, jasmine, and orchids — absolutely shimmers with sultrier notes like patchouli and musk come together for a complex, long lasting scent that changes on your skin from day to night.
Our thoughts
Viktor & Rolf have established themselves as the top-of-the-line in fashion and beauty for their daring, seductive scents. The fall Beauty Box includes three scents for members to discover and indulge in. The three fragrances — Dew, Midnight, or Nectar — each have a new take on the classic floral scent of the Flowerbomb fragrance.
This long-lasting, chameleon fragrance is so versatile it's almost like buying multiple bottles. On its own, a bottle of Flowerbomb costs up to $165. With the Beauty Box, you get more for your money while smelling like you spent a mint.
Kaja Beauty Bento Bouncy Eyeshadow Trio in Chocolate Dahlia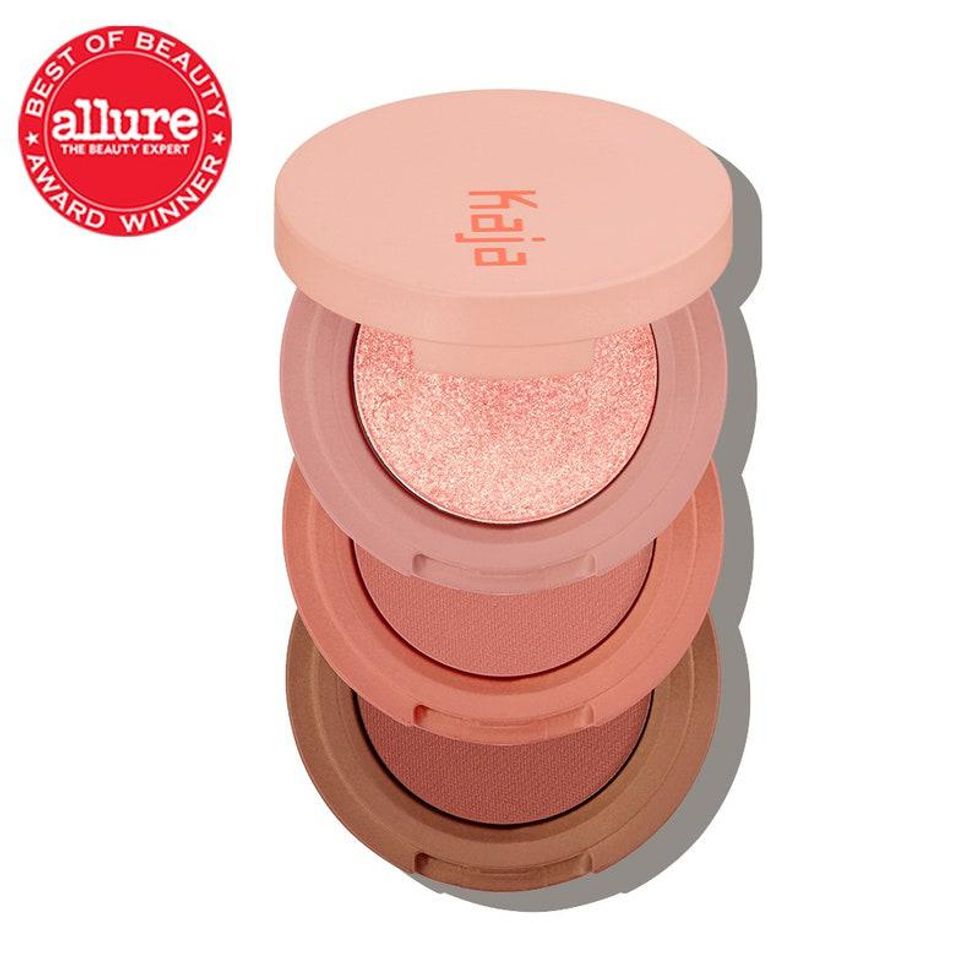 What is it?
A portable, stackable trio of creaseless eyeshadow in three rich, chocolate tones.
What it does
The Kaja Beauty Bento Bouncy Eyeshadow Trio is designed to be both gorgeous and convenient. This no-fuss, powder formula and stackable packaging mean you can apply it quickly and easily, then head out the door with it in tow.
Our thoughts
Gigantic, clunky eyeshadow palettes are out. In? The Kaja Beauty Bento Bouncy Eyeshadow Trio. Inspired by the portable innovation and efficiency of Bento boxes, this palette is a game-changer. Instead of hijacking the space in your bag, it's easy to toss it in and carry it around on-the-go. But it's not just a novelty item, this high-quality eyeshadow formula will revolutionize the way you put on makeup. Don't worry about creases or fading — this game-changing eyeshadow powder is designed to go on smooth and last from day to night.
The neutral tones perfectly match this year's fall trends. Get an effortlessly sophisticated and glamorous look with these three shades of brown. Or use all three together for an easy look that will make people think it took ages. Hot tip: blend the Brown Sugar shade — the matte chocolate — through your creases, the Cool Khaki — a matte tan — over your lids, and the Crushed Pearl shade at the inner corners of your eyes for a smoky, autumnal take.
This full-sized treat will no doubt become a staple in your routine. After all, once you've basked in these shades' natural glow, why would you ever switch? Instead of paying $21, get the exact same, full-size in the Allure Beauty Box alongside a slew of other savings.
Boscia 0.6% Pro-Retinol Repair + Renew Waterless Advanced Treatment (Full-Sized)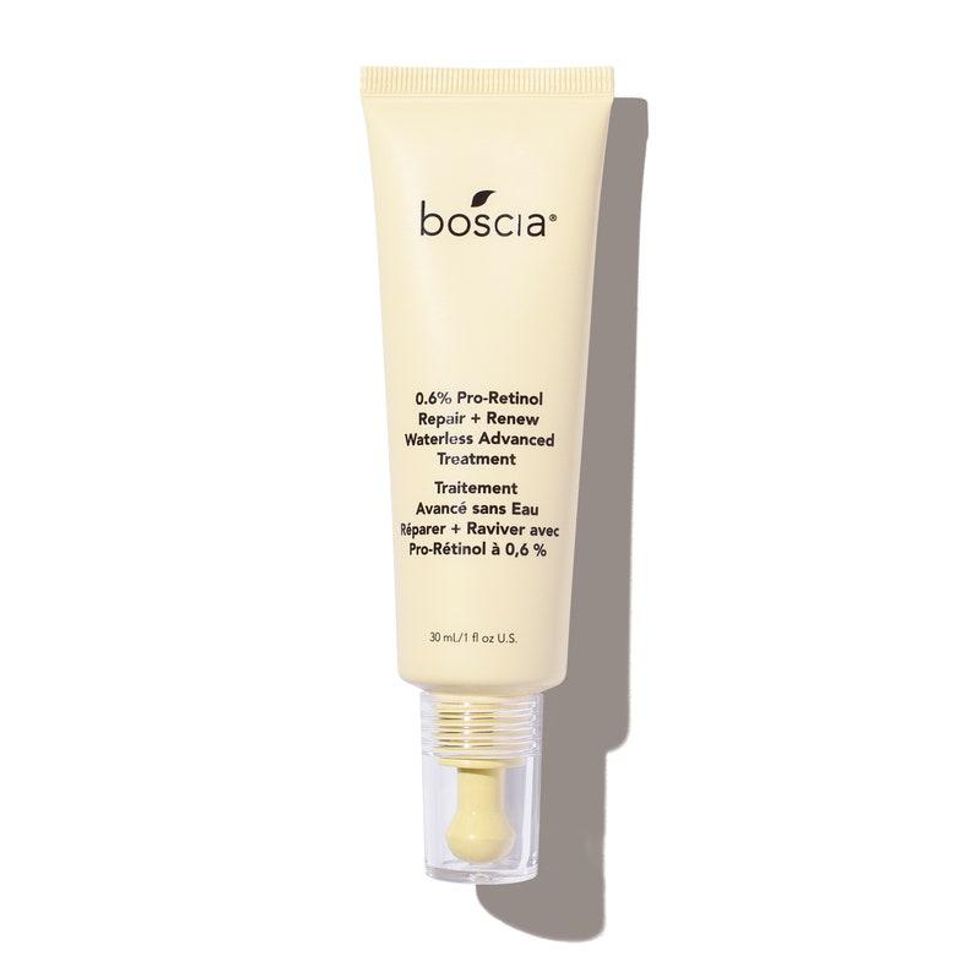 What is it?
Cult-favorite brand Boscia's new Retinol treatment is one of the most anticipated products this fall. And this full-sized tube is coming to the Fall Allure Beauty Box.
What it does
This anti-aging powerhouse lends your skin its most natural glow and returns it to its smoothest, most youthful state. The combination of Retinol and Vitamin C softens fine lines and visibly brightens your skin.
Our thoughts
Once you've figured out skincare basics like: washing your face twice a day, using moisturizer and sunscreen, you learn pretty quickly that there are certain powerful ingredients — Retinol and Vitamin C — that seem to do everything. So it stands to reason that everyone should include them both in their daily routine.
Boscia 0.6% Pro-Retinol Repair + Renew Waterless Advanced Treatment is an outstanding nightly treatment that will provide your skin with everything it needs to repair and renew. Apply each evening to wake up with visibly smoother skin. With consistent use, your skin will truly transform, so enjoy your full-sized treatment to its fullest extent. Scared to dive into active ingredients like Retinol because you've heard the horror stories about side effects like dryness? Don't worry! This elegant blend is as hydrating as it is transformative in replenishing your skin.
When it comes to their products, Boscia never compromises. Due to its high-quality active ingredients, this treatment costs $48 if you purchase directly. Your subscription to the Allure Beauty Box provides excellent skincare products for one affordable price.
Whish Pink Champagne Lip Balm (Full-Sized)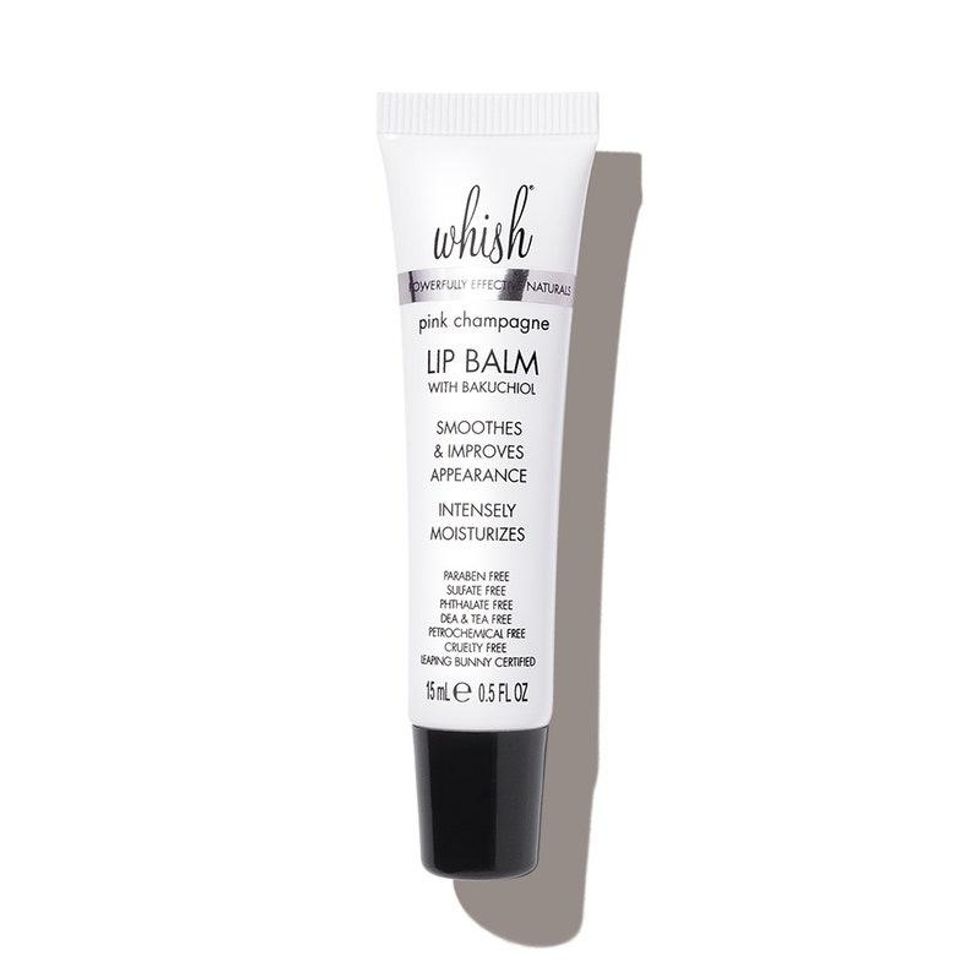 What is it?
A hydrating lip balm which eliminates any icky stickiness and leaves you with a glossy sheen.
What it does
Using a combination of ultra-hydrating ingredients and bakuchiol — a plant extract that's a natural Retinol alternative — this balm makes your lips softer with each application.
Our thoughts
If you've paid any attention to the clean beauty market over the past few years, you've heard everyone talking about bakuchiol. Since Retinol is a super popular, clinically-proven transformative skincare treatment, many in the natural beauty space have been experimenting with plant-based ingredients to get the same effect. Whether your sensitive skin can't take the actives in Retinol or you're using it on more sensitive areas like eyes and lips, bakuchiol is quite an impressive ingredient.
So far, this Retinol alternative is integral to creams, serums and face masks from natural beauty giants. Instead of using messy, abrasive sugar scrubs for smoother lips, Whish Pink Champagne Lip Balm gently gives you the soft lips you've been seeking.
But unlike lip glosses you've tried in the past, this has a light, pink tint and doesn't leave any sticky residue. Hot tip: try it over a matte lip color for added dimension. Even after a full day or night wearing it, this lip balm keeps your skin hydrated. Yes, it would be well worth it to pay $20 for this miracle product, but with the Allure Beauty Box, you pay far less.
First Aid Beauty Pure Skin Face Cleanser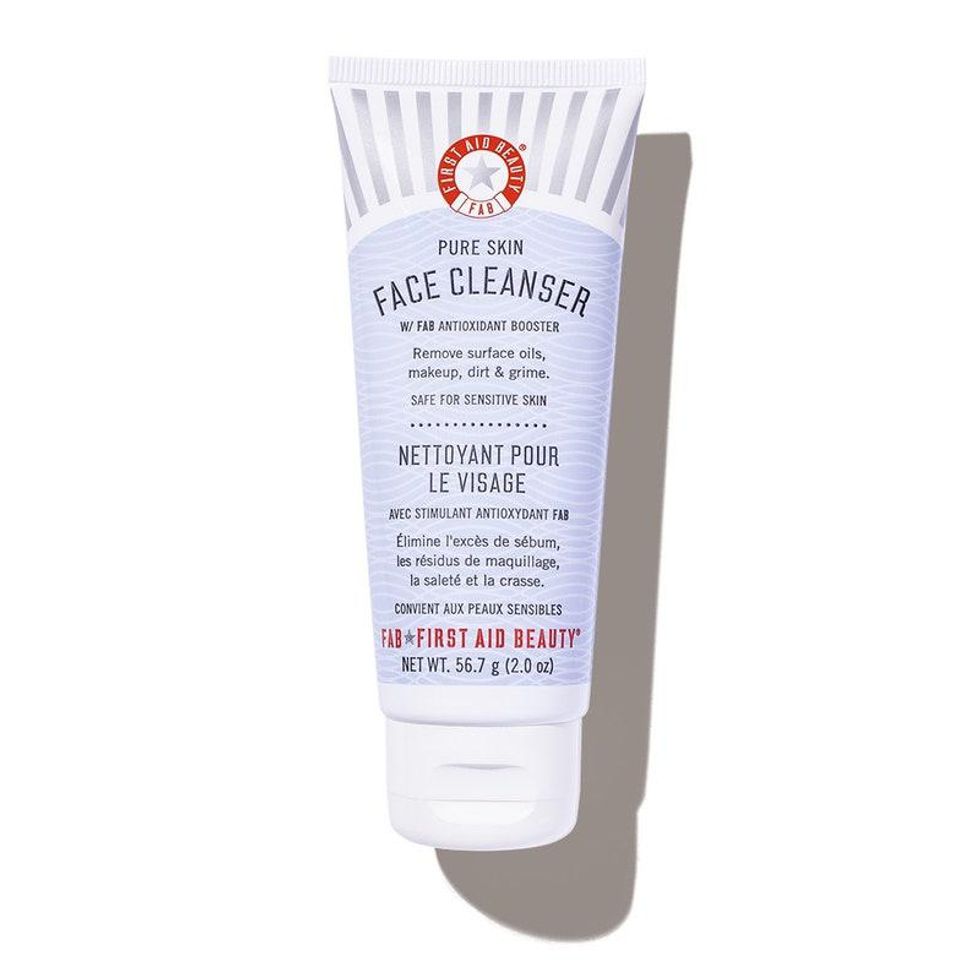 What is it?
A gentle, but effective skin cleanser for all skin types.
What it does
This all-in-one cleanser removes makeup, cleanses skin, and gives you an antioxidant boost. Plus, the calming effects of aloe make it extra soothing, hydrating, and relaxing.
Our thoughts
If we were to recommend one facial cleanser, this would be it. This cleanser from First Aid Beauty is one of the brand's most popular products, and for good reason. Suitable for all skin types, it blends rigorous efficiency to get your face squeaky clean without irritating or over drying.
At this point in time, we all know about the evils of makeup wipes. But making sure to remove all your makeup is a crucial skincare step. Skip the ineffective options and go for the First Aid Beauty Pure Skin Face Cleanser, which whisks away oil, grime, and every last trace of makeup — even mascara! So, say goodbye to waking up panda eyed. And instead of paying $42 for this post-makeup staple, it's complimentary when you subscribe to the Beauty Box.
NatureLab Tokyo Perfect Repair Leave-In Treatment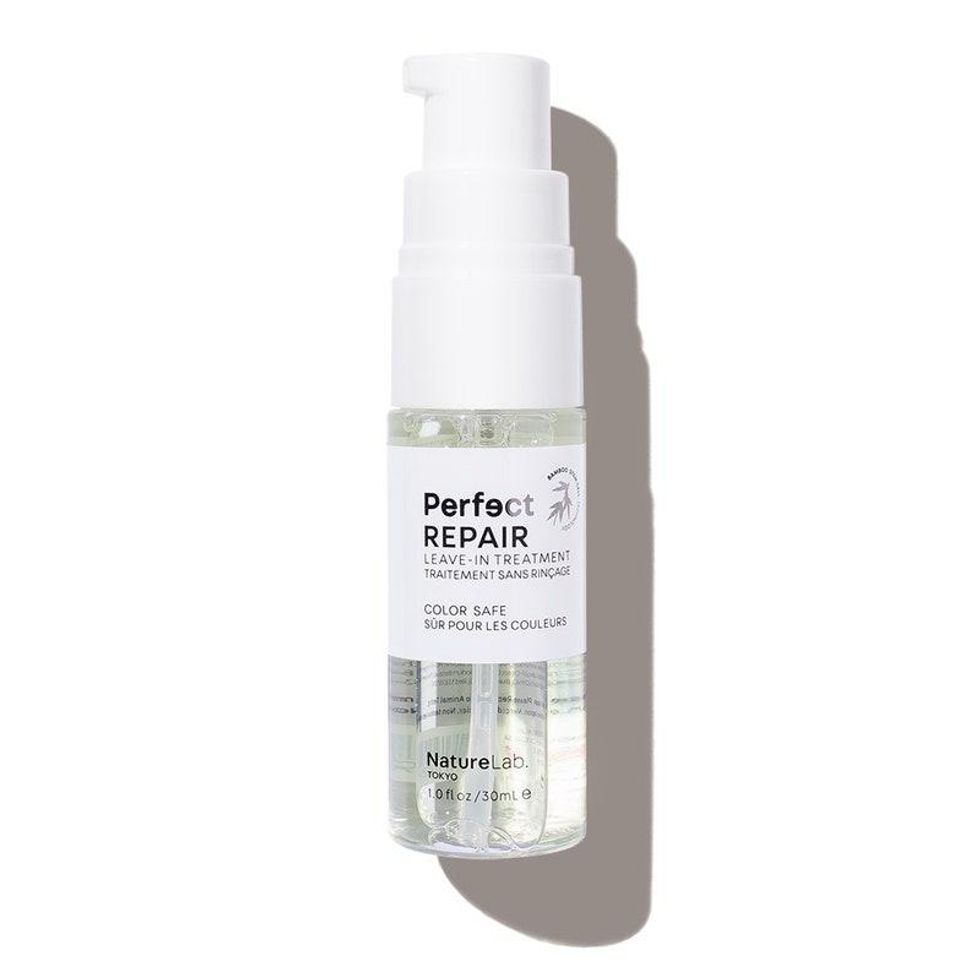 What is it?
A leave-in conditioner that helps with everything from breakage to shine
What it does
This reparative formula unlocks the power of keratin to repair and strengthens your hair. It combines with the nourishing botanical oils to keep your hair healthy and shiny.
Our thoughts
One side effect of colder weather that often goes unacknowledged is how it ruins your hair. Cooler temperatures mean dryer hair, which often leads to breakage and damage. But no more! This fall, give your hair the pampering it deserves with this miracle product you'll be shocked you never tried before.
NatureLab Tokyo Perfect Repair Leave-In Treatment is the solution for everything from frizzed-out hair to complete breakage. Whether you dye your locks often, or are merely bracing for the fall, this is a no-stress way to keep your locks shining and healthy. To use, simply rake this lightweight foam through your hair from scalp to tip — and that's it! Plus, you won't have to spend the $17 it would cost if you bought it alone.
Dr.Jart+ Ceramidin Cream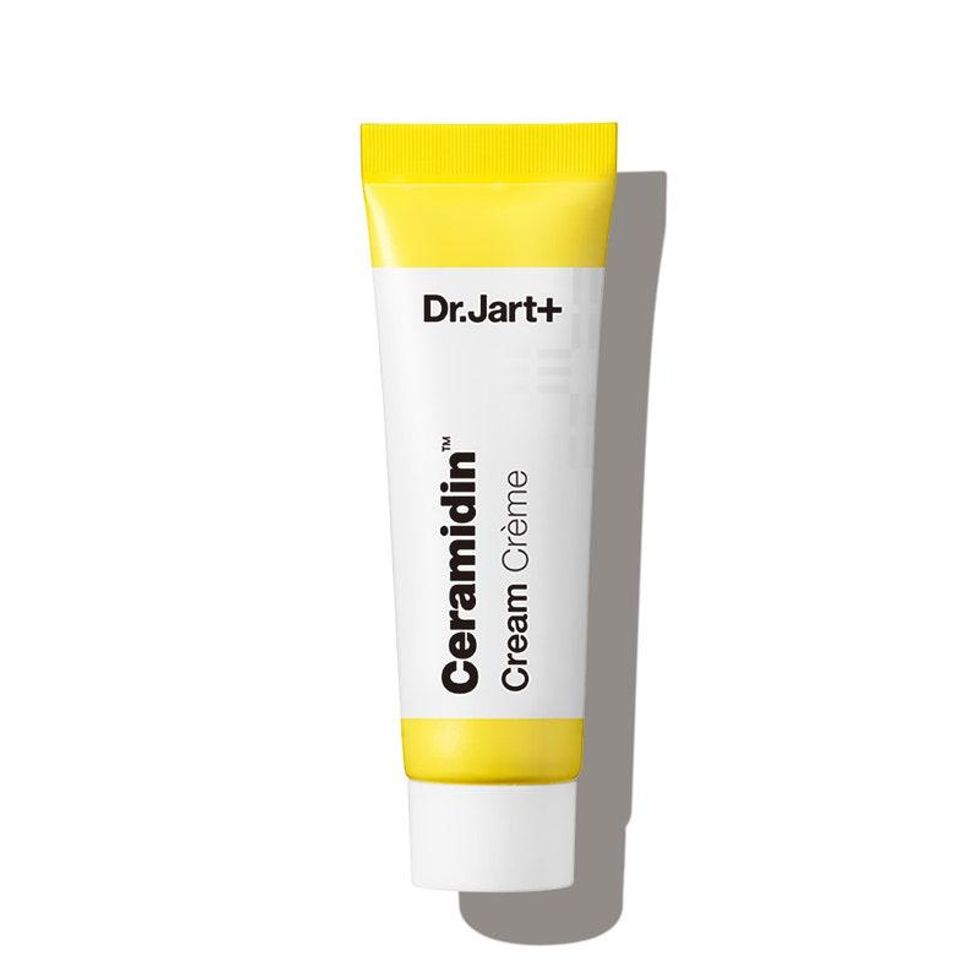 What is it?
The ultimate hydrating moisturizer from cult beauty brand Dr.Jart!
What it does
It's all in the name! Using its Ceramide-rich formula, this moisturizer hydrates and locks-in moisture with botanical extracts — such as artichoke — to help reduce fine lines.
Our thoughts
At this point, moisturizers from DrJart+ are coveted by skincare devotees everywhere. The only issue: the price. Dr.Jart+ Ceramidin Cream is the best thing you can do for your skin. However, at almost $50 per tube, this cream is like caviar — and here it is, in the fall Allure Beauty Box.
A healthy moisture barrier is crucial to radiant skin. It can be tough, especially when you incorporate many active ingredients in your routine. But this calming cream feels like a balm on your face, and feeds your skin all the nutrients it needs to look glowy.
Proenza Schouler Arizona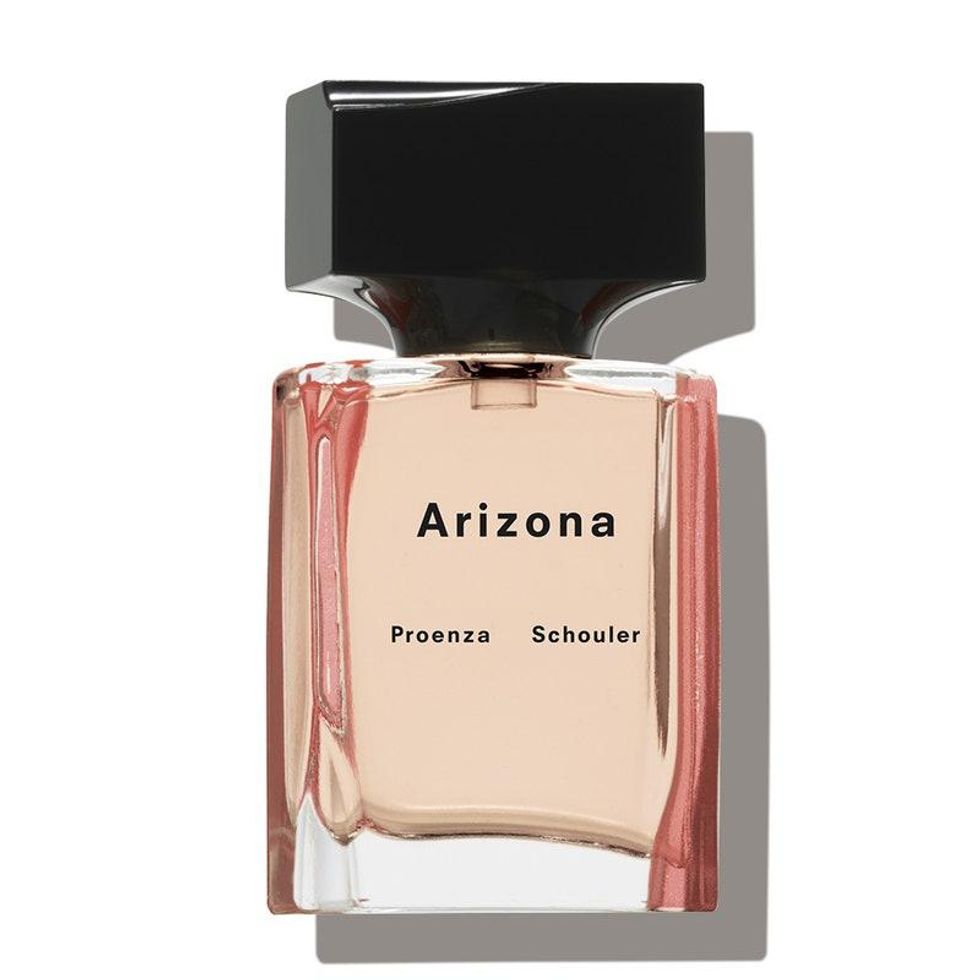 What is it?
A delightful fragrance from the cool-girl, fashion brand Proenza Schouler
What it does
This refreshing fragrance will carry you through the day with its effortlessly cool notes of white cactus flower, jasmine, and musk.
Our thoughts
Everyone stay calm: Proenza Schouler just launched a fragrance. Yes. That Proenza Schouler — uniform of cool-girls, favorite of celebs, and constant innovator in the fashion world. Well, they've done it again with their first ever fragrance, Arizona. This desert-inspired scent is light, but packs a punch. A melange of light florals and musk makes it understated, complex and mysterious, just like the brand's clothes.
Like many hip, downtown-cool brands, Proenza Schouler products generally come with a hefty price tag. Get your hands on this when you subscribe to the Beauty Box and become one of the coveted few rocking Proenza Schouler.
Sol De Janeiro Brazilian Bum Bum Cream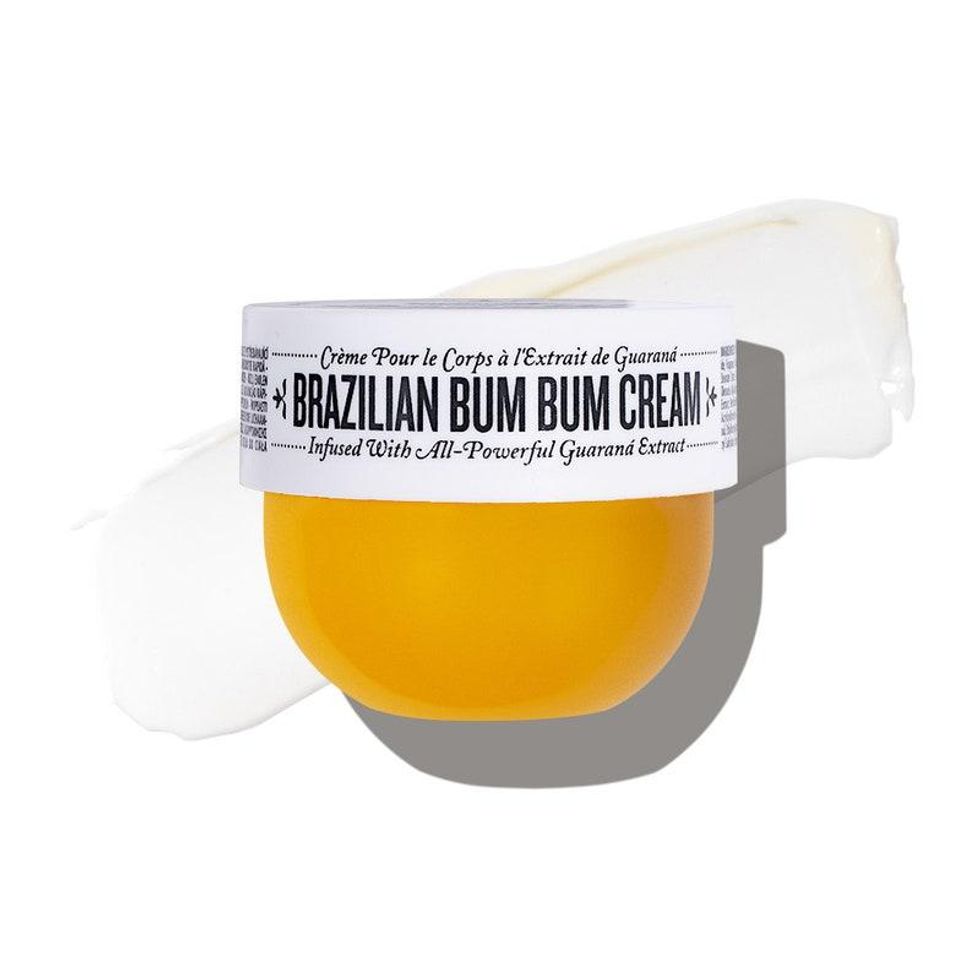 What is it?
A rich, luxe moisturizer for your body — like, all over.
What it does
This cupuaçu butter is an emollient, rich moisturizer which will instantly refresh your skin without feeling greasy.
Our thoughts
Summer still on your mind? Ours too. But you can have the best of both worlds with the Sol De Janeiro Brazilian Bum Bum Cream. Prep your body for cold weather while luxuriating in a scent inspired by the beaches of Rio De Janeiro. The smell of this cream is famous for a reason: its scent. Even on a dreary fall day, you'll sense-memory basking in the sun in Rio. This sugary, buttery, beachy cream, draws its scent from the fresh coconuts and sweet popcorn sold on many of Rio's beaches.
But it's not like the over-perfumed, watery lotions you slathered on as a kid. This light scent is a noticeable comfort that will make you smile when you catch a whiff of yourself as you go about your day. You might even find yourself foregoing perfume! This iconic cupuaçu butter formula is infused with guarana extract to make it deeply moisturizing for your entire body.
Differin Acne Clearing Body Scrub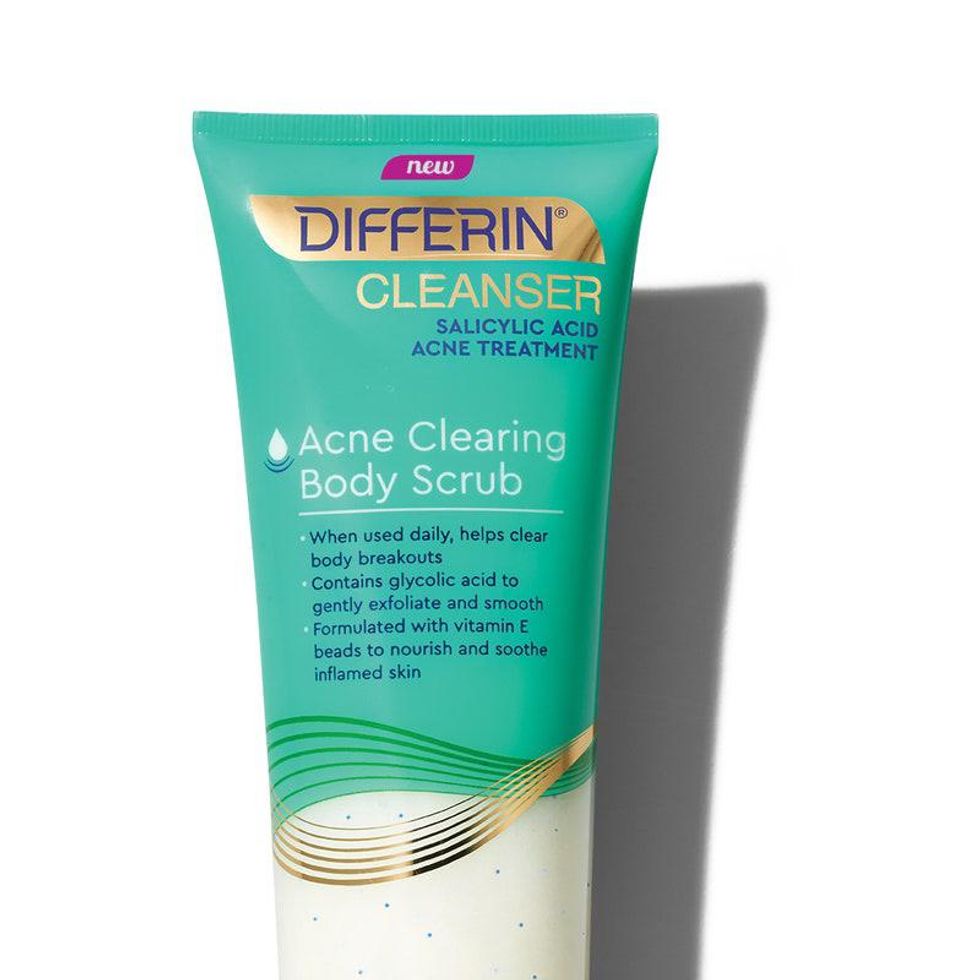 What is it?
A daily body scrub from Differin, this premier body product does not disappoint.
What it does
The combo of glycolic and salicylic acid slough away all your skin troubles from acne to rough patches.
Our thoughts
Using the power of exfoliating acids, Differin has just released one of the most effective body scrubs out there. Say goodbye to those homemade salt and sugar scrubs that never did anything but make your shower sticky.
And while some body exfoliants are more fragrance than substance, Differin Acne Clearing Body Scrub uses a combination of acids and vitamin E for the job. Use daily to eradicate acne and combat body breakouts while softening your skin.
Resorè Three-Piece Towel Set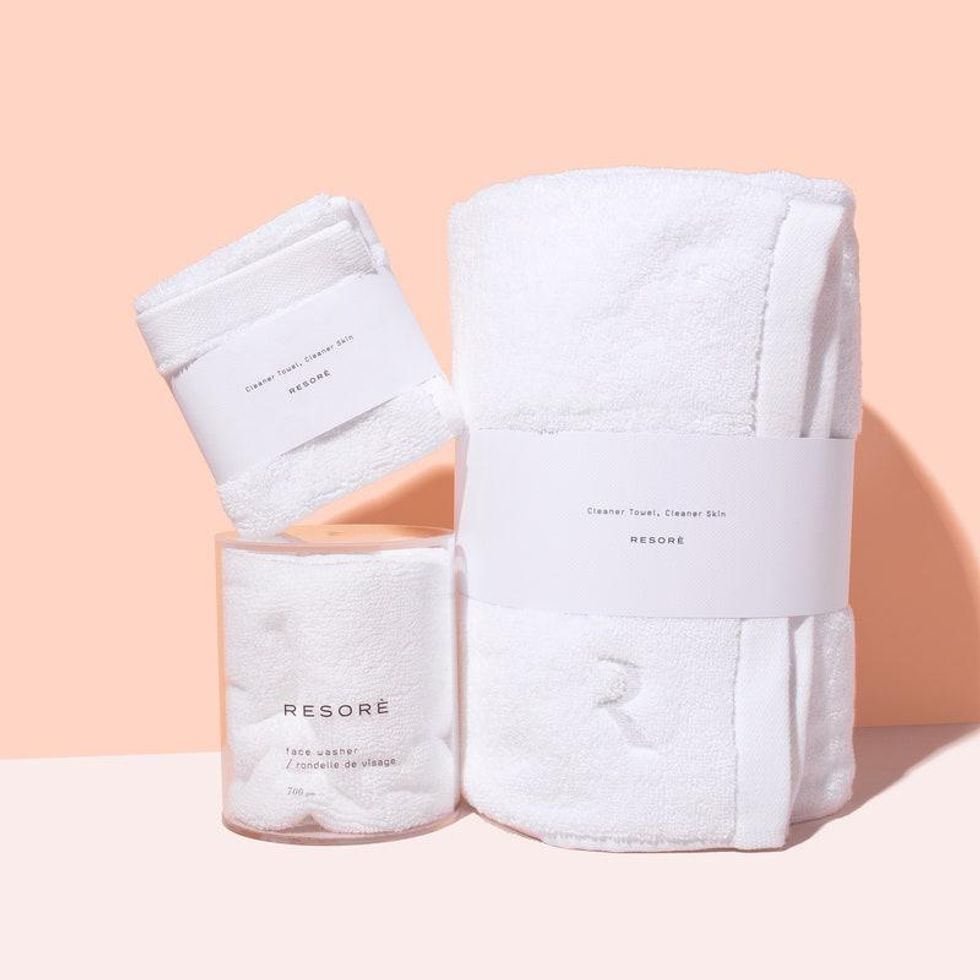 What is it?
A spa-ready set of towels that will level up your self-pampering game. You will receive two impossibly soft face towels and a body towel that feels like a hug.
What it does
Composed of medical grade silverbac, rayon bamboo, and lyocell, this innovative towel set's germ-resistant material reduces bacteria by 99.9%. This towel helps control rosacea, inflammation, and acne, while effectively removing dirt and oil.
Our thoughts
Forget everything you knew about the simple act of toweling off. Did you know that most towels harbor bacteria and germs that you transfer to your skin with every use? Gross. The groundbreaking Resorè Three-Piece Towel Set solves this problem with its high-tech, medical-grade fabrics that actually keep you clean.
We'll never go back to toweling the same way again — not now that we know the disgusting, germy truth! The Resorè Three-Piece Towel Set is as sanitary as a hospital towel, and as soft as one you'll find in your favorite spa. Your skin will notice a difference — as it will help soothe rosacea and prevent acne.
Who knew a simple towel could change your life? Allure, apparently. Get the best of both worlds for one great price with the Beauty Box Membership.