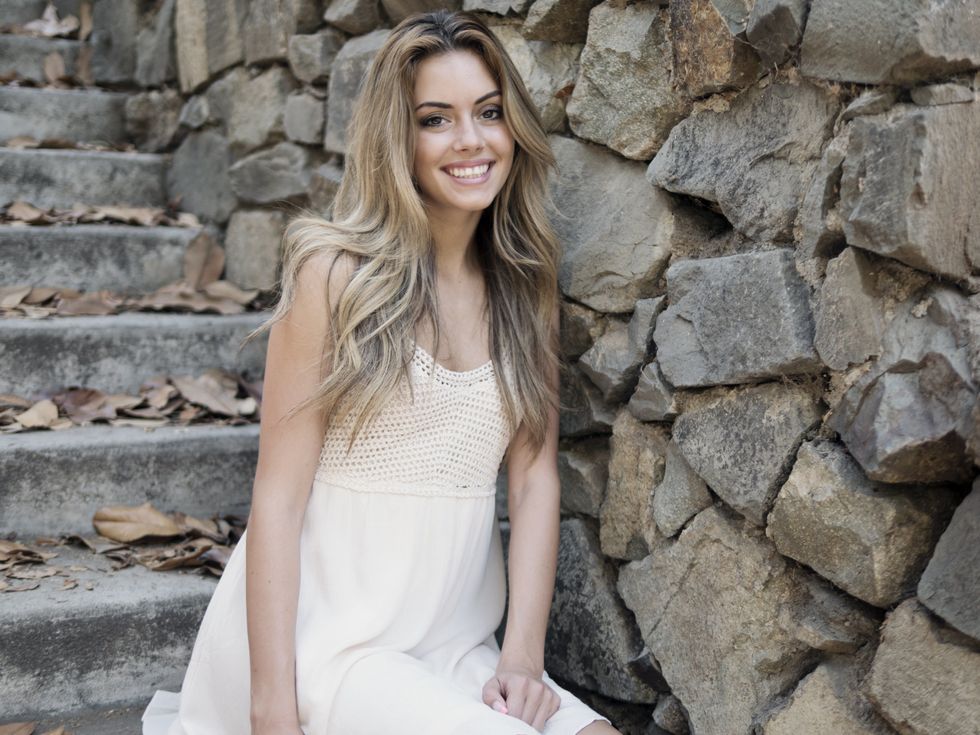 The six top all-natural & organic toothpastes
Fresh and clean, the all-natural way to smile
If you follow your dentist's orders, you brush your teeth at least twice a day, if not more often. All that brushing keeps our teeth clean and our breath super-fresh, but most of us use those run-of-the-mill toothpastes that can be filled with artificial ingredients and chemicals we don't need to put in our bodies.
Consider swapping those brands for all-natural, organic toothpaste instead. Not only do they work just as well, but the healthier choice will be far better for your body when you know exactly what's going inside it.These six all-natural and organic top toothpastes will have you flashing a smile that glistens and glows.
My Magic Mud Whitening Detox Tooth Powder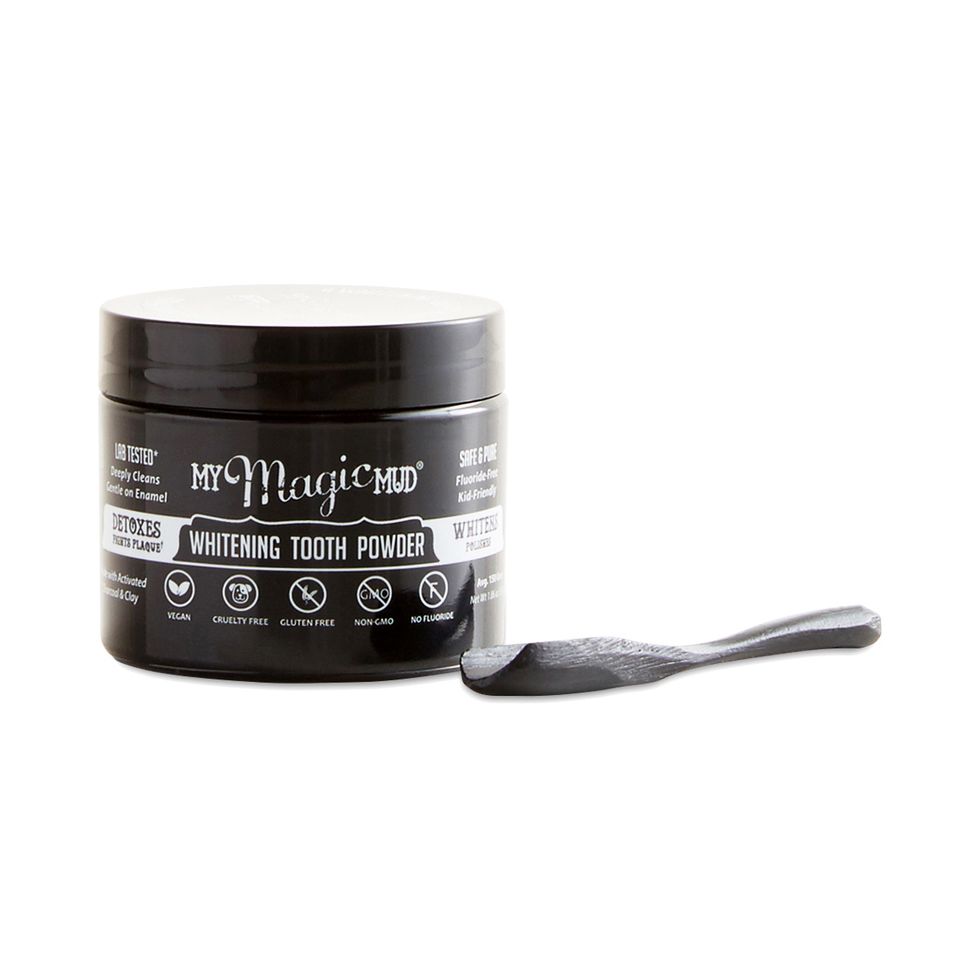 Via thrivemarket.com
Mud may sound like the last thing you'd want to put in your mouth, but when it'sMy Magic Mud Whitening Detox Tooth Powder, you'll be opening up and saying, "Ahhh" to cleaner, whiter teeth. Made with bentonite clay, activated coconut shell charcoal, organic orange peel extract, and organic mint extract, this powder is powerful, yet perfectly safe, with food-grade ingredients that are gentle and work like a gem. Begone plaque, stains, and toxins! This powder has no fluoride and is odor-, gluten-, and flavor-free, all-vegan, and cruelty-free. Use once a day by sprinkling some powder onto a damp toothbrush and your all-natural pearly whites will shine. Magic indeed!
Cost: $14.75
Desert Essence Tea Tree Oil & Neem Toothpaste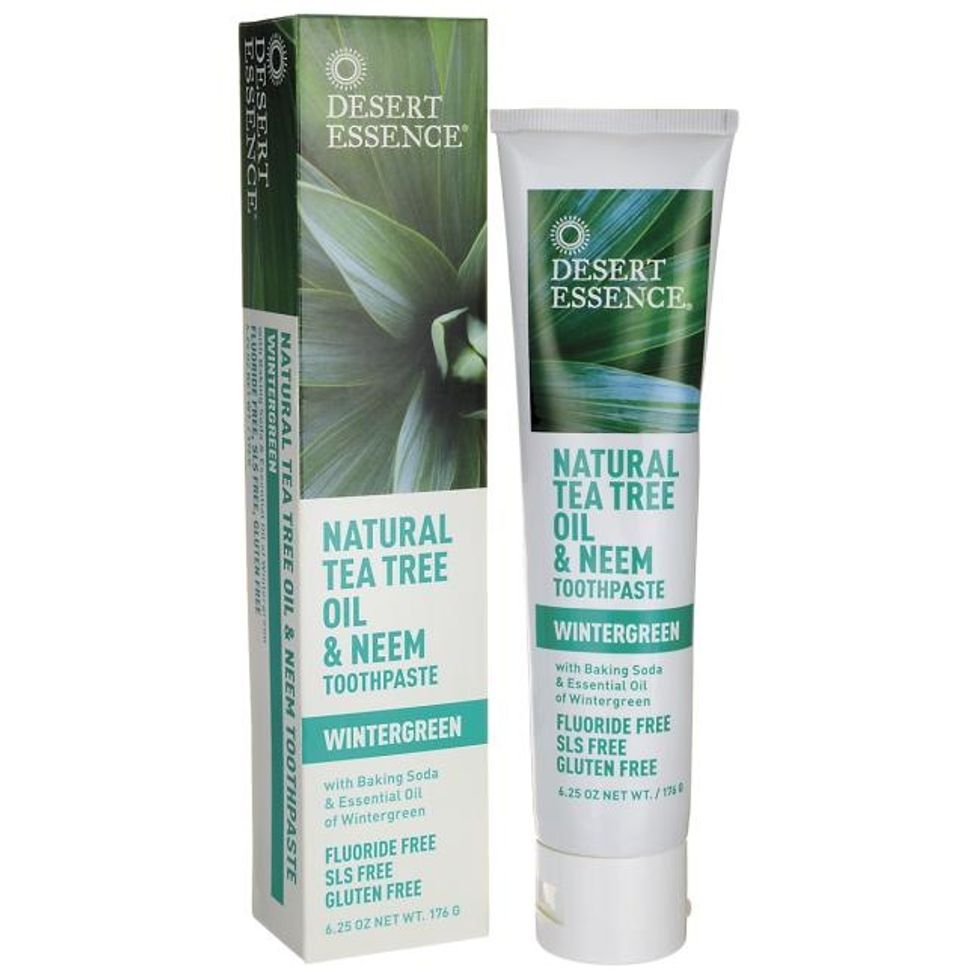 Via swansonvitamins.com
Reap the benefits of all-natural tea tree oil and neem – "an ayurvedic extract known for its dental benefits," with every toothbrushing session completed withDesert Essence Tea Tree Oil & Neem Toothpaste. Neem is derived from India's "toothbrush tree," and its cleansing capabilities are second to none when it comes to natural freshening and germ-killing. Baking soda provides whitening benefits and wintergreen essential oil leaves breath smelling minty-sweet. Gluten- and fluoride-free and vegan-friendly, Desert Essence is essential for organic oral health.
Cost: $6.56
Auromere Ayurvedic Herbal Toothpaste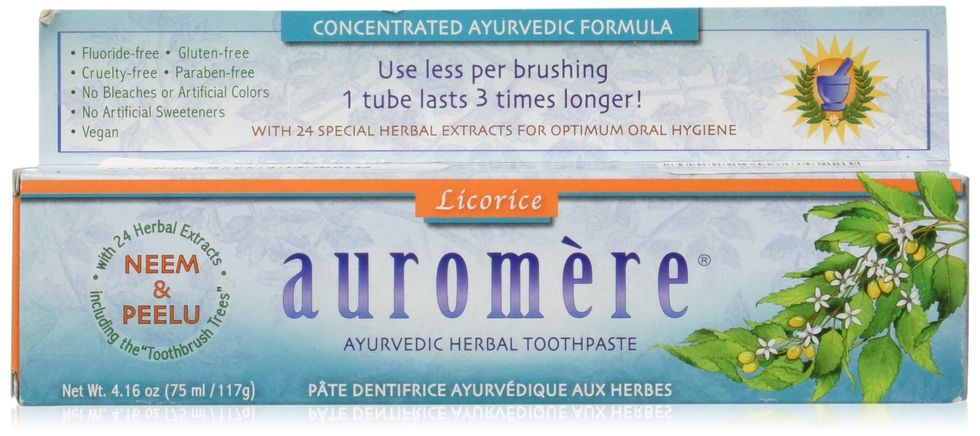 Via amazon.com
Made with the natural astringent peelu, and close to two dozen different barks, roots, plants, and flowers, Auromere Ayurvedic Herbal Toothpaste is the perfect choice for those seeking a bleach-, fluoride-, gluten-, and sweetener-free toothpaste, with zero dyes or harsh chemicals. Chock-full of botanical extracts and essential oils, this toothpaste freshens breath and leaves teeth sparkling clean. The formula is concentrated, so a little goes a long way, lasting 3 times longer than your average tube. For those who love variety, Auromere Ayurvedic Herbal Toothpaste comes in five freshening flavors – licorice, fresh mint, mint-free, foam-free cardamom-fennel, and foam-free freshmint. Banish halitosis the herbal way!
Cost: $13.57
David's Premium Natural Toothpaste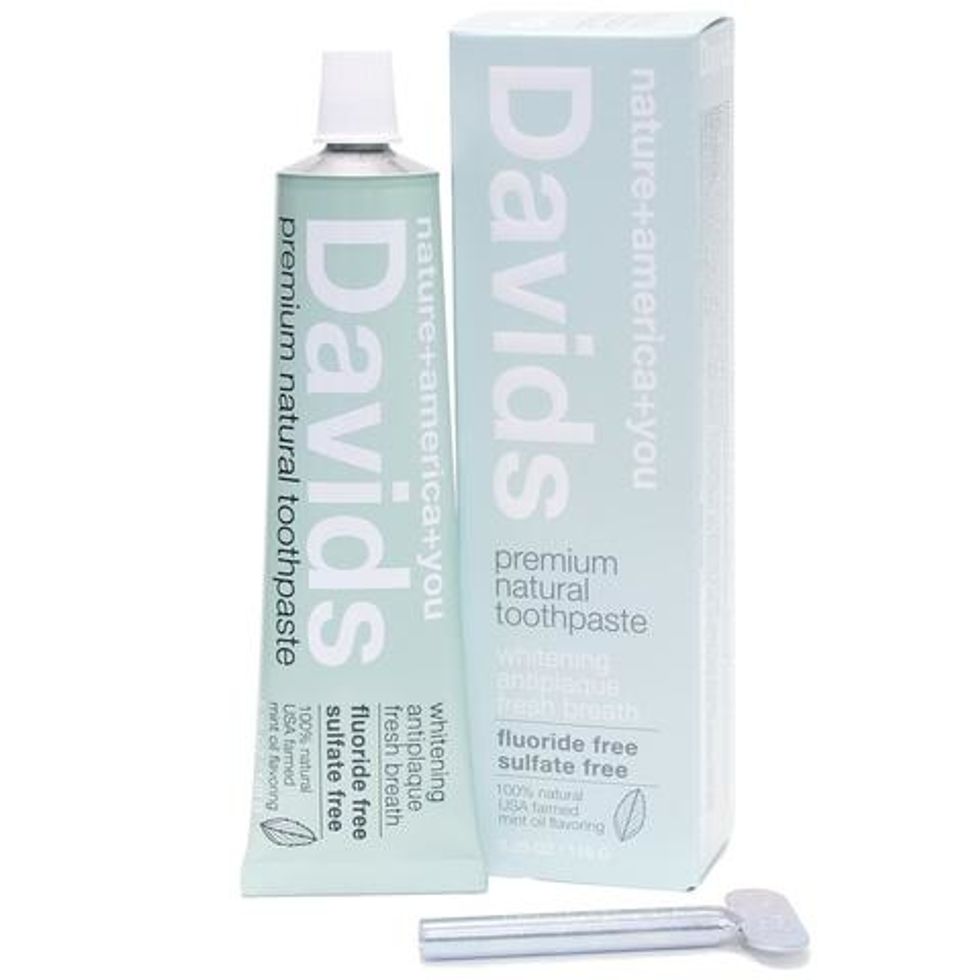 Via davids-usa.com
David's Premium Natural Toothpaste is good for you and the environment thanks to sustainable packaging and its unique recyclable metal tube. The family-owned business prides itself on their economic sustainability as well as how they create their toothpaste via the power of renewable energy. And as for the toothpaste's benefits, the sulfate-, sweetener-, fluoride-, and cruelty-free formula is vegan and all-natural, made of the highest-quality ingredients that whiten, brighten, and freshen, removing pesky plaque and effectively cleaning teeth. David's never uses artificial flavors, colors, or preservatives, only natural ingredients including purified water, calcium carbonate, baking soda, stevia leaf extract, peppermint oil, spearmint oil, anise seed extract, and seaweed powder. Your teeth deserve a dab of David's morning, noon, and night.
Cost: $7.95
Radius Organic Coconut Toothpaste Mint Aloe Neem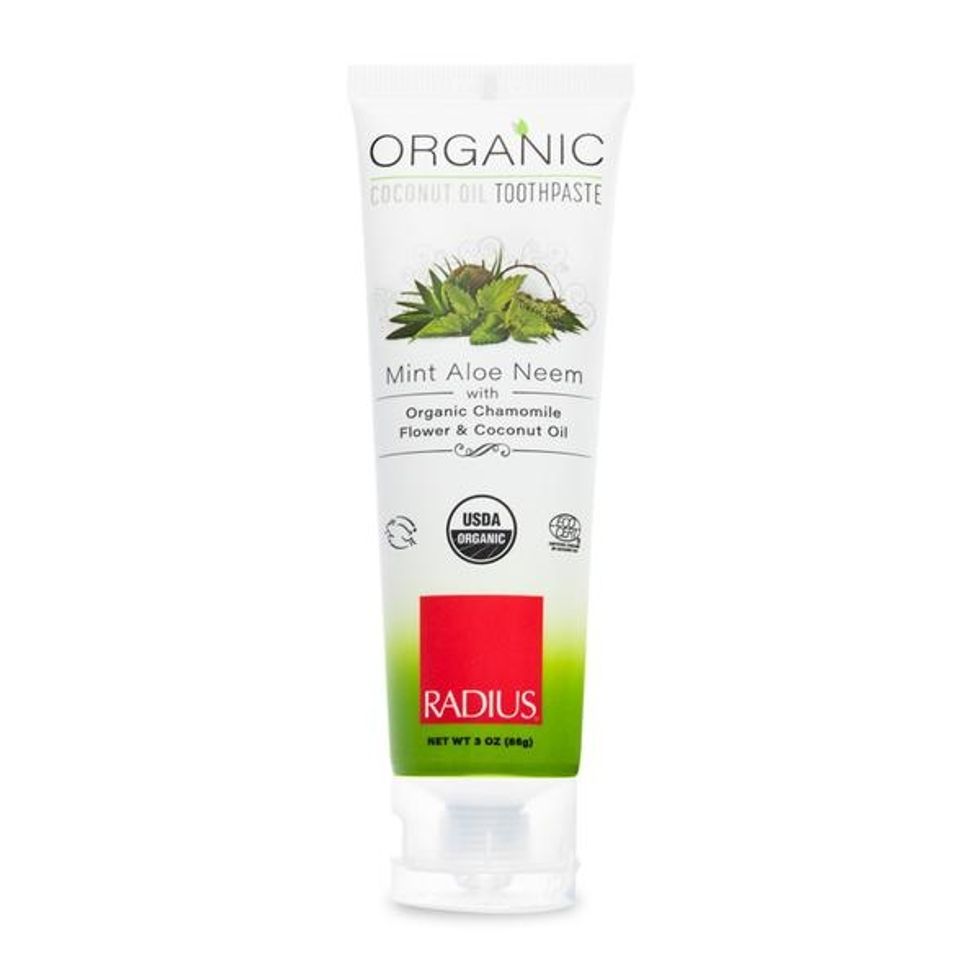 Via madebyradius.com
USDA-certified and organic as it gets, Radius Organic Coconut Toothpaste Mint Aloe Neem is chemical-free, with no additives, GMOs, gluten, fluoride, parabens, or detergents. Just all-natural ingredients do the trick for getting super-clean teeth and gums, banning bacteria and detoxifying your mouth for freshness that lasts and lasts. Organic coconut oil whitens teeth and prevents tooth decay, while mint, aloe, and neem reduce the risk of painful cavities and aggravating gingivitis. The organic chamomile component is delightfully soothing as you brush your way to an all-natural spectacular smile. Comes in Ginger Citrus Whitening flavor too.
Cost: $8.18
Tom's of Maine Herbal Mint Botanically Fresh Toothpaste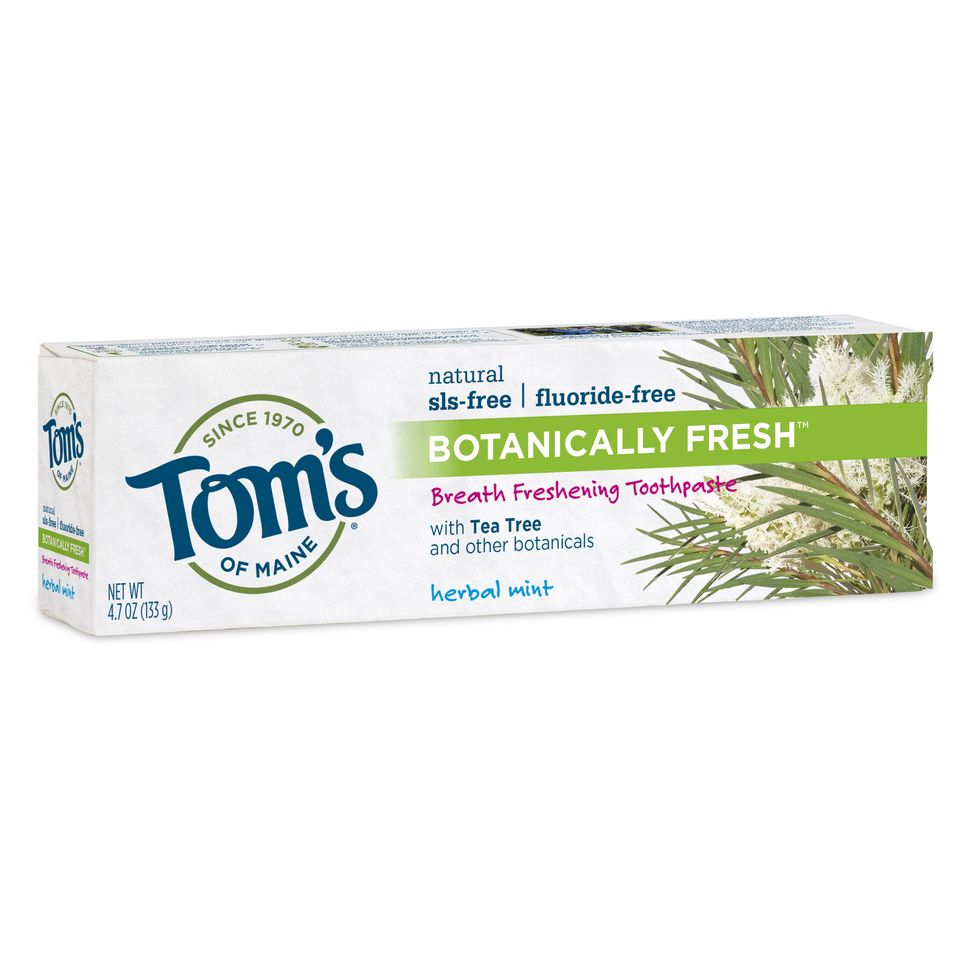 Via tomsofmaine.com
Made with ingredients that are natural and fresh, like sage, chamomile, spearmint oil, and tea tree, Tom's of Maine Herbal Mint Botanically Fresh Toothpaste is fluoride-free and tongue-pleasingly foamy, without any preservatives, artificial colors, or artificial flavors your body doesn't need in order to achieve a clean mouth and healthy teeth and gums. Never tested on animals, this breath-freshening toothpaste is a perfect example of Tom's of Maine's mission, "to help people live a more natural life." After 45 years in the biz, this beloved company is one you can trust your smile to.
Cost: $10.59
All-natural and organic is the way to go when it comes to oral care. Forget the fake stuff and brush with something you can feel good about.