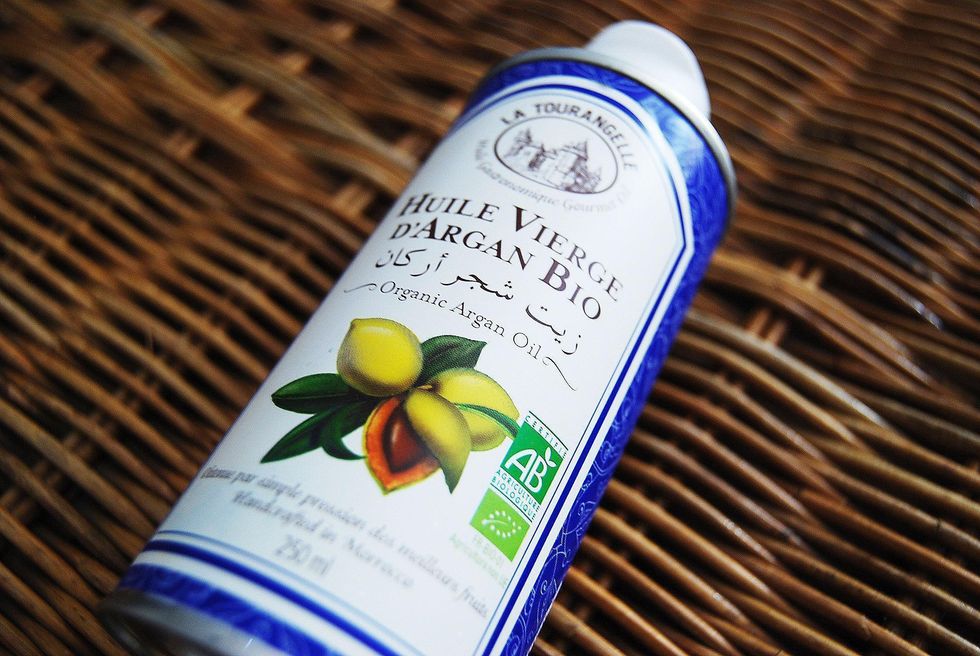 All-in-one beauty: Argan oil
Use it head to toe for soft skin, reducing blemishes, healthy hair and anti-aging.
Filled with essential fatty acids, antioxidants vitamin E and A, argan oil is an all-in-one product. Although not an essential oil, argan oil can be incorporated into your beauty and grooming routines as a healthy serum. Argan oil is similar to other natural oils in that you can cook with it, dip bread in it or slather on your body and moisturize your hair. Native to Morocco, Argan trees are only found only in the North African country. Argan kernels are painstakingly extracted by hand before kernals are pressed and filtered. Use it head to toe for soft skin, reducing blemishes, healthy hair and anti-aging.
Here are a few ways to incorporate argan oil in your routine.
Hair
Avoiding hair products that make your hair greasy can help with shine and volume. Argan oil can help reduce dandruff, protect your hair for heat styling, repair split ends and tame frizz. A simple way to add argan oil into your hair care is by looking for shampoos and conditioners with argan oil in it. Natural-based brands to incorporate argan oil more in their formulas. After washing and shampooing, you can one-three drops into your hair as a leave in conditioner. Pre-washing, you can massage a few drops into your hair and wear a shower cap overnight to for a deep hair mask that can reduce dandruff and dry scalp. Some studies have shown it can aid in hair growth, so massage it into your scalp.
Face
A serum for blemishes, a day moisturizer, a night moisturizer, eye cream—beauty products can pile up quickly and beauty routines can get complicated quickly. You just need a few drops of hydrating multitasking oil to streamline your beauty routine. The vitamins in the oil can help reduce the appearance of blemishes, and reduce argan oil. The antioxidants and minerals can protect your face from pollution and other toxins in the air. If you have dry skin, the oil can deeply hydrate your skin and if you have oily skin the oil can balance your skins oil production. Since it's a highly concentrated form of an antioxidant, it can serve as an anti aging serum by preserving the elastic in your face. As a bonus, the oil doesn't leave any residue on your face. To use, just use a few drops as a moisturizer in the morning and at night. You can add few drops in DIY facial mask and scrubs for a moisturizing element.
Skin
Add a few drops of the oil into your bath water. In place of lotion, you can use argan oil as a body moisturizer after getting out of the shower. Because of the antioxidants that help with skin elasticity argan oil can minimize stretch marks occurring and help fade existing marks. Since sandal season is here, rub a few drops on dry feet or cracked heels and put on socks for an overnight treatment. Argan oil works great as cuticle oil for preventing hangnails and promoting healthy nail growth.