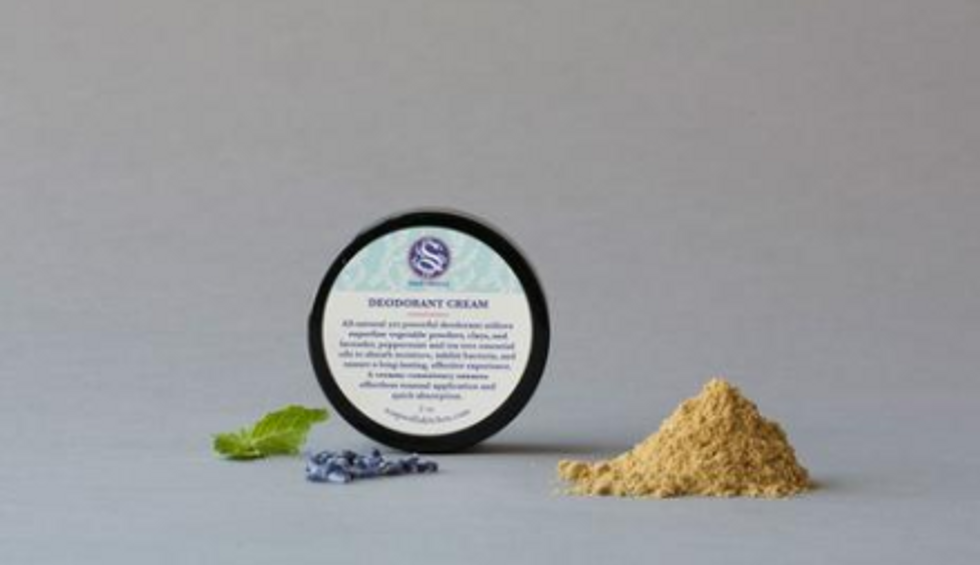 Soapwalla is the best natural deodorant on the market
Scared to use normal deodorant after recent studies have shown that certain kinds can cause cancer, I opted for a safer option.
I've never liked deodorant. Who does? It's waxy, it gets on all of your clothes, and sometimes the smell can be overpowering. I remember loathing my first deodorant in middle school. Ladies you know what I'm talking about. The overly-optimistic smelling, brightly colored Teen Spirit deodorant that your locker room probably smelled like, in combination with Victoria Secret Pink body spray of course. All of those smells were entirely too much for me, but alas, I didn't want to be the kid who stunk after gym class, so I complied with using my Teen Spirit deodorant, almost always having to scrub it off of my cheerleading uniform at the end of the day.
According to WebMD, studies have shown that the leading cause of breast cancer is the use of antiperspirant. According to the study, antiperspirants prevent the body from purging toxins and the toxins then find their way to the lymph nodes and "contribute to the cellular changes that lead to cancer." The study also claims that antiperspirants have been linked to Alzheimer's Disease as well. Though antiperspirants and deodorants are somewhat different, WebMD says that products that are marketed as deodorants are often antiperspirant/deodorant combinations. That said, it's important that we thoroughly read labels to prevent making the wrong choices as a consumer. In my adulthood, I have opted for products made from smaller companies as it's easier to track ingredients and business practices and last year I discovered a deodorant I finally like to use.
Soapwalla was founded in the NYC kitchen of founder Rachel Winard. Rachel has a number of health conditions and grew frustrated with the lack of products on the market that wouldn't irritate her sensitive skin. She developed the Soapwalla skincare line carefully and calculatedly, only sourcing ingredients from small farms that share the same ethics as her and her brand. Soapwalla products are free of sodium lauryl sulfate, parabens, phthalates, petrochemical byproducts, and synthetic ingredients and are vegan and cruelty free. They are made in small batches in a studio in Brooklyn.
I use Soapwalla's deodorant cream. The first thing I noticed about the product was it's clean and pleasant smell and the application. Though it's almost scentless, which is perfect for my preferences, you do get a hint of tea tree and peppermint when you apply it. It also tingles a little bit because of the tea tree oil. Other notable ingredients are jojoba oil, sunflower oil, lavender, and shea butter which explains why my skin never feels dehydrated or itchy after application. Some people don't like the application process of Soapwalla's deodorant because it's not a roll on, but I don't mind. You have to apply with your fingers, but the formula easily rinses off with a little soap and water. You will still sweat a little using this deodorant as it is not an antiperspirant. I prefer this. The body is meant to sweat, it's part of our cooling process. As opposed to going deodorant free, the Soapwalla deodorant neutralizes any body odor and leaves you feeling fresh all day.
In addition to Soapwalla, I've tried Agent Natuer, Tom's, and Dove's Clinical deodorants but there is no comparison in my opinion. Though those products boast the same synthetic free formulas, I much prefer Soapwalla due to the fresh smell, creamy feeling of the formula, and need to only apply once a day. It's definitely one of my medicine cabinet essentials and should be one of yours too! Soapwalla can be ordered online on
their website
. You can also purchase it at various boutiques in NYC and across the US. I'm dying to try their other products next!