Whether you go for a beach-front property, a lakehouse, or a cabin in the woods, investing in a vacation home is a great way to escape hectic work schedules, relax, and earn a bit of extra income if you rent it out.
However, renting requires a lot of effort; preparing the property, restocking essentials, accommodating needy guests...
Not to mention all the work that goes into just listing your home in the first place.
If you're looking for a hassle-free experience, let us introduce you to Vacasa.
Vacasa is a national, full-service vacation rental management company that offers all the essential services needed—including marketing, cleaning, and guest support—for your specific vacation home.
Here are 5 reasons you should partner with Vacasa:
1. Make more money
Homeowners earn an average of 20% more per year after switching to Vacasa from another rental management company according to Vacasa's data. The company's pricing tech and revenue experts customize and update your home's nightly rates (based on local data like region, weather, and booking trends) to make sure owners earn the most money every night.
Vacasa even helps you uncover new ways to earn extra revenue and offer professional interior design services, which will help your home stand out from the competition. Vaca's internal data shows that in 2019 homeowners who worked with their design team earned 73% more per night compared to similar properties in the same market.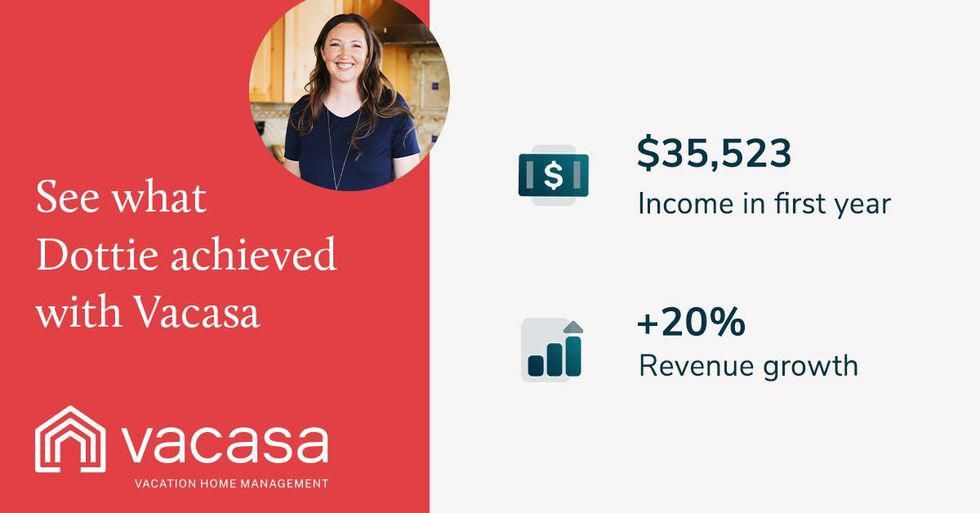 2. Easy sign-up
Signing up for Vacasa is simpler than anyone would expect. To get things started, you contact their Homeowner Consultant team, who will see if your home's a good fit, and go over your management agreement. (And if something comes up and you want to cancel your agreement, you can with 90 days' notice.)
Next, Vacasa's team will request to clean your property and start compiling your first listing. You even receive access right away to a personalized online account, where you can see your home's full booking calendar and can even reserve your own vacation time.
Bonus: you get to keep track of how much money your home is earning in real-time.
3. Better marketing
One major pain point for owners is all the marketing needed to secure bookings and advertise successfully. Thankfully, Vacasa's dedicated team handles all marketing efforts. You never have to manage your online listing or any other marketing efforts, including home tours, professional photography, copywriting, and advertising across popular booking sites like Airbnb and VRBO.
All of Vacasa's efforts tend to bring in guests all year round no matter the location or season.
VACASA
All this with one straightforward fee, no long-term contracts, and the freedom to visit your home as frequently as you like. List your home with Vacasa!
Click here to get an estimate
4. Services every kind of vacation rental
Great news, no matter what kind of vacation rental you have, Vacasa can help. They service everything from lake houses to beachfront bungalows to cozy cabins in the woods.
Even better, Vacasa's fee is different for each owner, based on their vacation homes' unique location, amenities, and characteristics. Not sure if you're ready? Then you can contact the Vacasa team to get a quote on what your unique management fee would be for your location.
5. 24/7 Ease of mind
With Vacasa, you get to make money and have ease of mind knowing your property is in the best hands. Before every stay, Vacasa's local housekeeping team cleans and restocks your vacation home with basic toiletries, paper goods, and cleaning supplies, so guests have everything they need right from the start of their trip. Vacasa truly takes care of your place as if it's their own vacation home.
Vacasa comes with 24/7 guest support, so go ahead and feel free to put your phones on "do not disturb" - there won't be any late-night calls from worried guests or questions on how to get to the art museum.
Plus, Vacasa has teams across North America and beyond. So you are never on your own, and there's always a dedicated crew nearby to take care of your vacation home.
With Vacasa, everything is taken care of before, throughout, and even after guests stay. From 20% more profit than competitors to a seamless, almost hands-off experience, Vacasa is the best service to partner with to make the most of your vacation rental.
Ready to sit back, relax, and potentially make thousands from your vacation home? Then it's time you let Vacasa manage your property.