What's staying in our closets year-round? Trends last a minute and when you factor in seasonality it feels like our wardrobes are constantly in flux. The answer is clear - jeans. Rain or shine, we're always going to need a pair.
Denim is for life but finding a brand that ticks all of your boxes can feel nearly impossible. Each company totes different styles, cuts, and colors with so many collections it can feel hard to keep up and know which is worth the investment.
When it comes to our jeans, our editors are done with fast fashion. So, it's time to find a company that gives us everything, not one that checks off the bare minimum. In our search for great styles, high-quality fabrics, and designs that fit we discovered Good American.
Good American is the place to get your jeans. They know how to make all kinds of women feel both comfortable and confident in their jeans. Honestly, in this denim, you'll feel downright sexy (from a snatched waist to a lifted booty).
We're thrilled that a brand finally addresses all our needs, so we had to let our readers in on this must-have.
Want details? Here are five reasons we choose Good American:
Size Inclusivity
Size is the biggest hurdle to laying our hands on the perfect jeans. Each body is different, and often it's harder for the curvier shapes out there to find a pair that fits. That's why we love their Good Waist collection available in sizes 00 to plus size 32.
One of the hardest aspects of ill-fitting jeans to overcome is the waist gap. You know, when you finally get the right fit in the thighs, but there's a big gap at the back of your waist? Good American gets it, and that's why Good Waist is our new go-to. The ultra high-rise fit hits and holds your waist just right, plus you'll feel ultra-confident.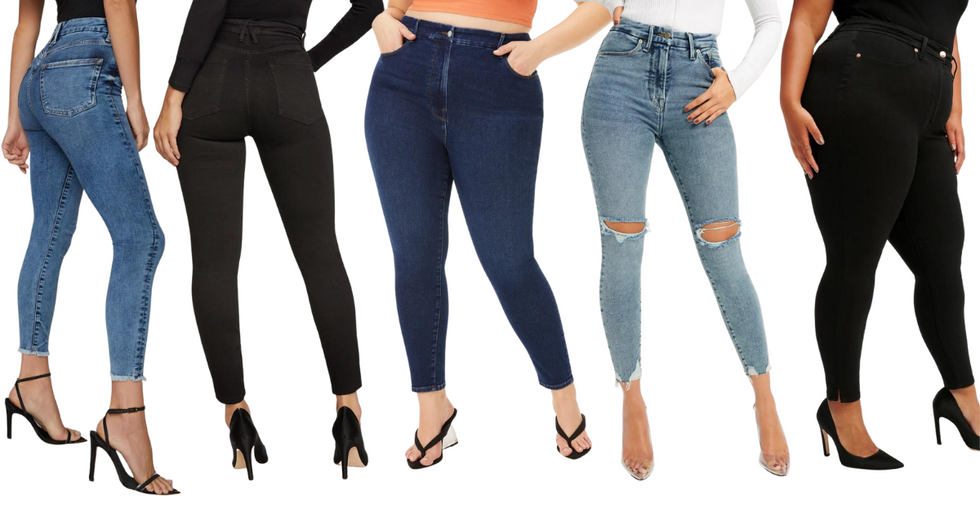 Classic Styles Refreshed
Denim will never go out of fashion, and neither will iconic designs like the classic skinny jeans. However, Good American's not giving you the skinny jeans of 2001 - they're superior, sexier. The Good Legs collection offers this forever style but in tons of washes and cuts, including the choice of Skinny and Super Skinny.
This jean is magical from day to night. Keep it casual or dress it up - we love pairing it with a Good American bodysuit for a sleek silhouette from head to toe. Go for a chewed, cropped, or twisted side split hem. These skinny jeans are made for 2021, and they're not going out of style anytime soon.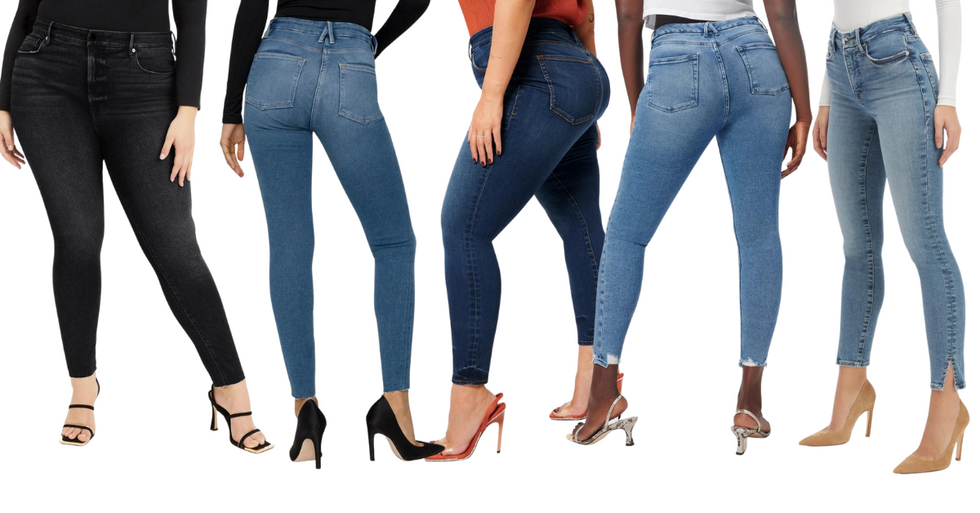 Incredible Fabric + Technology
Quality of fabric is the foundation of an excellent pair of jeans, and Good American works with the fit of each piece until it's right. They use denim made from recycled cotton and Hemp while on their way to creating one of the most sustainable jeans out there.
Good American's unique features take their jeans from super stylish to genuinely functional. With collections like Always Fits, you'll get super stretchy fabric that can extend up to four sizes. So, as your body changes, your jeans don't have to. Other tech that rocks includes their tummy-smoothing, core panel and shadow pocket detailing. There are also four-piece waistbands to prevent gapping and v-shaped, reinforced belt loops. These jeans give you a cute butt and much more!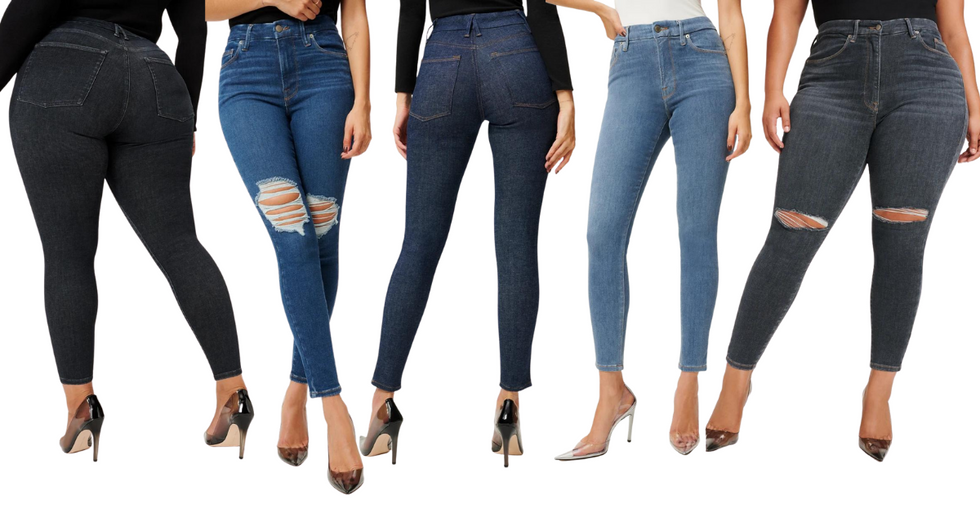 Customer Feedback = Real Results
We couldn't find any other brand besides Good American that listens to their customers and implements changes. They're constantly creating new collections to meet the needs of every woman. When we say every woman can find a pair they'll go wild for, we mean it.
For women 5'4" and under, there's the Good Petitecollection. It's got a modern, narrow-cut, and unlike other ranges, you get a mid-rise fit. Good American keeps everything in mind, from inseam length to the washes you're dying to add to your closet. Just read their reviews, and you'll see what we mean.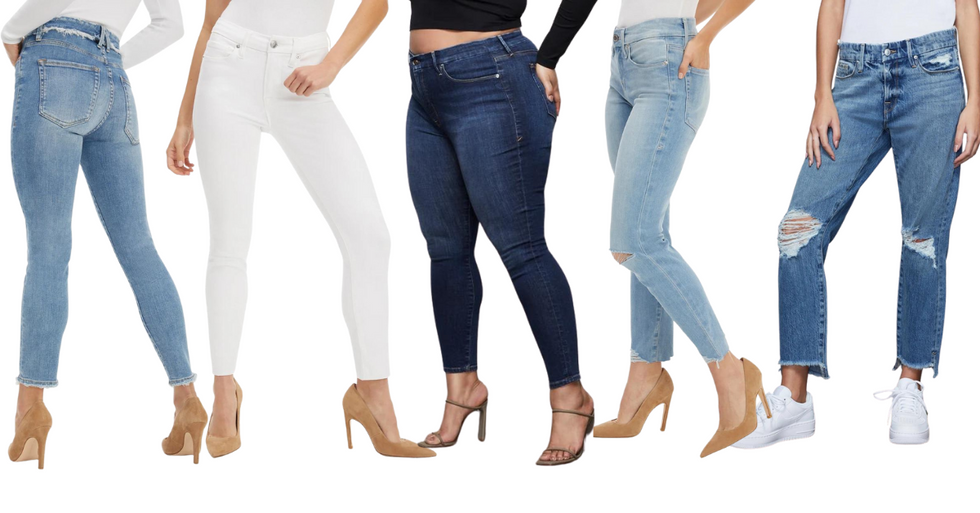 Trending Styles + Frequent Drops
Recently, Good American dropped their Good '90scollection, and to say we're in love would be an understatement. They describe it as "loose, fresher, better than ever" - and they're right! The relaxed fit is comfortable but sexy. With this collection, you get the oversized look ranging from loose to form-fitting, all while retaining your nostalgia for the '90s.
With this style, you can look forward to new drops throughout the year. Good American takes trending styles to give you jeans that not only fit the moment but will make it a lifetime in your closet.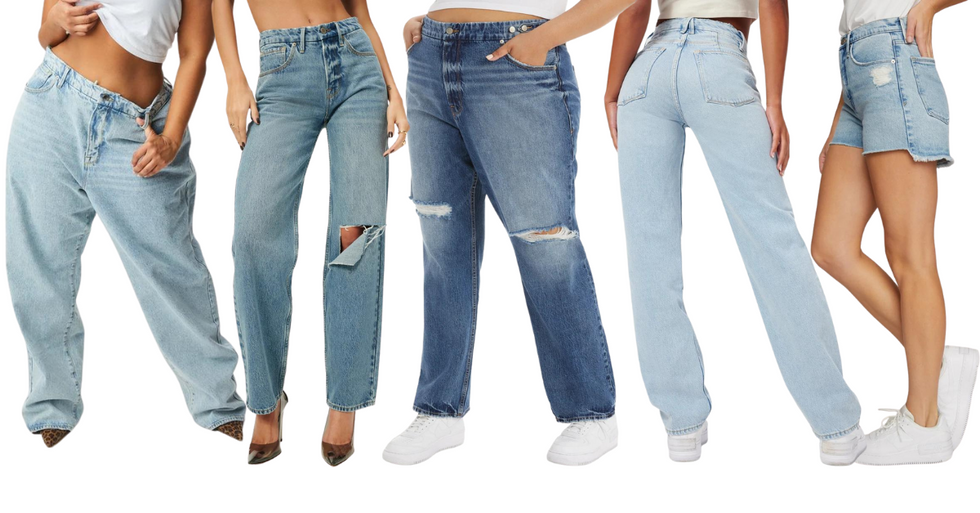 Our editors have never encountered denim this perfect. No matter what you're looking for, Good American has it. All the styles, cuts, washes, and unbelievable tech are available in one place to give you the #bestbuttever.
Forget the old tug-o-war with stiff, ill-fitting jeans and embrace these super soft, stretchy collections. Good American is that good. Check it out.