Is it just us, or did 2021 go in the blink of an eye?
Yes, the New Year is rolling around, and whether you love it or dread it, there's no better time to take a closer look at your habits. This year, instead of trying to undertake a mountain of unrealistic resolutions, we're determined to make some small tweaks to our wellness routine that will ground us and have a lasting impact on our overall health. Being properly hydrated is a great first step, but constantly drinking plain water can get so boring.
Our trick for helping us guzzle down enough H2O? Hint water - it's fruit-infused water, contains zero calories, and is free of any sweeteners and preservatives.
Here are our top 3 healthy habits to help you kickstart the New Year - and how Hint water can help you stay on track:
Holiday Detox
Turkey-Turkey-Turkey. Desserts and more desserts, wine, eggnog, and sugary drinks. That's the average menu from Thanksgiving through New Year's Day. Overindulging can leave you feeling sluggish and tired.
There's a simple solution to clearing out the sludge - get hydrated! The benefits of hydration are countless - better skin, more energy, and it eliminates toxins - cleansing your body inside and out.
But it can be a challenge to get the right amount of water intake daily. So, why not try fruit-infused Hint flavored water? It doesn't contain unhealthy ingredients like so many other flavored beverages.
Hint's water contains zero calories or sweeteners. Drinking Hint is exactly the same as drinking plain water with the added flavor of your favorite fruits!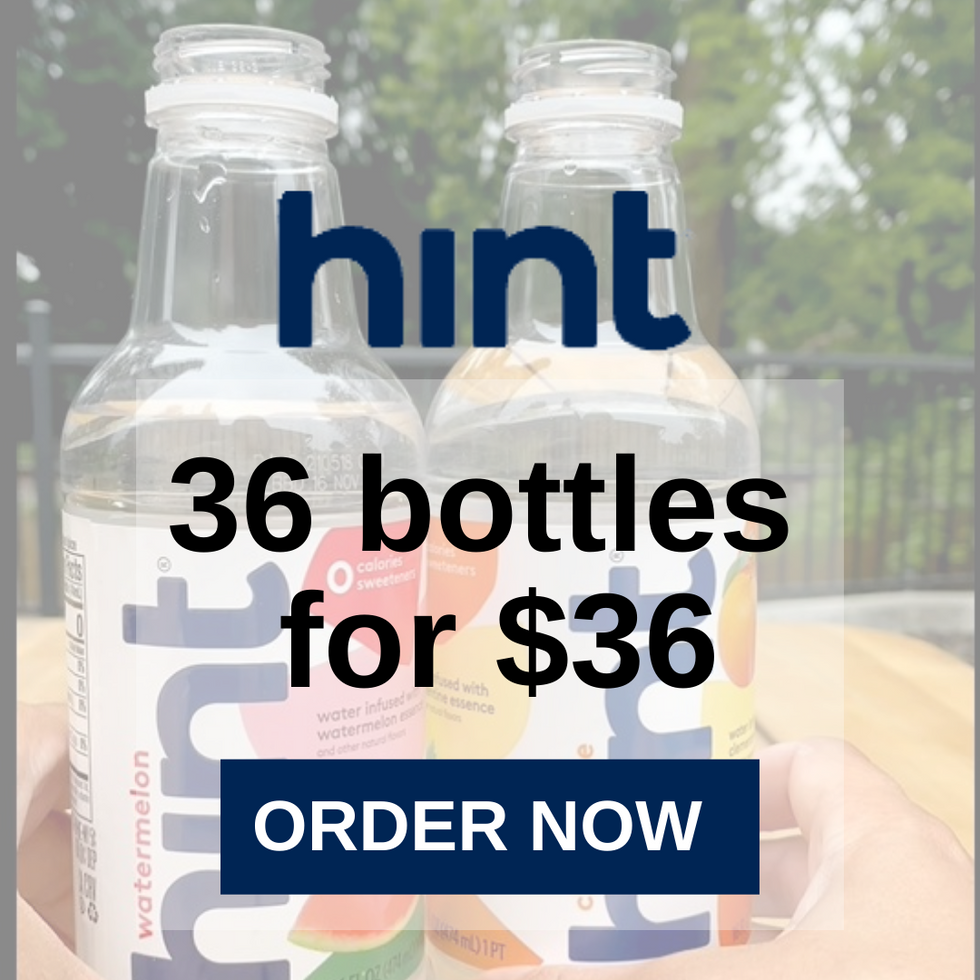 Lighten Your Load
Hydration plays a key role in weight loss, including digestion, and even muscle function. Sometimes you may think you're hungry when - actually - you're thirsty. Before ripping open that bag of chips, reach for a bottle of Hint instead. It can help curb unnecessary snacking, because water can help act as a natural appetite suppressant.
Hint water comes in a wide variety of flavors - making hydration easy and delicious. Some favorite flavors: Watermelon, Blackberry, Peach, Cherry, and more!
Work Out - Tone Up
Work out that old year with Hint. Put 2021 behind you! Drinking more water is good for your overall health. Be sure to drink Hint before, during, and after exercise as you crush your workouts in the New Year.
Staying hydrated with Hint is our secret to achieving our health goals in the New Year, and luckily, they have an awesome offer for new customers - 3 cases, or 36 bottles, for only $1 per bottle. You can get all of this delivered straight to your door for free!
So, stay hydrated. Stay safe. And ring in the New Year with Hint's delicious, healthy fruit-infused water. Your health, productivity, and happiness may depend on it!
Update: Customize your bundle of Hint waters today! Follow this link to get 36 bottles for $36 PLUS free shipping!