Working out at home has become the norm for millions of people. Whether it's a quick desk detox, a yoga flow, or even a full-blown HIIT class, the ease and convenience of a W(out)FH session isn't going anywhere.
While YouTube, Nike, and several other brands offer fitness videos and tutorials, those looking for an interactive, more intense class structure may need to look elsewhere.
To find the perfect at-home workout solution for you, we've decided to score three of the most popular home gyms in the following areas: space required, genre and class offerings, quality, and price.
Here's what we found out about lululemon Studio Mirror, Tempo, and Tonal:
Key Similarities:
All have trainer-led workouts
All offer live classes & group workouts so you can connect with others
All have finance options
All have at-home delivery and setup
All have different genres of workout classes: boxing, cardio, yoga, etc.
All provide real-time, personal stats
All offer 30-day refunds
Key Differences:
lululemon Studio Mirror classes range from 5 - 60 minutes
Tonal has adjustable arms, Tempo and comes with weights
lululemon Studio Mirror has optional weights for purchase
Tonal requires 7′ x 7′ floor space, 7' unobstructed wall space, and a ceiling height of at least 7'10", Tempo requires standing: 3'2'' x 1'4'' during workout: 6'x10, and lululemon Studio Mirror simply requires enough room for you to stand in front of the mirror
lululemon Studio's membership includes discounts at lululemon
lululemon Studio gives you access to both their trainers as well as trainers from studios like Rumble Boxing, Pure Barre, Y7, and more
Tempo is $2,485, Tonal is $2,745 without smart accessories (+$495), and The Mirror is $745*
lululemon Studio Mirror Overview
lululemon Studio Mirror works double duty as both a sleek mirror that can fit anywhere and a nearly invisible home gym that can be hung anywhere.
Not only is lululemon Studio Mirror using advanced tracking technology to get to know you and provide feedback, but you can also watch yourself and the trainers simultaneously so you can adjust and follow along.
Their Membership Plan is $39 a month and allows up to 6 household members to have individual profiles and access to all classes. lululemon Studio Mirror offers 10,000+ classes per week from fitness trainers that are at the top of their game. They have over 50 genres of workouts, so whether you're into kickboxing, dancing, or Tai Chi, there's something for everyone.
Their class offerings don't end there, either. With the lululemon Studio Membership, you also receive 10% off lululemon purchases, unlimited classes at select stores, and access to world-class studios including:
Rumble Boxing
Y7 Yoga
Pure Barre
Dogpound
YogaSix
And more!
While other home gyms are bulky and need equipment, lululemon Studio Mirror is neither. Using only 2' of wall space, the workouts need minimal space while offering maximum benefits. lululemon Studio Mirror itself can either be hung up or stand on its own with legs.
lululemon Studio Mirror pricing begins at $745*, and their newly launched connected weight sets can be purchased in a package along with other lululemon products such as their famous yoga mat and a foam roller.
With lululemon Studio Mirror at home, the app on the go, and access to their partner studios, lululemon Studio lets you get a sweat in no matter where you are.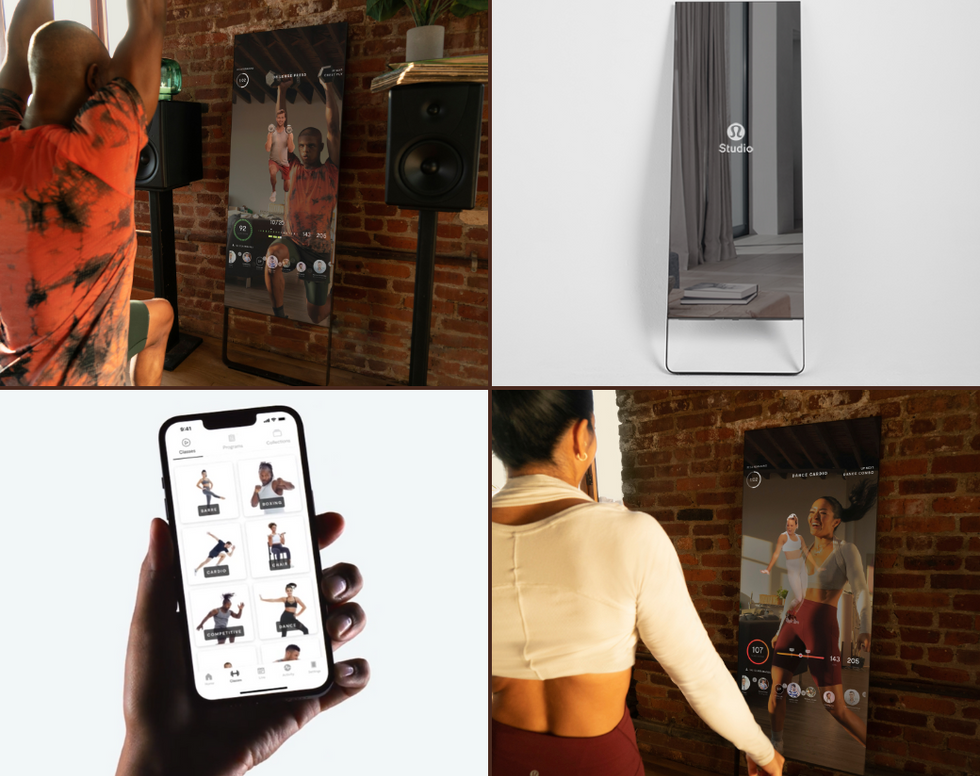 Tonal Overview
Tonal's at-home gym follows a similar structure to The Mirror, but must be hung up on the wall. While The Mirror has no bells or whistles to seamlessly blend into your home, Tonal only functions as an at-home gym.
It comes with adjustable arms that you can raise and lower for a full-body workout using their revolutionized dynamic weight. While the arms give you access to more movements with resistance, you can also add accessories like bars, handles, or rope for $495.
Tonal gives you access to thousands of their AI-powered live and on-demand classes. The AI workouts target you specifically through their resistance bands, so it will adjust to your movement and provide the perfect amount of weight just for you.
Tonal starts at $2,745, with the smart accessories sold separately at $495.
Tempo Overview
Much like Tonal and The Mirror, Tempo offers countless interactive live and on-demand classes. Tempo Studio resembles a free-standing cabinet with a screen on top where you follow along with the workouts, and storage on the bottom where you can store your weights, mats, and any other home gym equipment needed.
Tempo uses their 3D Tempo Vision™ to learn more about your goals and your current body insights so they can tailor personalized workouts meant to help you make progress and achieve your goals quicker.
When you purchase Tempo Studio Starter (4 pieces) it also comes with a workout mat, two 7.5 lb dumbbells, 4 collars, and 75 lbs of weight plates.
Tempo Studio starts at $1,995 with the option to upgrade to the Plus Package (9 pieces) for $2,745, or the Pro Package (13 pieces) for $3,495.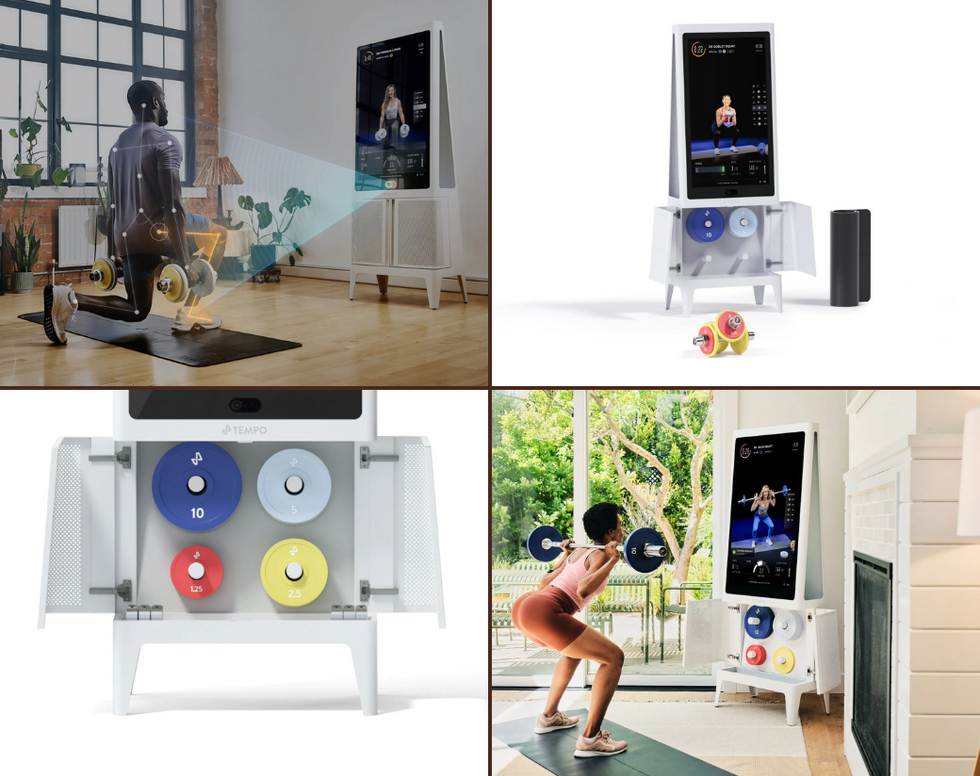 Verdict
There wasn't much of a contest here between these three home-gym options. Out of all the different trainers we tested, lululemon Studio Mirror trainers kept us motivated and gave us a well-rounded workout. Outside of lululemon Studio Mirror's hardware, we also loved the sheer amount of benefits from lululemon discounts to studio classes with some of our favorite workouts.
For the price, quality, elegant design, and depth of content and benefits, lululemon Studio easily takes the cake.
lululemon Studio Mirror comes in at almost $1,000 less than other at-home gyms but packs a way harder punch. You need less space, don't have the eyesore that other clunky at-home gyms require, and can interact with your friends and family in over 50 genres of workouts with access to top-tier studios.
The ability to compete and have real-time insights into your body and those working out with you is something that pushes us harder and harder every time.
We don't know what we love more about lululemon Studio Mirror - the way it makes our house look or the way it gives us that full-body burn, whether we're doing barre, a yoga flow, or even just having some family fun.