The Best iPhone Case For A Fashionista/o
For some reason, a lot of the iPhone cases out there are so blah and serious looking. Clunky cases like Lifeproof and Otterbox can be real sores on the eyes, designed as if you're trying to stop a nuclear bomb from accidentally detonating. For the fashion-lover, this presents a problem. I mean, our phones spend more times in our hands than in our pockets— so they should complement our wardrobes, not drag them down.
Thankfully, Moschino has steadily designed cases that stand out from the pack. The luxury brand's past catalog of cases include a replica of McDonald's french fries box, a hot-pink Barbie play phone (that Rihanna loved to rock very much), and a mock Febreeze bottle adorned with a functional spray nozzle.
For this season, Jeremy Scott, Creative Director of Moschino, took inspiration from the phrase "capsule collection" and created a collection decorated with pills galore! Heavily referencing the cult-novel Valley of the Dolls, the collection resembles the sedated dreams of a Beverly Hills housewife. One phone case is one of those infamous orange pill bottles, "MOSCHINO COUTURE 30 MG" written as the dosage.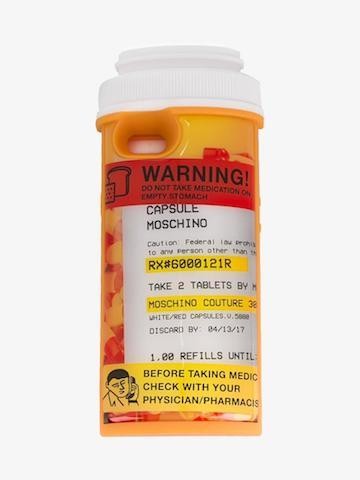 The second case takes inspiration from aluminum pill packets, 20 mg being the prescribed fashion dosage in this scenario. But we're all known to overdose on shopping from time to time.

Made out of silicone, we'll admit, these cases will not protect your phone from any serious falls. But fashion is all about taking risks. Maybe next season Moschino could do a collab with Otterbox and match functionality with design?

You can purchase the phone cases, no prescription needed, at Moschino.com