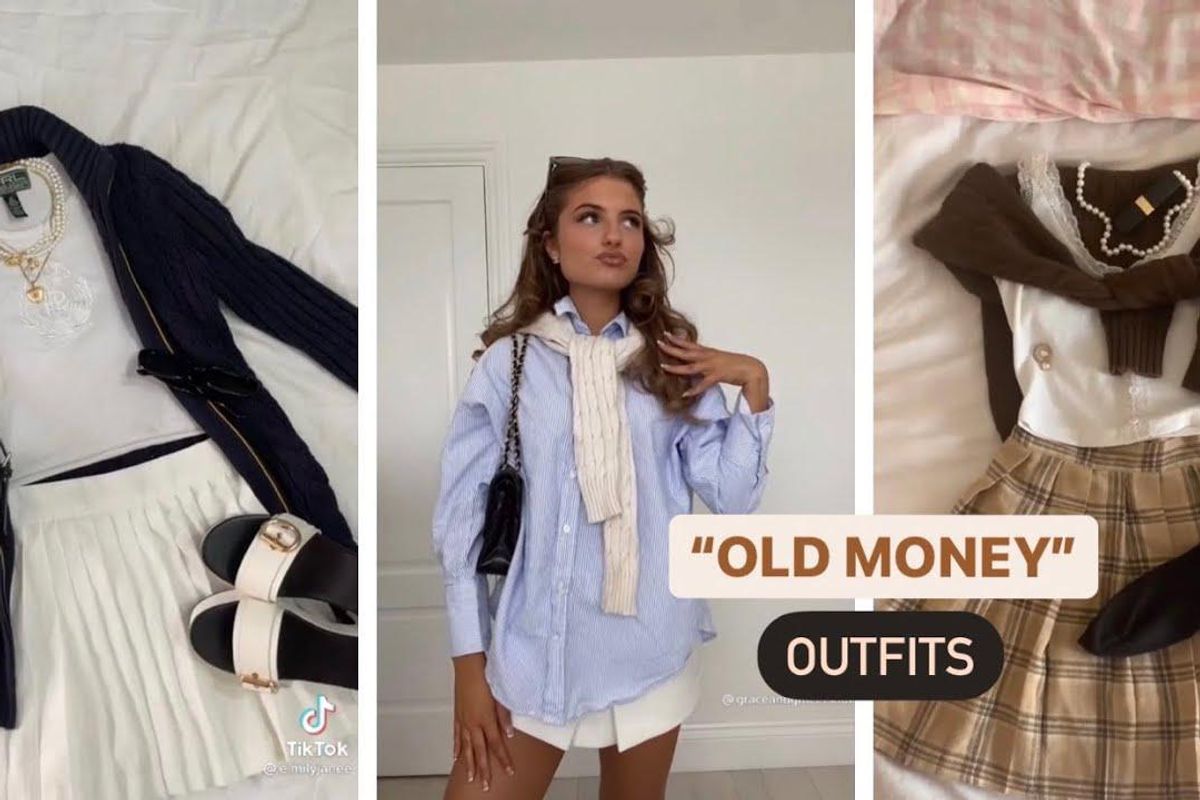 What is the Old Money TikTok Trend?
How to Dress Preppy, But In a Cool Way
One of the latest trends being remixed by Gen Z is preppy style.

"Old money" aesthetics are trending on TikTok, with brands inspired by prep wear. Think a modernized version of Ralph Lauren, the new, cooler, upgraded version of J.Crew, or if Brooks Brothers were cool.
---
TikTok is excavating silhouettes from the past, combining them with clips that romanticize slower living and less flashy clothing. Picking up on this, brands have gravitated to similar aesthetics, so nostalgia marketing is now ubiquitous.
In some ways, this trend can veer towards the problematic. The notion that things were better in the past is not a new one, but it is a dangerous one. Like the cozy lockdown trend "cottagecore", TikTok is aestheticizing the past under the guise of "good taste."
The nostalgia of Vogue Italia outtakes and Prince Charles' candids combined with the elevation of "simplicity" — read: expensivity — to create the appearance of a superior sense of taste. Dismissing our current era as gauche, this trend carries the tinge of grainy vintage ads and architectural spreads, promos for retro Ralph Lauren collections, Rolex watches, vintage Porsches, and Portofino homes — status symbols all which don't merely gesture to wealth, but flagrantly virtue-signal to a dusty, unattainable past.
@oldmoneyoutfits_

Old Money VS New Money | #oldmoney #oldmoneyaesthetic #richlife #oldmoneyvsnewmoney #menfashionstyle #oldmoneylifestyle #oldmoneyoutfit #gentleman #outfitsideas
Why does such a progressive generation have such an obsession with such an exclusive aesthetic? Why, instead of clamoring to eat the rich, are they trying to imitate them?
The Cut recently wrote: "While there's nothing problematic about dining alfresco with a cashmere cardigan strewn around your shoulders, there's danger in idealizing the concept. (Unless you are doing it ironically, of course — in which case, pop "Video Games" on the turntable.) Old money essentially represents an unattainable class and monetary privilege, the glorification of which implicitly derides both poverty and new money. Because of colonization and systemic racism in the United States and other countries, acquiring wealth has historically been difficult for anyone who does not already fit into this category."
However, there is a way to harken back to some of these aesthetics in a less problematic way — by not taking them so seriously!
Though to some, that preppy style may feel too much like a reminder of the 2000s or a signifier of WASPiness, both are making their inevitable return but with a more playful, ironic twist. People want the aesthetic, not the exclusionary ideals!
@mark_boutilier

Overall just seems like taking a bunch of preppy/formal styles and giving it a new name… What do you think?🤷‍♂️ #oldmoney #oldmoneyaesthetic #fashiontok @not_mark_boutilier
Once the sartorial staple of obnoxious frat boys, tennis pros, and the Easter mass-to-brunch parade, preppy wear has been co-opted by street style. This time around, it's embracing prep-inspired, classic pieces — but in a cool way. Due to the versatility of the style, from streetwear to luxury designers have taken it on. Seems, it's a natural — what with the resurgence of a 70s-inspired take on dad-style and tennis aesthetics.
From experimental patterns and styles to elaborate knits — and even beachy materials! — prep is no longer a dirty word.
Some brands which have long been mainstays in the preppy world are using this revival to reinvent themselves. Instead of being seen as stuffy, exclusive, or old-fashioned, they are now rebranding alongside the trend.
J.Crew is one of the most successful legacy brands we see adopting the newer take on preppy style and old money aesthetic. With updated pieces that blend quality with style, you can take the best of the old money trend — i.e. the focus on simplicity and buying items that are made to last — without the icky, exclusive stuff.
Here are some of my favorite J.Crew pieces to add to your wardrobe — whether you want to go full "old money" or just dip your toe in with a couple of pieces: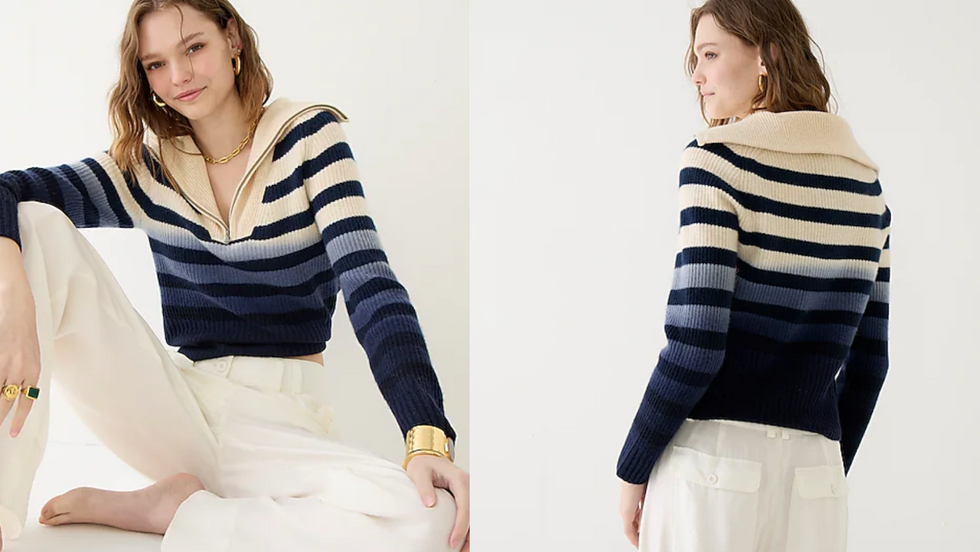 When I imagine rich people, off somewhere doing rich people things, I imagine them wearing stripes and quarter zips. This J.Crew piece makes both of those things new and cool again. Its subtle ombre takes two classic colors and combines them into a classically cool staple that will never go out of style.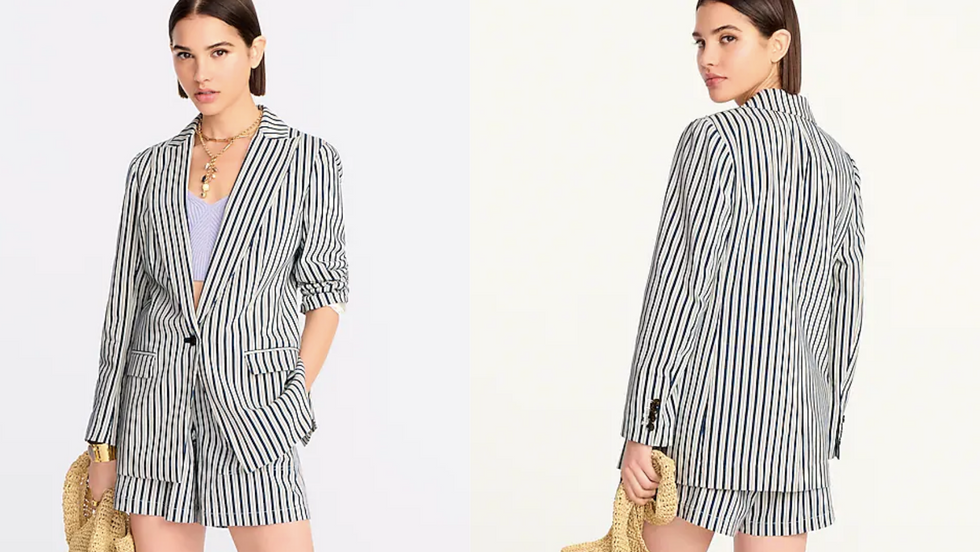 Take the stripes one step further with this funky blazer. It's a powerful statement piece that perfectly combines the prep-wear trend, the old money revival, and the maximalism trend. Dressed up or dressed down, it can make anything look chic and put together.
A neutral blazer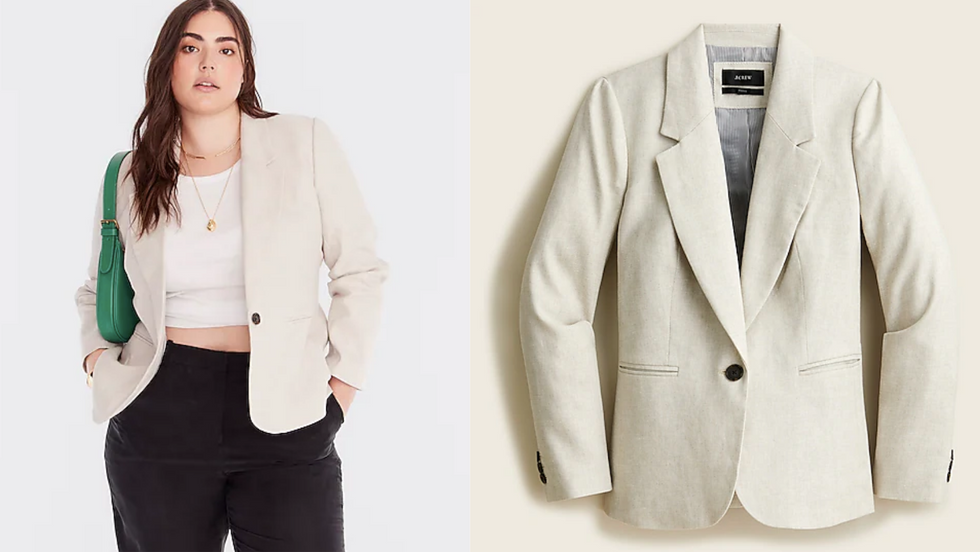 Want a more subtle way to incorporate a blazer into your outfit rotations? Channel your inner Kaia Gerber or Princess Diana and throw it on over a workout set. Or make it your signature power jacket and put it on for an extra boost of confidence for Zoom meetings or in-office presentations.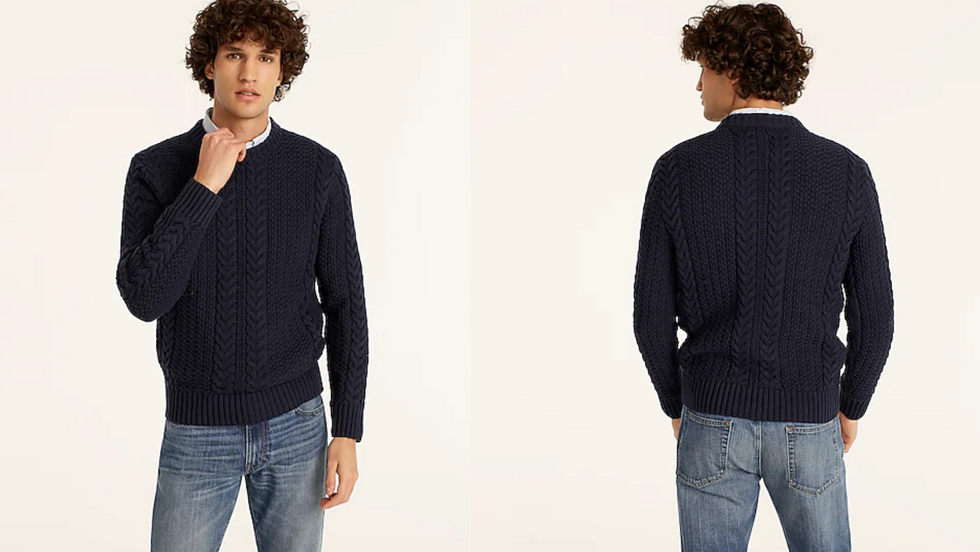 What's preppy style without a cable knit sweater? The old money aesthetic has also created offshoots like, "coastal grandmother" — think a Nancy Meyers movie or a Victorian woman convalescing by the sea — and the "academic aesthetic," — think Cher from Clueless and Tumblr's #DarkAcademia — all of which feel sweater-adjacent. Pair this classic silhouette with your New Balances and you've mastered the updated "old money" look.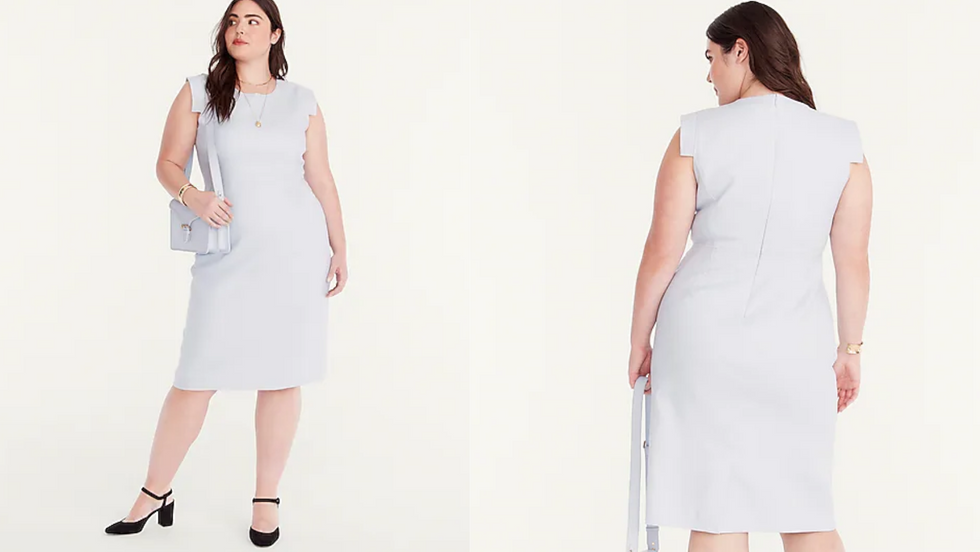 As The Cut put it: "Unfortunately, looking wealthy allows you to navigate the world differently, priming you for opportunities us normies are often sequestered from. Socialite Anna Delvey, for instance, utilized her appearance to con so many people that she managed to cultivate a whole new life." This is why even those who aren't drawn to the "old money" aesthetic sometimes turn to preppier clothes in interviews, job settings, and more to feel more confident.
Luckily, you don't have to compromise your personal style to incorporate more minimal, "old-money" inspired pieces into your closet. Whether you're wearing it to a job interview, to spice up a Wednesday at work, or on a spring day, the aptly named "resume dress" from J.Crew is comfortable and classic. Plus it comes in inclusive sizing!