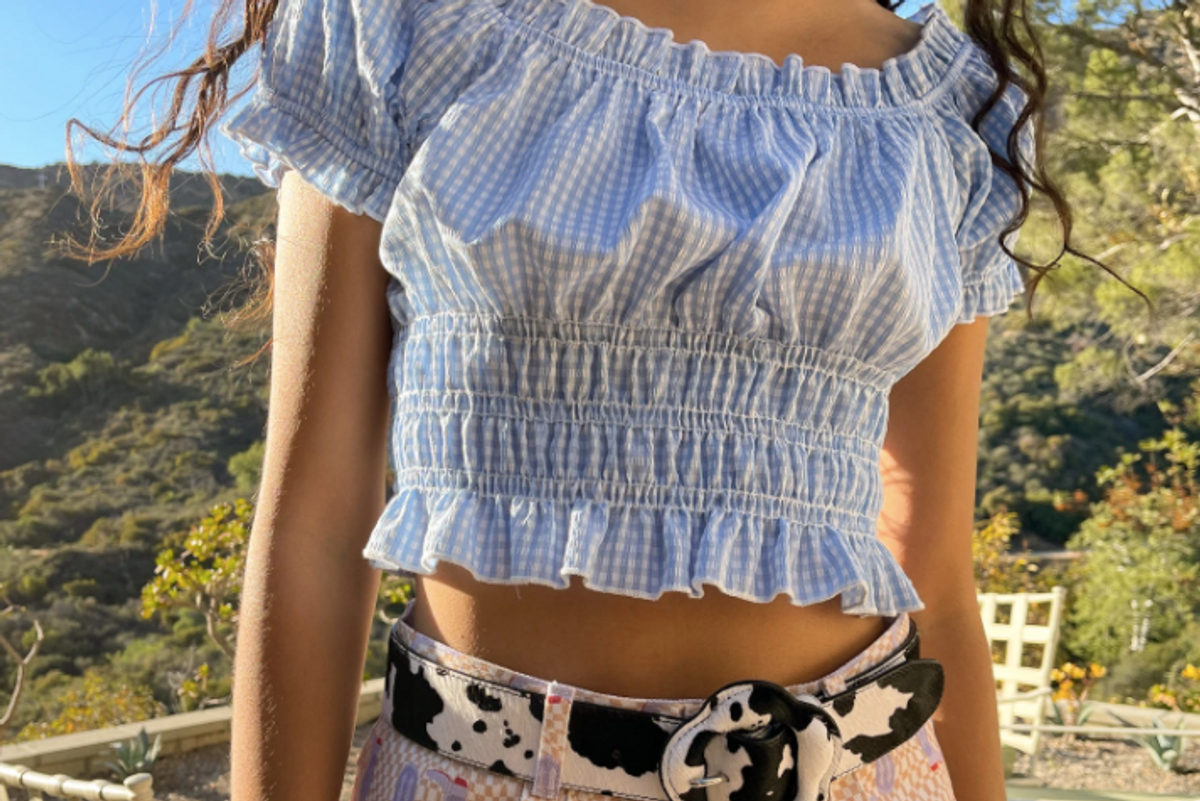 5 Products You Need From The Lisa Says Gah Sale
Your fall wardrobe will thank you

If any brand epitomizes the bright optimism of Gen-Z, it's Lisa Says Gah.
---
Lisa Says Gahhas become a powerhouse in Gen Z fashion for its versatility and sustainability. For many, the term "sustainable fashion" elicits an eye roll, a groan, and the expectation of a lot of beige. Although sustainable fashion has gotten a bad rap because people imagine hemp leaves and linen in bland colors, ethical consumption is becoming increasingly popular among shoppers — especially Gen Z.
With the boom of online thrift marketplaces like ThredUp and Depop, younger shoppers are changing their habits and seeking ethical businesses first. The increasing ubiquity of these services has forced fashion retailers to step up their commitments to sustainability to combat the rising skepticism about the fashion industry at large.
Another draw of thrifting? Finding unique pieces that haven't already been flashed on all your peers' Instagram feeds. When they turn to secondhand marketplaces, Gen Z shoppers are looking for products that reflect their tastes and individuality — eschewing the cookie-cutter, generic clothing produced by the fast fashion machine.
But sifting through pages and pages of products online gets tedious, and comes with no guarantees that you'll find something you like that's also in your size. For some, ethical shopping is sustainable but might not be convenient or accessible due to sizing or price.
This need for more diverse options has birthed a new kind of marketplace: curated, online retailers, stocking a variety of sustainable brands. It's within this niche that Lisa Says Gah has become a quiet powerhouse.
A brand offering on-trend styles in a variety of sizes, prints, and tastes without succumbing to fast fashion? It sounds too good to be true. So how does Lisa Says Gah deliver on its seductive promises? Because they understand all the best, fun parts of the fashion world while not compromising on the environment.
Lisa Says Gahwas founded by fashion veteran Lisa Buhler, who left the industry to start a whole new kind of store. What was born: Lisa Says Gah. More than just a collection of stores, it's a value-driven community of independent designers and shoppers who want to enjoy fashion without feeling icky about their environmental impact.
With their impeccably curated collection, Lisa Says Gah has become the favorite of every cool girl you know. Their wide range of garments and brands promises you'll be spoiled for choice. And the quirkiness of the selection means you're guaranteed to stand out, whatever your style. Whether you have a penchant for vintage-inspired pieces or fun, trendy print, Lisa has got you covered.
Lisa Says Gah makes shopping fun again. It's the perfect place to shop back-to-school items that will obliterate the Sunday Scaries and get you excited for in-person classes or outfitted for your reinvention. And they're on sale! Here are our favorite on sale items (and you can get $25 off your $100 sale order by using the code: SHOPSALE25):
Gen Z Has Made Thrifting A Big Business - NPR
Gen Z's shopping habits are shaping the future of fashion: online thrifting — Business Insider