It can be tough finding the right personal care products if you're a dude. Ever since World War I, men have settled for boring, generic products that dry out their skin and are filled with harsh chemicals. But times are a-changing so we think it's time to raise the bar.
You're not a dish, you're a person with skin that craves natural, nourishing ingredients. That's why we love Dr. Squatch, a line of natural personal care products that are designed to change the way men take care of themselves. If natural soap that smells good was once as rare as the Sasquatch, Dr. Squatch is here to change that.
Here are 5 reasons why Dr. Squatch revolutionizes men's personal care:
Natural ingredients
If you're not the "natural type of guy," you should still be conscious about what you put on your skin. Dr. Squatch uses natural ingredients and the traditional cold process, which allows all of their soaps to retain natural glycerin and nutrients in each bar without the need for harsh chemicals and synthetic preservatives. All products are made in the USA and they even have a comprehensive ingredients glossary on their website so you can know exactly what you're putting on your body.
Tired of watching your bar of soap melt away in the shower? Get the Dr. Squatch Soap Saver; a cedar block designed to store your bar between uses, keep soap scum out of your shower and extend the life of your soap by keeping it dry. Pop the Soap Gripper onto any bar of soap to prevent the common "soap slip 'n' scramble". Plus, the Soap Gripper also elevates the bar when not in use, helping it dry faster and last longer. Want both amazing accessories? You can save 20% when you buy the pair with the Soap Booster Pack.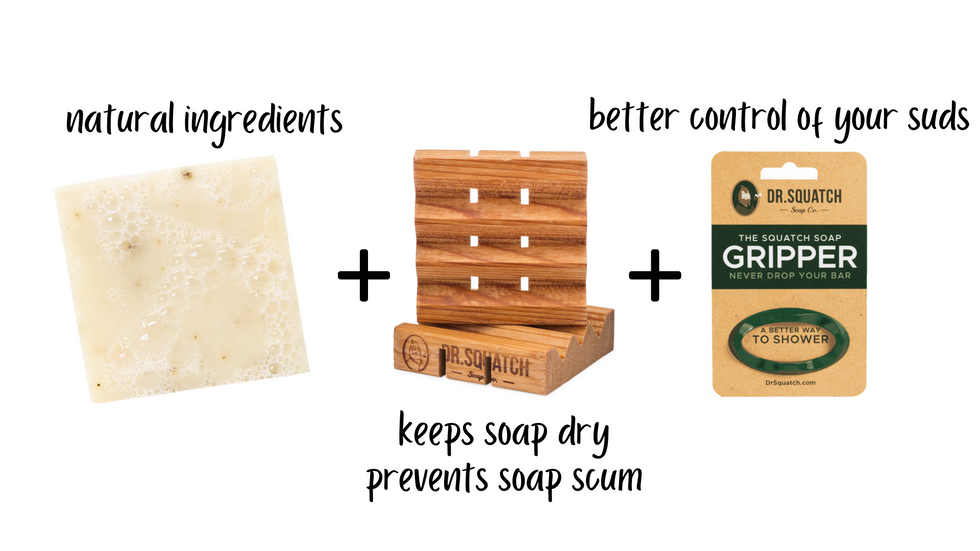 11 awesome, unique scents

Pine Tar, Bay Rum, Cedar Citrus, Grapefruit IPA—the list is never-ending. Dr. Squatch offers 11 unique scents for every type of man whether you're looking for something woodsy, fresh, herbal, spicy or musky. Everybody has their own preference and Dr. Squatch caters to every scent profile.
On top of the 12 manly scents that are always available, Dr. Squatch also releases unique limited edition scents to change things up, so keep an eye out!
Every product you could ever need
While Dr. Squatch began with soap, their mission doesn't stop with suds. In fact, Dr. Squatch believes that the same level of care and craftsmanship ought to go into every men's personal care product. Between hair care, deodorant, toothpaste, beard oils, and cologne, you can build an entire self-care regimen thanks to Dr. Squatch's robust product line.
Delivered right to your door—subscribe and save

The worst part about finding a great product is that it's bound to run out eventually. However, with Dr. Squatch, you can stock up on all of your essentials in one place. Their site has lots of bundles that can save you up to 30% on your purchase. Are you the super forgetful type? No worries, you can sign-up for their subscription option to have everything delivered right to your door on a regular schedule. You can cancel or reschedule whenever you want. But the best part? You'll end up saving around 15% on all shipments, plus free shipping on every future order (even one-time purchases!) when you sign-up!
They have a super quick quiz that helps you find what you need
Don't know where to start? No worries! Dr. Squatch has a short, but comprehensive quiz that will help you determine which soap best matches your scent preferences and lifestyle. These questions vary from your favorite scent to your hair length to what you would do if you happened upon Bigfoot in the woods. It may seem a bit kooky, but it's a great way of finding your perfect bar of soap! The GIFS are also a nice touch.
Dr. Squatch knows that you are worthy of a better bar of soap, a better shower, and a better life. It's time to reclaim your lather and join the men who are redefining male personal care.
UPDATE: The awesome folks at Dr. Squatch have extended a special offer to our readers. Follow this link to and Get Free Shipping on Orders Over $40!