Overview
Dr. Squatch is a personal care and wellness brand with a wide range of natural products, including soaps and lotions that have awesome scents. Actually, they're revolutionizing how guys stay clean, cool, and moisturized.
Formulated for men, Dr. Squatch uses natural ingredients and traditional cold processes for production. This allows the soap to retain natural glycerin and nutrients and avoid chemicals, synthetics and preservatives like those often found in generic drugstore products.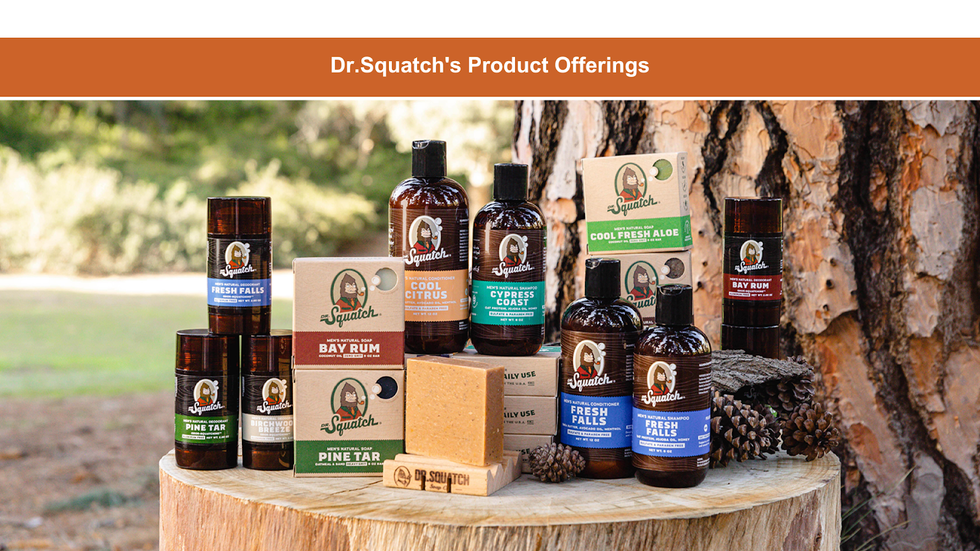 What Products Does Dr. Squatch Offer?
While soap is their bread and butter, their mission doesn't stop with suds. In fact, Dr. Squatch believes that the same level of care and craftsmanship ought to go into every man's personal care product.
They offer everything from shampoo & conditioner, deodorant, cologne, facewash, and much more. Their Soap Saver – an ingenious cedar block for storing your bar between uses – banishes soap scum from your shower and extends your soap-life by keeping it dry.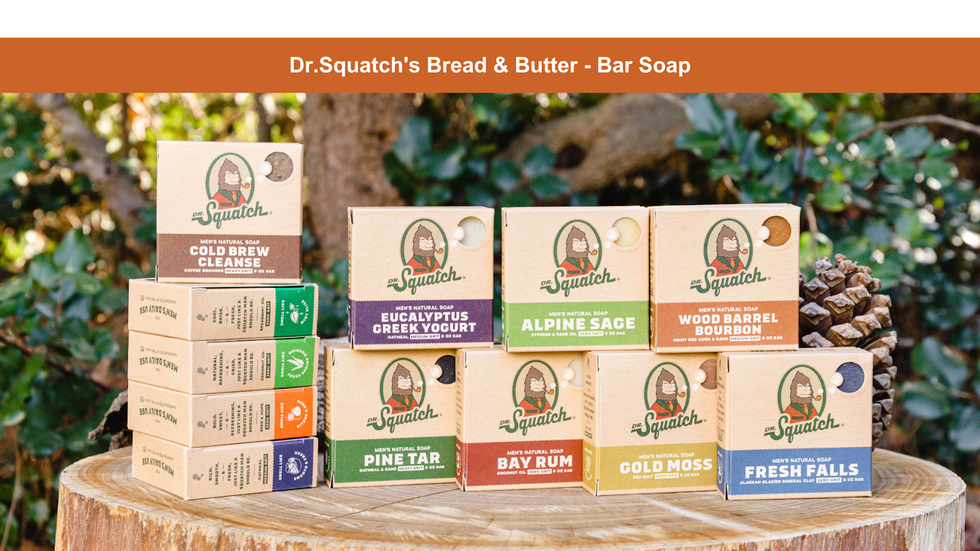 Apart from their natural products Dr. Squatch is known for their unique scents:
Pine Tar
Cedar Citrus
Fresh Falls
Cool Fresh Aloe
Grapefruit IPA
Deep Sea Goat's Milk
Gold Moss
Bay Rum (our office favorite)
Using The Products - Benefits
Many men don't realize that the ingredients in their self-care products can have a range of adverse effects on your skin and body. Some have even been associated with a number of health risks related to reproduction, growth and development concerns.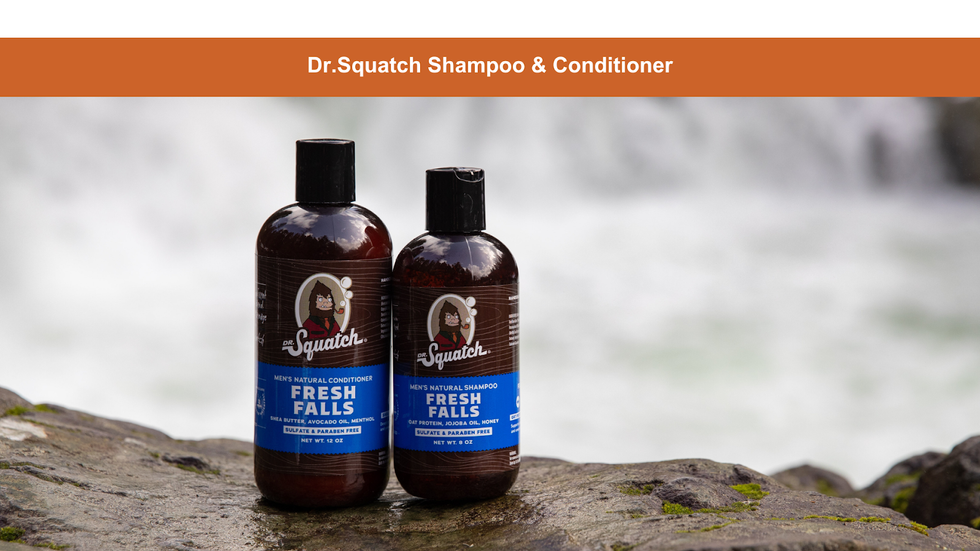 Dr. Squatch products are made without harsh chemicals and synthetic preservatives. All products are made in the USA, there's even a comprehensive ingredients glossary on their website so you know exactly what you're putting on your body.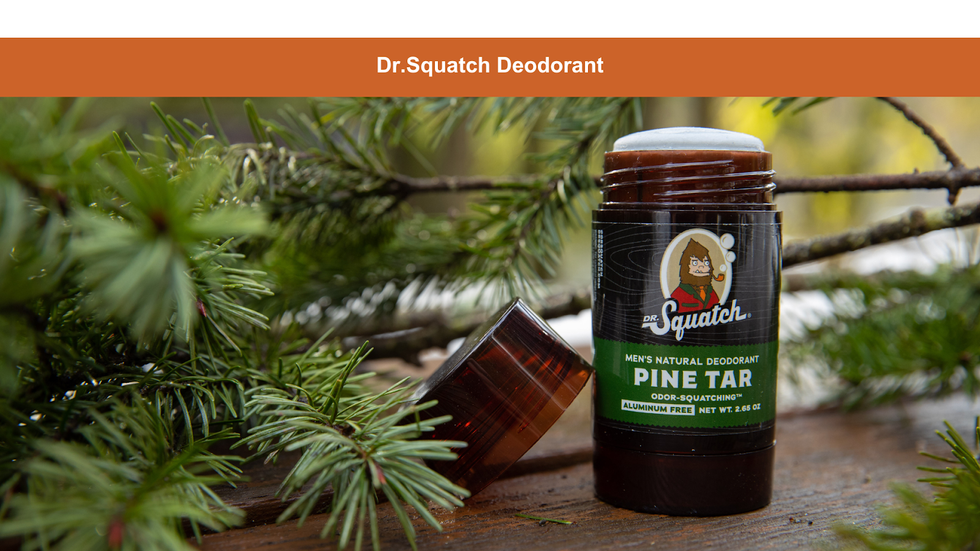 Subscription
With Dr. Squatch's flexible subscription, you can save about 25% and have everything delivered right to your door. Customize your picks scents, upgrade, reschedule or opt out whenever you want. Plus, free shipping on future orders – even one-time purchases! Dr.Squatch also has tons of bundles that can save you up to 30%.
The Bottom Line: Is Dr. Squatch Worth It?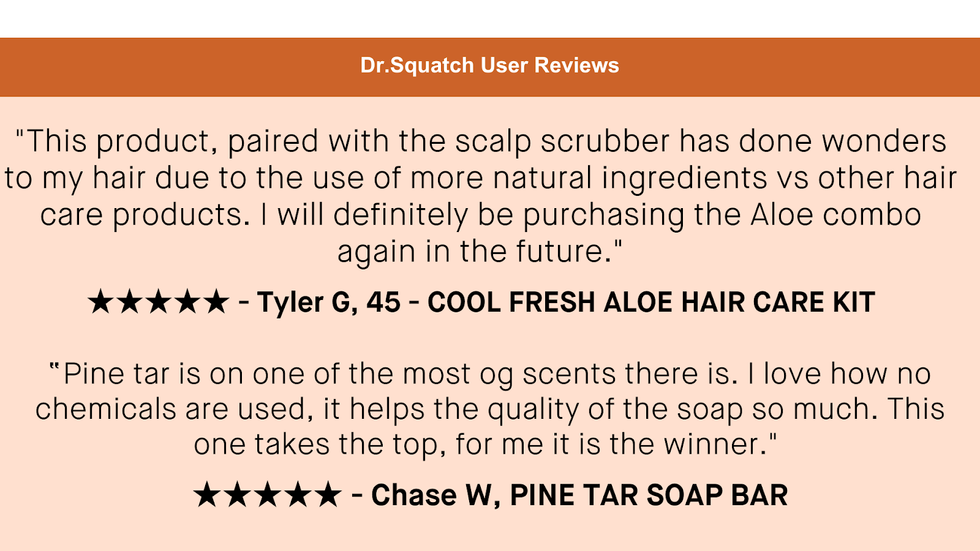 Their products have thousands of 5-star reviews, and after trying them, we can see why. Even though they're made with natural ingredients, they work just as well, if not better, than generic products. And we love it that their products are long-lasting and smell fantastic.
If you're looking for natural personal care essentials that contain quality ingredients, we highly recommend Dr. Squatch. Don't wait until your skin is dried out or you're sick to death of that tired old, not-so-fresh "fresh scent" of that brand you've been using since you were 14-years-old. Time to grow up and make the switch to Dr. Squatch, you won't regret it!