Everyone's relationship with their bra is different, but most people's relationship with their bra drawer is the same - chaotic. Filled to the brim with straps busting out the top, clasps snagging on lace, a random push-up bra not worn since college...
When did we get like this? Hoarding decade-old bras and settling for painful wires - we're ready for a change.
Luckily, CUUP's selection of bras for all kinds of body types and lifestyles are giving us the chance to clear out our bra drawers once and for all.
CUUP's bras are known for their high-quality materials, minimalist style, and comfortable fit. They offer five silhouettes in cup sizes A to H and band sizes 30 to 44.
Here are three bras from CUUP that have become our new staples.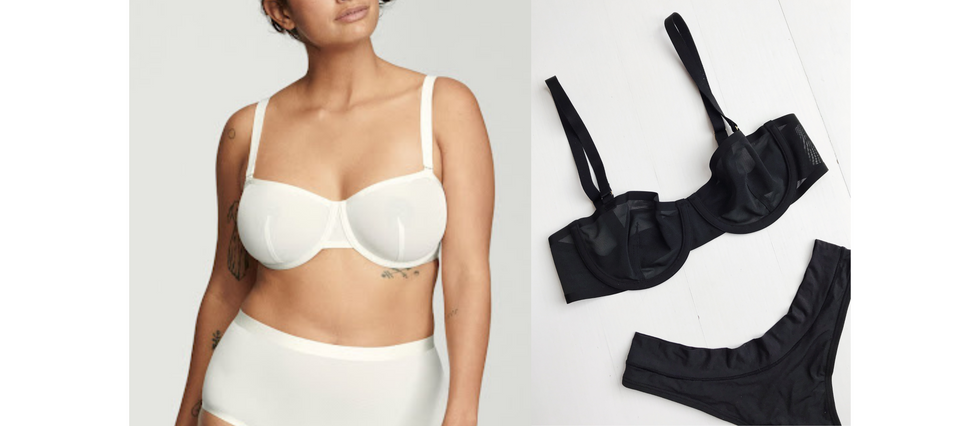 To be seen, or not to be seen. The Balconette is CUUP's #1 bestseller for a reason. It's elegant, intimate, and flatters every body type. We love that we can wear it under a blouse or under nothing at all and pair it with a blazer or jacket.
Made with sheer power-mesh and as always, their flexible underwire, this has completely transformed the notion that sexy has to be uncomfortable. Not to mention that this bra comes in all of CUUP's sizing options so every woman can feel confident and stylish in just her bra.
Before CUUP, we used to spend upwards of $100 just to get half the quality and look, especially for the larger chest sizes. The Balconette is only $68 and provides the minimalist, sexy look we've been searching for.
Whether you're wearing this out, or just want something to spice up the work week, the Balconette should be your go-to.
2. The Demi = Like A T-Shirt Bra But Better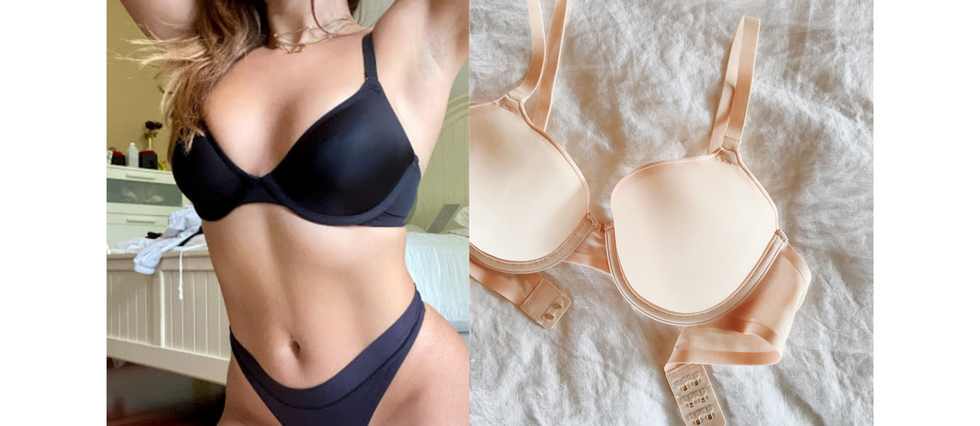 Lounging means a million different things these days, but the Demi is the official bra for whatever lounging means to you. Whether you're working from the couch, cooking dinner, or binging your favorite TV shows, the Demi is perfect for low-key days.
This bra gives support while still being lightweight and breathable. It offers the same shaping and coverage as a classic T-shirt bra, but without all the padding. You have the flexibility to move around without shimmying or readjusting your bra. It has full coverage molded in their 3D spacer fabric (softer than memory foam!), a lightweight underwire, and molds to your shape.
CUUP also offers a fit quiz, so you're sure to get the right fit every time. They'll ask for the hooks you're currently wearing your bra on, the feel of the straps, and even the fullness of your breasts.
If that isn't enough to help you feel secure in your size, you can also schedule a virtual appointment with one of their fit therapists. Without all the extra padding of typical bras, you may be surprised by your CUUP size, but trust us you'll be pleasantly surprised when they deliver the perfect fit.

3. The Scoop = Yoga Pants For Your Boobs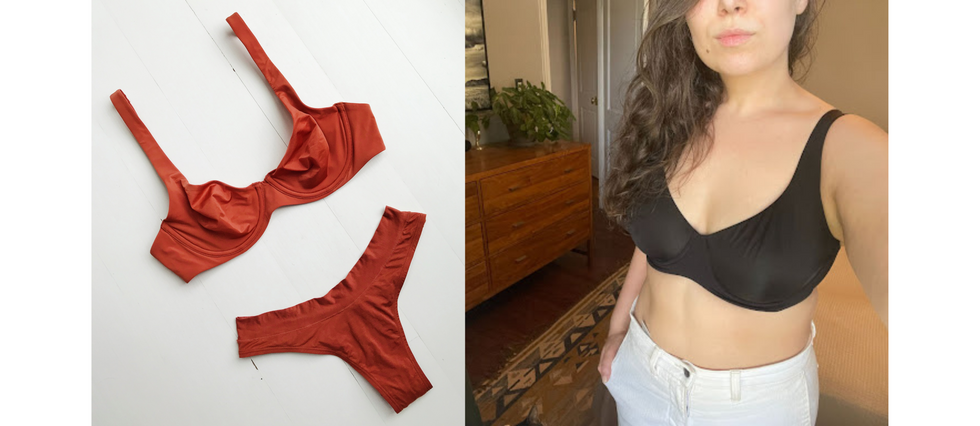 The Scoop bra is the basic to end all basics. It offers a curved silhouette and is made from the softest material in their collection. CUUP offers a huge selection of neutral colors to match your skin tone but also drops seasonal color collections, so you can mix it up and stay on-trend.
The Scoop provides support for every activity, and you might even forget you're wearing it at all. We love this bra for going to work, hitting the grocery store, and every weekend adventure. The Scoop has a lightweight underwire that provides both flexibility and support so you can wear it under any top, no matter the material or tightness.
The days of baggy tees and rearranging your straps/clasps trying to hide bra lines are over! CUUP's Scoop silhouette is the yoga pants for your boobs that you didn't even know was possible.
CUUP keeps it classic and chic. But better yet - they let us keep it simple. We don't frantically dig through our closets and drawers trying to find the right bra because we know exactly what we're wearing.
Between the styles, colors, and quality material in every bra, we're sticking with CUUP. All three styles are now available in 14 new sizes: 38H, 40B - 40G, 42C - 42F, and 44C - 44E. Now the only exception to having an overfilled bra drawer is having all five of their styles in every color.
JUST FOR YOU: Shop bras that look and feel great in every size, A to H, and shop Undies (3 for $45) for the perfect set (and FREE SHIPPING!). Follow this link to shop!