​Home renovations can be daunting. We struggle to find the right contractors, the right vendors, and on top of that, there's the worry that won't finish on time.
We've all heard horror stories about nightmare home renovations. So we looked at finding disruptors in the space that are redefining the traditional home renovation process and found Made Renovation, Skipp Renovation, and Block Renovation. All of which claim to handle your renovation from start to finish in the most seamless way possible.
This seemed just about impossible but we decided to check them out and see which home renovation company comes out on top.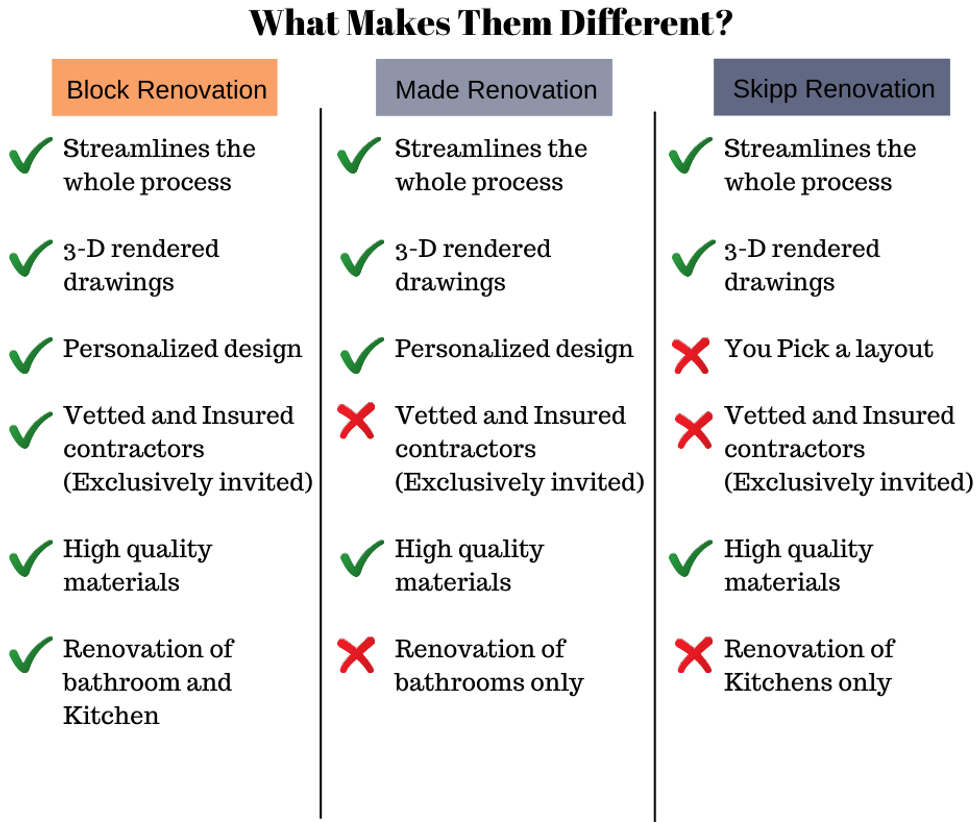 Block Renovation Overview
From sourcing to vetting general contractors to delivering the perfect experience, Block Renovation streamlines the entire process so you can relax.
Block is not only the most affordable of the 3, but their holistic approach to the renovation process is next-level. Their team of experts go above and beyond to ensure your dream renovation will come to life.
They offer high-end bathroom and kitchen renovations at competitive prices. Simply enter your details: zip code, type of home (condo, single, or multi-family), how old the building is, design styles you prefer, and when you'd like to break ground. Once that's done and you've sent in your photos, Block will send you a detailed line-by-line proposal within 24 hours.
Block's approach to design is extremely thorough and includes technical drawings, 3-D renderings and clear construction plans. You also have the option to work with Block's team of award-winning designers who will bring your vision to life. Even if you don't know exactly what you're looking for, Block's team will be able to guide you in the right direction.
Materials are handpicked from premium brands like Kohler, Toto, and Grohe. Block's exclusive network of trusted and vetted local contractors saves you the time and hassle of having to source experienced professionals yourself. Once your assigned builder gets started, Block will support you from start to finish, even with pesky tasks like permits. By controlling everything from design to the timing of fixture deliveries, they drastically reduce any inactive time which saves money for a stress-free experience from start to finish.
Block Renovation makes renovating your bathroom or kitchen so much more convenient and affordable - with bathroom renovations starting at $18,900 and kitchen materials starting at $16,500.
Made Renovation Overview
Made Renovation is similar to Block, but this younger company's offering just isn't as robust. Made focuses on bathroom renovations only, and once you submit your requirements, speak to your virtual design consultant, and walk through their process, they'll re-envision your bathroom from the design to the 3-D renderings to securing plans and permits.
Each project has a dedicated manager that keeps on top of all your home needs - just text a query at any time during your construction process. They claim that they can procure the materials and finish construction on time. Plus, all their contractors are licensed and insured with 10 years of experience.
Based in California, their renovations generally cost $20,000.
Skipp Renovation Overview
Skipp Renovation helps you upgrade your kitchen at a minimal cost, but unlike Block, they don't offer bathroom renovations. They provide a wide range of kitchen designs that are versatile and can easily be adapted, it is then narrowed down based on your budget and preferences.
They claim to be able to finish your design and construction in just four steps that include expert opinions. All of their contractors and architects are vetted and have experience in kitchen planning.
A Skipp Renovation can run approximately $15,000 in materials + $7,000 in labor = $22,000.
Overall Winner: Block Renovation
Overall, Block is more convenient, more affordable, and, most of all, more reliable. They have an expert on hand to guide you at every step of the renovation process, from design to construction and everything in between. They make high-end bathroom and kitchen renovations easy and attainable for everyone. Out of the three services, Block Renovation has been around the longest, and that really shows through their offerings.
While all three offer 3-D models of how the completed project will look, we found that Block simply offers so much more than Made and Skipp with their design process and thoroughly vetted network of contractors.
If we had to pick one renovation service that would be Block Renovation.